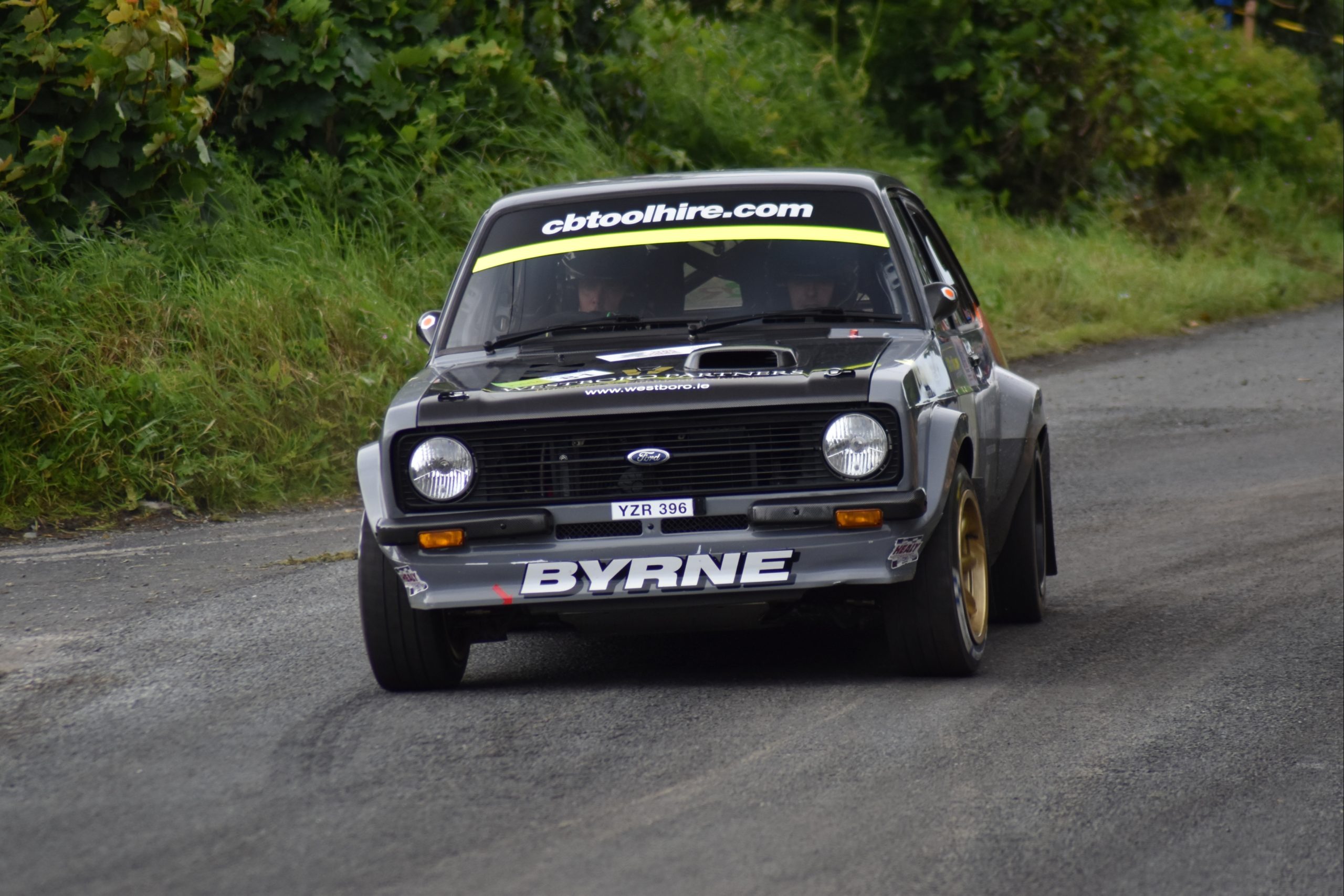 Colin Byrne lies third in the Modified Irish Tarmac Rally Championship heading into its Ulster Rally climax.
The Cork driver is 12 points behind Ford Escort Mk2 rival and championship leader Simon Reid. A sizeable gap that is slimmed given Ulster's double points scenario.
"I have to take six points off Simon on both days of the Ulster Rally," explained Byrne, "somehow."
"Years ago we would have been phased but now we just get on with it.
"It is a pity we aren't in a better position but we will definitely be going for gold."
Byrne and co-driver Stephen Quin would have snatched up their pre-Ulster predicament had it been offered at the start of the season. They faced Ireland's best modified drivers in James Stafford, Daniel McKenna, Kevin Eves, and Gary Kiernan on their way from Galway to Cork.
But Byrne knows their championship chances would have been much higher had it not been for a final day mishap on July's Cork 20.
---
The Class 14 crew had over a minute in hand with just two tests left on the 15-stage event. A career-best Irish Tarmac result of seventh overall and top modified crew looked like it was heading their way on Byrne's home rally.
Unfortunately for Byrne and Quin, Badgers Hill bit back and left them stranded at the side of the road with nothing but time to dwell on what had just happened.
"We came down the hill to that section," began Byrne, "just like we always did."
"The in-car footage actually shows that we braked earlier because we had a beautiful cushion of time to spare.
"We came down the hill fairly flat out, braked earlier, but coming into the chicane we had no grip. We studied the road afterwards and the asphalt had turned to oil. It felt like Nutella.
"Even the guys who came down afterwards, going slower under a yellow flag, got into a massive skid.
"It was just a result of the high temperatures and it caught us out because every other car before us was an R5.
"I went for a gap on the right-hand side of the bale but I clipped a rock in the ditch. It dragged me in and beached the car.
"Six of us tried to get the car out but there was no way it was happening."
---
It was the bitterest of blows but one Byrne knows all too well is part and parcel of rallying.
One thing is for sure, it hasn't deterred the Ford Escort crew from their championship ambitions. Byrne immediately shifted his focus to the Ulster and his first-ever rally outside Motorsport Ireland's jurisdiction.
"The recce video has been my schoolwork in the evenings. I have been going through each stage every night for the last couple of weeks on a big screen. It is helpful just to get familiar with the stages.
"In fact, Stephen is flying back early from his holidays to do the Ulster with me, he's only seven points off the lead in the co-drivers' championship.
"We gauge our notes and performance on the way home from each event and normally agree that we have been getting on well.
"We have been braver on our pacenotes with things like pluses and minuses. It seems to be working. You need to be consistent and committed.
"We are definitely going quicker than we ever have before and we are pushing the car through the bends a lot harder.
"Commitment, Michelin tyres, and clinical pacenotes have been a good combination for us this year.
"I have studied and prepared for Friday's stages and I like the look of the ones on Saturday.
"The extra homework definitely works for me."
The Ulster Rally gets underway with three stages on Friday evening. Byrne and several other two-wheel-drive rivals will have Reid in their sights as they fight for a coveted Irish Tarmac crown.
---
Subscribe for free to receive more stories like this direct to your mailbox
---
---
Photos by Roger Dawson