Klara Andersson made a sensational FIA World Rallycross Championship debut at the World RX of Norway, finishing fourth in her Construction Equipment Dealer Team PWR RX1e.
Mind you, as the reigning Swedish Rallycross class 2150 champion who gained valuable all-electric experience racing in two rounds of last year's RX2e series (as part of the Sweden Junior National Team) her performance in Hell didn't come as a surprise.
"I got a bit of contact in the Semi Final and I knew that the car was slightly damaged, so I knew the Final would be a challenge – but still, I am so happy," said Andersson.
"To make my World RX debut and to finish fourth was good, but the one thing that I am most proud of is my pace. With more experience I can get the last few tenths and be consistent with my driving and to develop the car a little bit more. But overall, it was a good start."
Andersson started her motorsport journey in karting – and the six years of smooth asphalt junior circuit racing have honed the skills that serve her so well in rallycross today.
"I feel that my driving style, with my lines and approach into corners that I learned in karting, gives me a slight advantage," admits Andersson.
"Building speed, being at home on the throttle and feeling the grip level are all strengths, and it's now more the gravel sections of a rallycross track that I need experience with and to find some more pace."
After karting, Andersson moved into rallycross in 2018 and quickly progressed up the ranks – finishing runner-up in the 2020 Swedish Junior Rallycross, before claiming her first rallycross title soon after.
RX2e was completely new again, with the four-wheel drive, all-electric cars generating 250kW (335bhp) of power and up to 510Nm torque.
Characteristically, Andersson quickly calculated how to get the best out of an unfamiliar car and finished an impressive fourth first time out at Spa-Francorchamps.
Andersson's debut in World RX wasn't easy and both she and her team had to dig deep to learn and improve the very new PWR RX1e.
"After the first round I understand the car a bit better, but of course it's still so new to me," adds the 22-year-old Swede.
"Coming from a national championship where the cars are slower, it was quite something especially in heat one to be in the middle of all these powerful electric cars in turn one because the speed and acceleration is incredible. It felt better and better as the race weekend went along. We are taking it step-by-step and we have a lot of positives to take away from Hell and work with.
"Hell was also a brand-new track for me and on day one I felt that it was very challenging – technically and commitment-wise. I had to be more confident in certain corners because that's where I was losing time, but I needed to sleep on it and on race day I knew the track better and enjoyed driving it. The team pushed me to really believe in myself and that showed.
"Going forward, the most important thing for me is to take a step back and to assess what we achieved this weekend.
"It was my first ever World RX race, we know that we have good pace and it's important not to get too excited. The plan is to keep working, keep pushing, do some analysis with onboards and be as prepared as we can be when we arrive for the next round in Riga."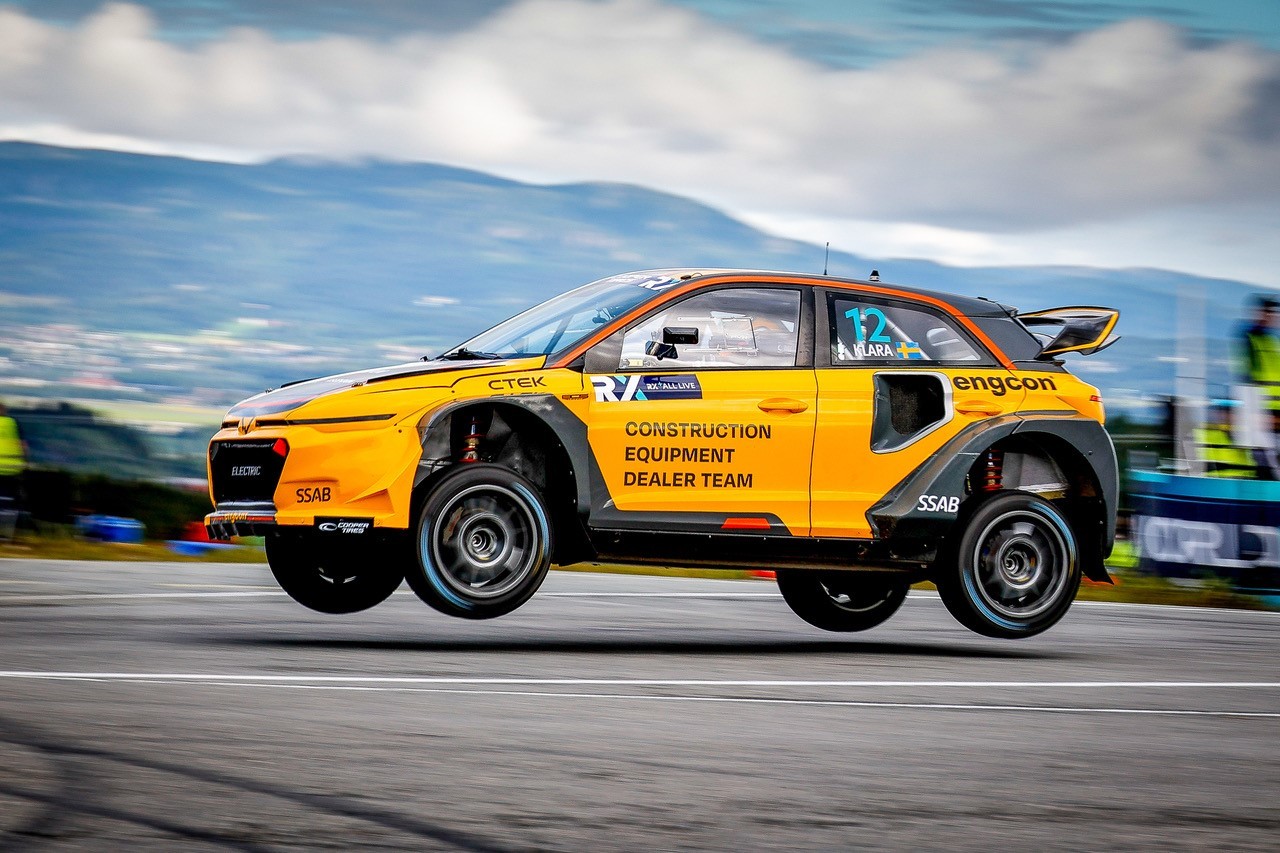 Andersson has earned her place on the World RX grid – the first full-time female driver in the eight-year history of the FIA World Rallycross Championship – and together with her team-mate Niclas Grönholm, the CE Dealer Team is proud to have the first-ever full-season gender-equal driver line-up.
"Rallycross is a sport where men and women can compete on equal terms," concludes Andersson.
"To be able to show that I'm just as quick as some of my male competitors isn't something weird because I have always competed against men.
"When small girls come to the tent and want to take a photo, I recognise myself in them because that was me ten years ago running around getting autographs from drivers and feeling so motivated and inspired by it.
"I hope some of these young girls will grow up and give rallycross a shot after being at a weekend like this."
For Andersson attention turns to the second event on the FIA World Rallycross Championship calendar – a double-header at the Ferratum World RX of Riga-Latvia this weekend.