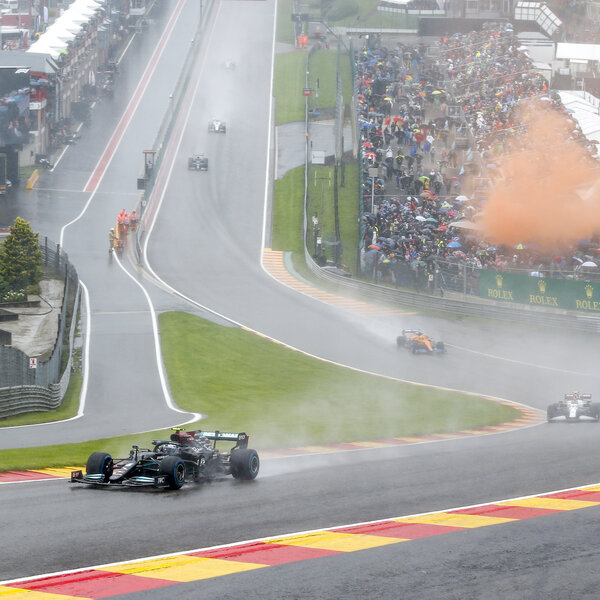 Belgian GP preview: There's just so much to look forward to this weekend. For starters, a race at Spa? After last year's debacle, all it takes to worry fans & Formula 1 alike is a few drops of rain. Also, will drivers approve of the changes made to make the Spa Francorchamps safer? Let's hope that some of the iconic corner haven't lost their character.
Piasco (or Piasco-gate) will hog headlines in the build-up to the weekend. The other talking points will be the changes enforced to control porpoising (or vertical oscillations) & flexi-floors. Will this bring Mercedes in the fight?
---
Join our race watchalong sessions with the legendary British Formula 1 commentator Steve Slater (ex-Sky TV, ESPN, Star Sports).
On the live stream, you can discuss with Steve & our hosts various race-related topics – strategies, performances, insights & more. Join us to enhance your real-time race viewing experience!
Get your access pass: Paytm Insider & Inside Line F1 Podcast – Race Watchalong with Steve Slater.
---
In this episode of the Inside Line F1 Podcast, Soumil, Sundaram (aka @f1statsguru) and Kunal bring to you the 2022 Belgian GP preview. Can Charles Leclerc take pole & win? That's the question on everyone's minds. The Dutch/Belgian fans will be out in force to support their favourite driver & championship leader, Max Verstappen.
But seriously, will the technical changes bring Mercedes in the fight? Since the last race in Hungary, the reigning Constructors' Champions definitely have momentum on their side. There's a lot to look forward to – including the stats preview segment & why elevation changes are most-talked about when the Formula 1 circus visits the legendary Spa Francorchamps. Tune in!
(Season 2022, Episode 50 – Belgian GP preview)
---
Follow our hosts: Sundaram Ramaswami, Soumil Arora and Kunal Shah
Image courtesy: Mercedes