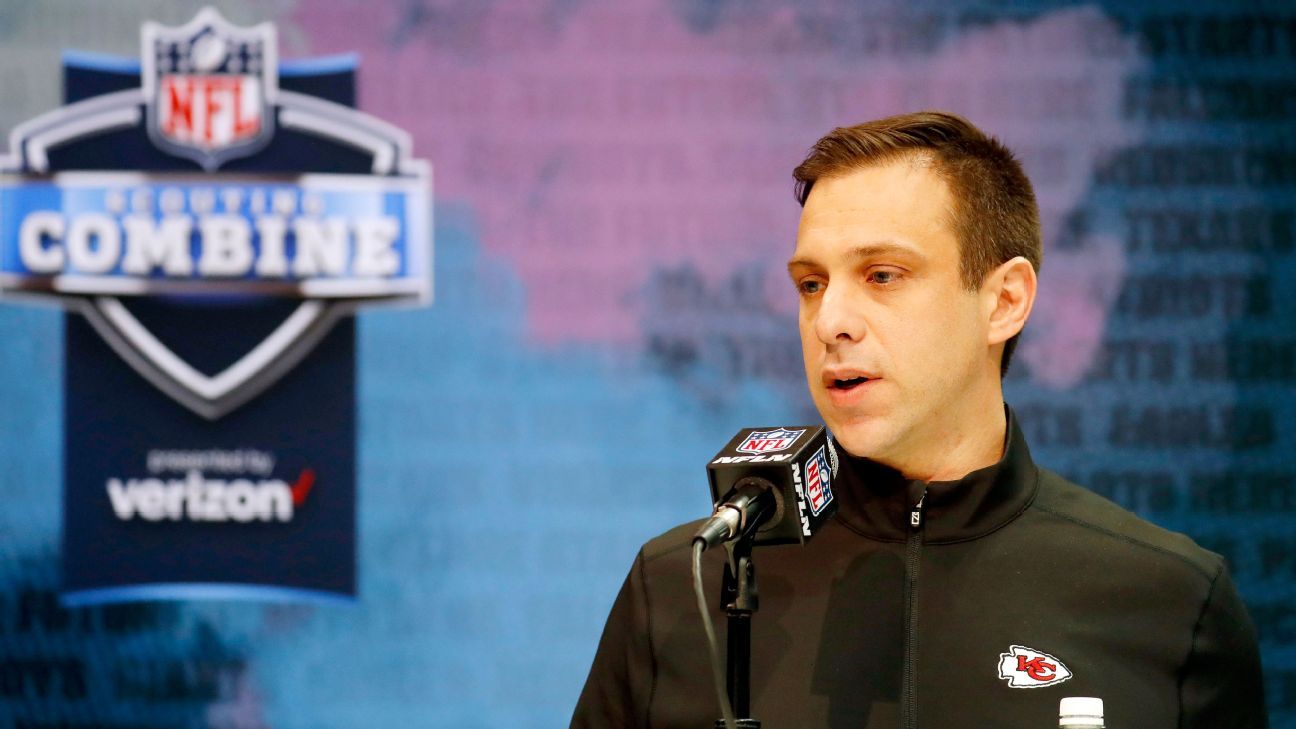 KANSAS CITY, Mo. — The Kansas City Chiefs are often good for some NFL draft surprises. Their first-round draft pick was a running back last year, less than three months after their starter rushed for 100 yards and scored two touchdowns in the Super Bowl.
In 2019, their top pick was a wide receiver, this despite already having Tyreek Hill and Sammy Watkins. In 2017, they made a huge trade up to select a quarterback in the first round for the first time in 34 years.
The Chiefs have eight picks in the year's draft, the first being the 31st overall selection. They have one pick in each round except for two choices in the fourth and fifth rounds and none in the seventh.
While there's no telling exactly what to expect from the Chiefs in this year's draft, their positional needs hold some clues. Here is a position-by-position look at what the Chiefs might do.
• Mock drafts: Kiper | McShay | GM
• Rankings: Kiper | McShay
• QBs: Key stats | Best traits | Questions
• Kiper/McShay draft dueling superteams
• Pro day notes | Top playmakers
• Full ranking | Pick order | More
Quarterback: The Chiefs certainly don't need a player here. They have Patrick Mahomes as the starter, Chad Henne as the backup and some developmental prospects, so using a high pick or even spending a lower choice on someone to develop doesn't make a lot of sense.
Chances of the Chiefs drafting a quarterback: Not good.
Running back: Clyde Edwards-Helaire and Darrel Williams are atop the depth chart but the Chiefs don't have much beyond that. They've needed more than two runners in recent seasons, when injuries, an opt-out and a midseason release of the starter left them digging deep. The Chiefs won't go into the season with a running back roster as currently constructed.
Chances of the Chiefs drafting a running back: Don't bet against it, particularly in a middle or late round.
Wide receiver: The Chiefs have Hill as the No. 1 player here but nobody proven as the replacement for Watkins as the No. 2. Mecole Hardman, their top pick in 2019, is next in line but the Chiefs haven't appeared comfortable with him in a full role during his first two seasons. Maybe that changes this season but if the Chiefs were confident in that, would they have tried to sign JuJu Smith-Schuster?
Chances of the Chiefs drafting a wide receiver: Very good.
Tight end: This won't be a priority as long as Travis Kelce is playing as well as he did last season. But Kelce will be 32 in October. Is it time for the Chiefs to consider his eventual replacement? The Chiefs haven't drafted a tight end since 2015.
Chances of the Chiefs drafting a tight end: This could be the year.
Offensive line: Since the end of last season the Chiefs have signed Joe Thuney, Kyle Long and Austin Blythe and re-signed Mike Remmers. They also expect Laurent Duvernay-Tardif and Lucas Niang to return after they opted out of last season. But they still don't have an obvious candidate to start at left tackle. The Chiefs have selected one lineman in the top three rounds in the last five drafts, so despite their free-agent activity they could use some young talent here.
Chances of the Chiefs drafting an offensive lineman: Almost a certainty and likely more than one.
Defensive line: After losing Tanoh Kpassagnon and Alex Okafor, the Chiefs could use some help on the edge. Their top three at those positions as of now are Frank Clark, Mike Danna and situational pass-rusher Taco Charlton. They won't go into the season that way.
Chances of the Chiefs drafting a defensive lineman: Very good, particularly an edge player.
Linebacker: Damien Wilson, one of two linebackers to play more than 500 snaps for the Chiefs last season, departed as a free agent. Willie Gay, last season's second-round draft pick, is the most likely candidate to increase his playing time but the Chiefs don't have a lot of depth so they might want to invest a draft pick here.
Chances of the Chiefs drafting a linebacker: They'll do it if they find value at a given spot.
Defensive back: The Chiefs have some good, younger players at cornerback in L'Jarius Sneed, Charvarius Ward, DeAndre Baker and Rashad Fenton but could use an upgrade if one's available. Last season's top three safeties are back.
Chances of the Chiefs drafting a defensive back: More likely for a corner than a safety.