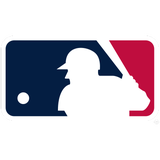 By Jordan Shusterman
FOX Sports MLB Writer
With an additional wild card up for grabs in each league, there are even more possibilities than usual for how the MLB postseason picture can shape up as the 2022 regular season winds down.
Certain teams — such as the Dodgers, Astros, Mets, Braves, Cardinals and, yes, even the recently flailing Yankees — are looking like safe bets to appear in the playoff field and will aim to finish the regular season strong and, most importantly, healthy.
Several other teams either currently hold a postseason spot — Guardians, Phillies, Padres, Rays, Mariners and Blue Jays — or have the postseason well in their sights — Brewers, Orioles, Twins and White Sox — but will need to play well over the next month to ensure that Oct. 5 isn't the last day of their seasons.
And then there are the teams whose seasons are definitely coming to an end Oct. 5 but who also have a month of games to go. These teams are primarily focused on two things: 1) giving their young players an opportunity to learn and develop at the highest level without the pressure of needing to win; and 2) playing spoiler for those opponents still pursuing the postseason. 
Obviously, teams still want to win every game because losing isn't fun, but at the same time, winning too many games could have an adverse effect on their draft position. Speaking of which, for the first time in MLB history, a lottery will determine the order of the top six picks in the draft.
But enough about the bad teams and next year's draft. These next five or so weeks are about the teams playing for the chance to, well, keep playing.
Here are the series you won't want to miss over the final month: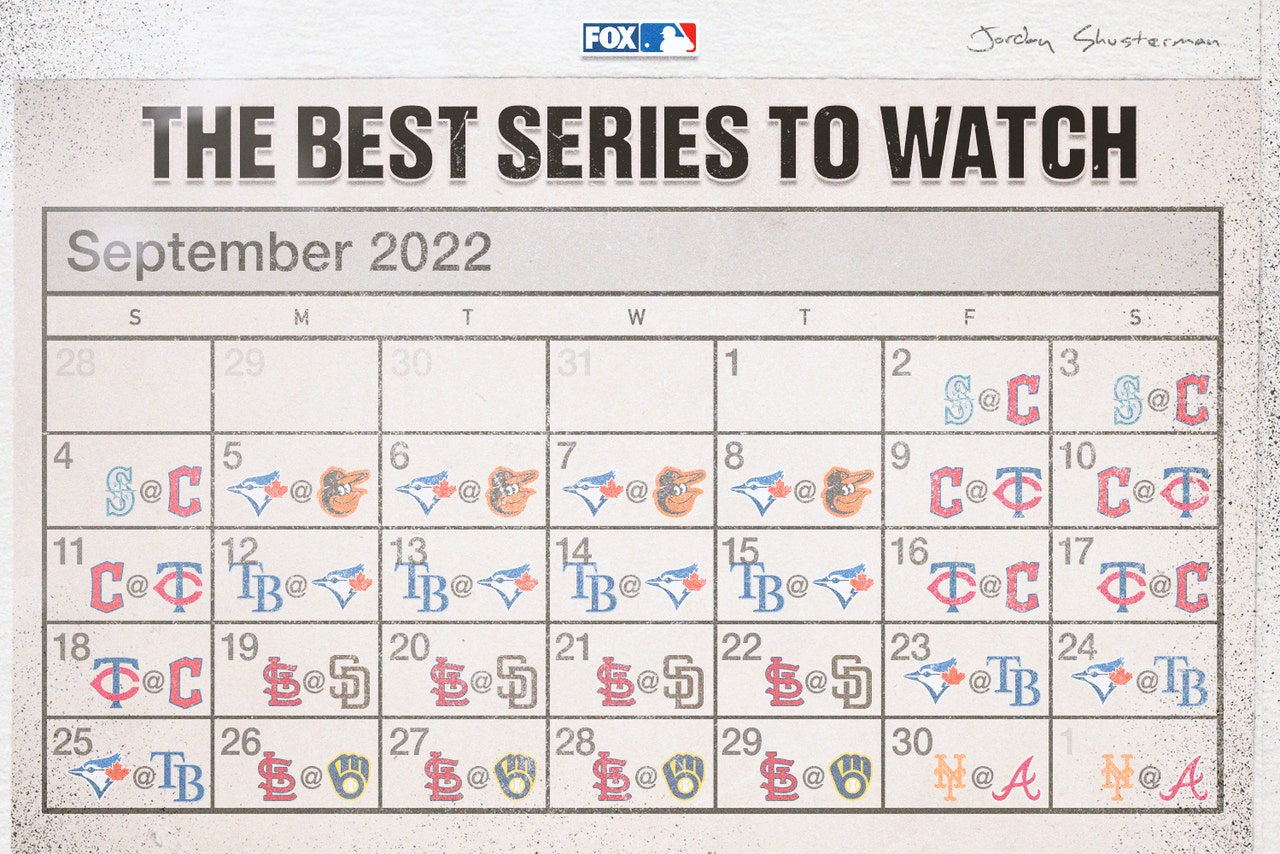 Key:
F-S = Friday-Sunday
M-W = Monday-Wednesday
M-T = Monday-Thursday
T-W = Tuesday-Wednesday
T-T = Tuesday-Thursday
T-S = Thursday-Saturday
FRIDAY, SEPT. 2 TO SUNDAY, SEPT. 4
* Mariners at Guardians (F-S)
* Twins at White Sox (F-S)
* Yankees at Rays (F-S)
* Phillies at Giants (F-S)
Should I still be mentioning the Giants at this point? They entered September on a seven-game losing streak and are somehow tied with Arizona, which — all respect to the D-backs — is not great. The Phillies could basically bury the Giants with a series victory by the Bay.
And speaking of teams that are struggling … I know I referred to the Yankees as a team with a postseason spot locked up, and I do believe that, but they are a Rays sweep this weekend away from having just a three-game lead in the division. If you think the panic buttons are being smashed across the Bronx now, just wait until next week if that worst-case scenario happens!
MONDAY, SEPT. 5 TO THURSDAY, SEPT. 8
* Blue Jays at Orioles (M-W, 4 games, DH on Monday)
* White Sox at Mariners (M-W)
* Red Sox at Rays (M-W)
* Twins at Yankees (M-T)
Let's pause and appreciate for a second that when I did this exercise last year, the Orioles were headlining the group of teams jockeying for draft position, and now they have a legitimate chance at a wild card. It won't be easy, but they control their destiny in one sense: These are the first four of 10 remaining games for Baltimore against Toronto, the team the O's are chasing. Each of these games will be critical, and I expect both Rogers Centre and Camden Yards to feature electric crowds when they square off.
FRIDAY, SEPT. 9 TO SUNDAY, SEPT. 11
* Braves at Mariners (F-S)
* Guardians at Twins (F-S)
* Red Sox at Orioles (F-S)
* Rays at Yankees (F-S)
* Dodgers at Padres (F-S)
How 'bout a little weird interleague action — at least, in this final season in which interleague is somewhat novel — with the Braves making their first trip to Seattle since 2014? All you need to know about how long ago that was is that the guy who started for the Mariners the last time Atlanta played in Seattle is now the GM of the Rangers. 
MONDAY, SEPT. 12 TO THURSDAY, SEPT. 15
* Rays at Blue Jays (M-T, DH Tuesday, 5 games)
* Padres at Mariners (T-W, 2 games)
* Brewers at Cardinals (T-W, 2 games)
* Yankees at Red Sox (T-W, 2 games)
* White Sox at Guardians (1 make-up game on Thursday)
Toronto and Tampa Bay have been shuffling among the three wild-card spots for much of the season and still have nine games remaining against each other, starting with this ridiculous, five-game set in a couple of weeks. The most fun part is if they continue to keep pace with each other over the final month, there's a very likely scenario in which they play again in the wild-card series in October. Better get used to this matchup!
FRIDAY, SEPT. 16 TO SUNDAY, SEPT. 18
* Twins at Guardians (F-M, DH Saturday, 5 games)
* Orioles at Blue Jays (F-S)
* Yankees at Brewers (F-S)
* Phillies at Braves (F-S)
Let's say the White Sox fall out of it. These games between the Twins and Guardians would be fantastic theater, considering how the season has gone thus far, with Minnesota in first place essentially all season until Cleveland wrested it away earlier this month. Add the fact that it doesn't seem likely the AL Central will get two postseason teams, and the pressure to win the division gets that much higher. Also: It's a five-game series!!! 
MONDAY, SEPT. 19 TO THURSDAY, SEPT. 22
* Cardinals at Padres (T-T)
* Blue Jays at Phillies (T-W)
* Guardians at White Sox (T-T)
* Astros at Rays (M-W)
* Mets at Brewers (M-W)
Assuming the Mets hang on to win the NL East, the Braves are an extremely safe bet for the top NL wild card. This will be a great week of action for the rest of the NL postseason picture, with the Padres, Phillies and Brewers all facing quality opponents they could realistically see again in October. 
Did I just recklessly hint at a Blue Jays-Phillies World Series? I suppose I did! Joe Carter surely approves.
FRIDAY, SEPT. 23 TO SUNDAY, SEPT. 25
* Red Sox at Yankees (T-S, 4 games)
* Braves at Phillies (T-S, 4 games)
* Blue Jays at Rays (T-S, 4 games)
* Cardinals at Dodgers (F-S)
It's probably worth mentioning that there are still six games remaining between the Yankees and Red Sox, our sport's most historic rivalry. Unfortunately, neither team has been playing the kind of baseball that makes neutral fans especially excited to tune in, but things could be different in a few weeks. 
Right now, it's tough to see how Sox/Yanks games could dramatically impact the playoff picture, but then again, three weeks is a long time from now. We'll see!
MONDAY, SEPT. 26 TO THURSDAY, SEPT. 29
* Cardinals at Brewers (T-W, 2 games)
* Orioles at Red Sox (M-T)
* Yankees at Blue Jays (M-W)
* Rays at Guardians (T-T)
* White Sox at Twins (T-T)
* Dodgers at Padres (T-T)
It's only two games, but consider this the final opportunity for Milwaukee to make up ground on St. Louis if it has any intention of winning the NL Central, which entering September seems like too tall a task. There's also the scenario in which the Cardinals already have the division locked up, and these games mean much more to Milwaukee as the Brew Crew try to claw their way into the wild-card picture.
FRIDAY, SEPT. 30 TO SUNDAY, OCT. 2
* Mets at Braves (F-S)
* White Sox at Padres (F-S)
* Orioles at Yankees (F-S)
* Red Sox at Blue Jays (F-S)
* Rays at Astros (F-S)
The Mets have done an awfully impressive job over the past month staving off the relentless Braves, but if the worst nightmare of Mets fans comes to fruition over the final month, this series at Truist Park on the penultimate weekend of the regular season will be tremendously relevant. 
MONDAY, OCT. 3 TO WEDNESDAY, OCT. 5
* Tigers at Mariners (M-W, 4 games, DH on Tuesday)
* Blue Jays at Orioles (M-W)
* Giants at Padres (M-W)
* Twins at White Sox (M-W)
* Rays at Red Sox (M-W)
Seattle finishes its schedule with 20 consecutive games against teams currently below .500, concluding with this four-game set against Detroit. If the Mariners somehow haven't clinched a wild card spot but are still in the mix by this final series, all eyes will be on T-Mobile Park as the M's look to finally end the longest playoff drought in the four major North American pro sports. 
The Tigers will be looking to play spoiler in a party-pooper role for the ages. One thing's for certain: Mariners fans are going to be feeling things.
Jordan Shusterman is half of @CespedesBBQ and a baseball writer for FOX Sports. Follow him on Twitter @j_shusterman_.
---
Get more from Major League Baseball Follow your favorites to get information about games, news and more.
---
---