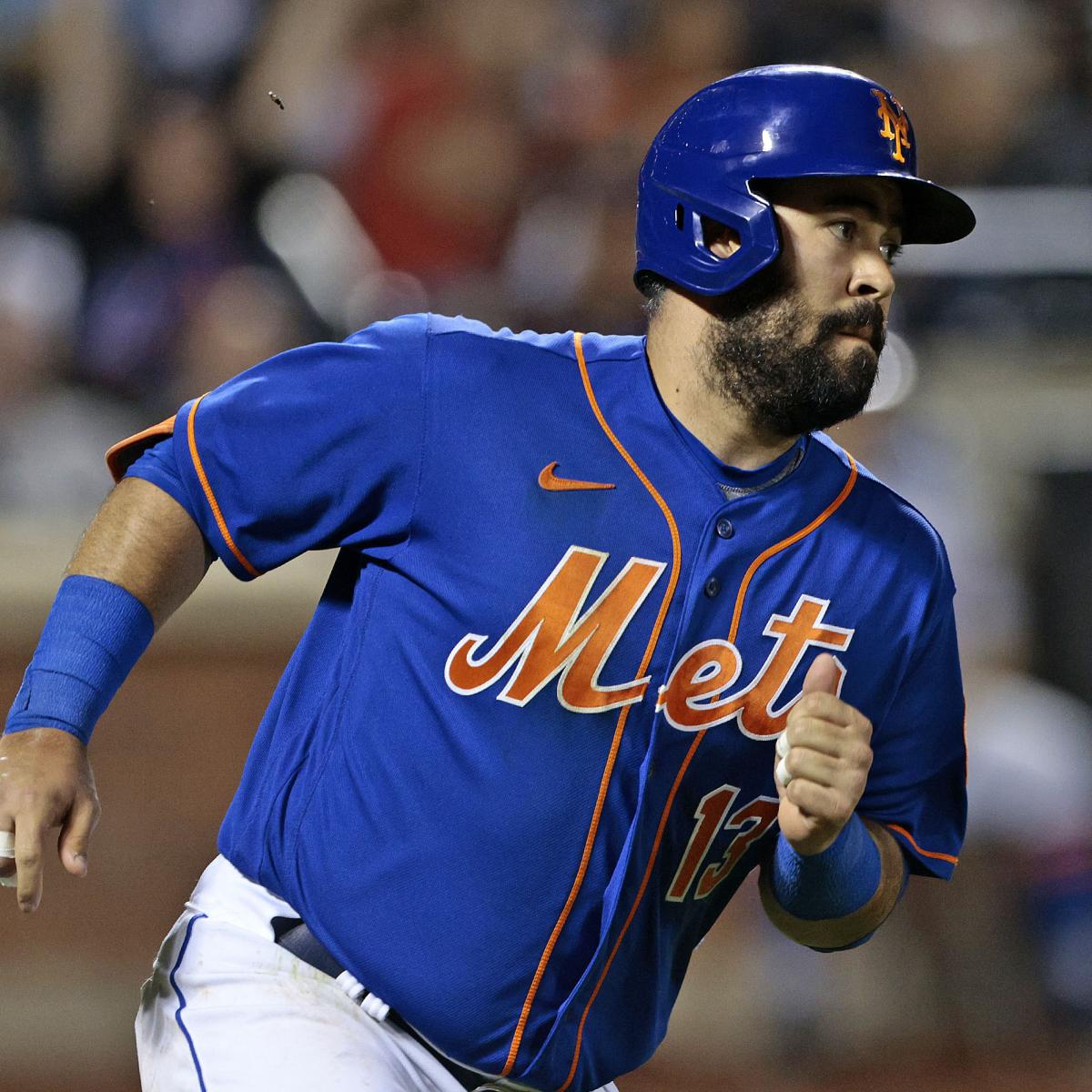 New York Mets' Luis GuillormeRob Carr/Getty Images
Atlanta Braves: Spencer Strider, RHP
Had we done this a week ago, the choice here absolutely would have been William Contreras. However, the Braves have already gotten that message, as he has started each of Atlanta's last six games and 11 of the past 15.
But the guy they evidently have not discovered needs to be starting games is Strider.
While the fifth spot in this rotation has been a hot mess between Bryce Elder, Huascar Ynoa, Tucker Davidson and Kyle Muller, there sits Strider in the bullpen with a 2.22 ERA and a 13.7 K/9 through 24.1 innings of work. And he made 21 starts in the minors last year with a 3.64 ERA and 153 strikeouts in 94.0 innings, so it's not like he's lacking in experience as a starter.
If Mike Soroka (Achilles) were closer to a return, if Ynoa were pitching better in the minors or if they at least had a winning record, I'd understand. But this continued refusal to even give Strider a chance is mystifying.
Miami Marlins: Louis Head, RHP
After nearly a decade of working his way through the minors, Head was an unexpected surprise for the Rays last season. As a 31-year-old rookie, he logged 35.0 innings with a 2.31 ERA and 0.86 WHIP. But then they traded him to the Marlins for a PTBNL, and he has been even better in his new Florida home.
In 13 of his 14 appearances, he didn't allow a single run, boasting a 1.20 ERA. But for all his zeroes, he has just one hold and one save, while several of the pitchers the Marlins have used in high-leverage situations (especially closer Anthony Bender) struggle. For a team that has suffered 14 of its 25 losses by exactly one run, putting Head to better use could be a game changer.
New York Mets: Luis Guillorme, IF
The Mets designated Robinson Cano for assignment in late April, which opened the door for more playing time for Guillorme. And he has not disappointed, batting .409 thus far in May.
But he's still only starting around 50 percent of New York's games.
Yes, Pete Alonso, Jeff McNeil, Francisco Lindor and Eduardo Escobar have the four starting infield spots pretty well locked up. But save for a four-hit performance on May 23, J.D. Davis has struggled mightily as the primary DH. And Escobar doesn't exactly have Brooks Robinson's glove at the hot corner, saddled with the second-worst fielding percentage among third basemen who have logged at least 850 innings since the start of last season. Let him and Alonso platoon at DH and get Guillorme in the lineup every single day. 
Philadelphia Phillies: Garrett Stubbs, C/LF
It's understandably difficult for the Phillies to find a spot for this guy. Bryce Harper is at least temporarily the permanent DH because of his UCL injury, and J.T. Realmuto is the everyday catcher. But Stubbs did make occasional appearances in left field over the past three seasons in Houston, so there's got to be some way to get his .379 batting average and 1.162 OPS into the lineup more than just once in a blue moon.
Thirty-three plate appearances is a small sample size, of course. And he was merely a .182 hitter in the big leagues during his time with the Astros. Until he cools off, though, get creative to get him in there. 
Washington Nationals: Luis Garcia, IF
This is the lone spot where we're going with a player who hasn't appeared in a major league game yet this season, but for crying out loud, how are the 17-31 Nationals not giving this 22-year-old phenom a shot?
Garcia played 110 games for the big league Nats over the past two seasons, hitting .254 with eight home runs. Thus far this season at Rochester, he's batting .327 with eight dingers. Meanwhile, 35-year-old Alcides Escobar is playing pretty much every day at shortstop and batting .220 with no home runs. Give the fans something to cheer for, please.