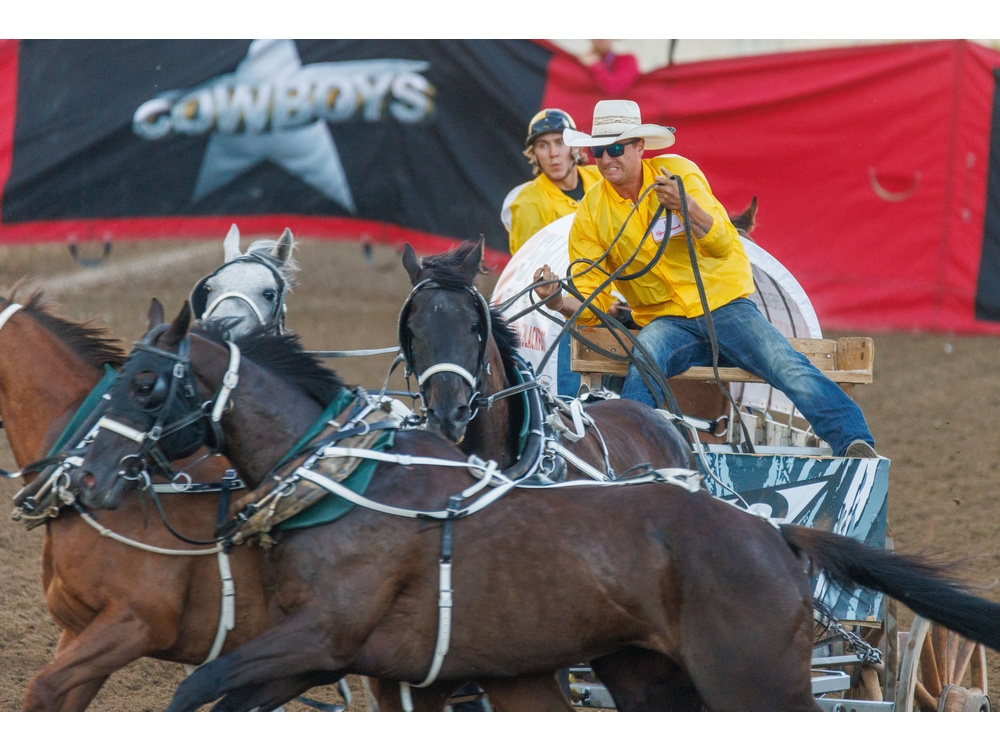 Article content
Chad Fike has shown flashes of brilliance this season.
Article content
His confidence as a chuckwagon driver carried over onto the GMC Stadium racetrack for the 2022 edition of the Cowboys Rangeland Derby.
"Our horses are doing good and doing their job," said Fike, who had the fastest time on the second night of the show driving his Shaw GMC Chevrolet Buick outfit to take home $6,000 in day money. "We're happy with where we're sitting so far."
After sitting atop the aggregate standings through two nights of racing, he fell back to sixth spot following a third-place showing in his heat on Sunday behind Chance Bensmiller (PCL & Partner) and Kurt Bensmiller (Versatile Energy Services).
In an exciting finish to the seventh heat on Monday, Fike raced hard down the stretch to finish in a time of 1:14.87, but he was edged out at the line by Doug Irvine (Gilligan's Boat Sales & Service, 1:14.63) and Darcy Flad (EquiPride, 1:14.73).
Article content
Nonetheless, the winner of the 2015 Orville Strandquist Memorial Award as the Stampede's top rookie driver is happy to be near the top of the 27-driver standings in eighth place overall.
"I guess it would be easier to be at the top and figure out how to stay there than be at the bottom and figure out how to get to the top," said Fike, who has a pair of third-place finishes on the World Professional Chuckwagon Association tour this season – at the Grande Prairie Stompede on May 29 and at the Medicine Hat Exhibition on June 10. "We made the dash in both Grande Prairie and in Medicine Hat and we had some tough luck in the barrel draw for the dashes there, but the outfits have been running us at the top of about every show we go to.
"We won the aggregate for Medicine Hat. We're sitting 10th in the world right now so things are going good."
Article content
Kris Molle guided his visitlethbridge.com wagon to Sunday's quickest time of 1:12.94 to win $6,000.
Although Chanse Vigen and his Cowboys Casino rig finished second behind Layne MacGillivray (Spray Lake Sawmills) in the ninth and final heat, he moved atop the aggregate standings with a total time of 4:55.59 through four races. MacGillivray sits in second on the leaderboard just 18/100ths of a second behind Vigen.
Fike's on pace for his best showing on the WPCA circuit since he finished 17th overall in both 2016 and 2018.
"Obviously I'm shooting for higher, but that would be my highest finish in the world," said Fike in regards to staying in the top 10.
Fike attributed much of his success to some new horsepower this season.
Article content
"I went down to Iowa last fall and picked up some new ones and then found some horses last year," said Fike, who brought 17 horses with him to Calgary. "We had a few shows go last year when other shows didn't and got things figured out there with some new horses. I trained 'em a little bit different this spring which I think has made a pretty big difference in how they're working."
The last time Fike competed in Calgary in 2019, he qualified to compete on Semifinal Saturday, but wasn't able to race his way into the finals.
"We made the semifinals and got a taste of it and it's just made me hungrier for more," said Fike, who believes he has what it takes to win the Rangeland Derby title. "It would be amazing. That would be a career achievement to win this show."
Article content
Due to a change in format, this year's show will crown its aggregate winner on Saturday at the end of nine nights of racing and the top three wagons will advance to Sunday's championship dash for cash.
"We'll just take her one day at a time and see where we're sitting at the end of nine days and hopefully get in there," said Fike, who often compares notes with his older brother and fellow driver Jordie. "We'll ask each other questions on what each other thinks on different horses that we're hooking and stuff.
"We'll talk about it over coffee in the morning, so I guess you could say we would talk strategy and try to get each other's opinion and help each other out when we can."
Although Jordie won Monday's second heat in a time of 1:15.47, he's sitting well back in the aggregate standings.
"We didn't get the start we needed but it's the finish you're worried about," said Jordie, who finished just 5/100ths out of first place behind Ross Knight in the Ponoka Stampede championship final on July 3. "We'll just see where things go. I've got some strong horsepower. They proved that in Ponoka last week, so I'm just going to stay cool and keep 'er clean and see where we end up."
He'll also be cheering on his younger brother at the same time.
"I come around his barn more than anybody else's and he's got some real nice horses there that a lot of guys would probably give a lot to have," he said.