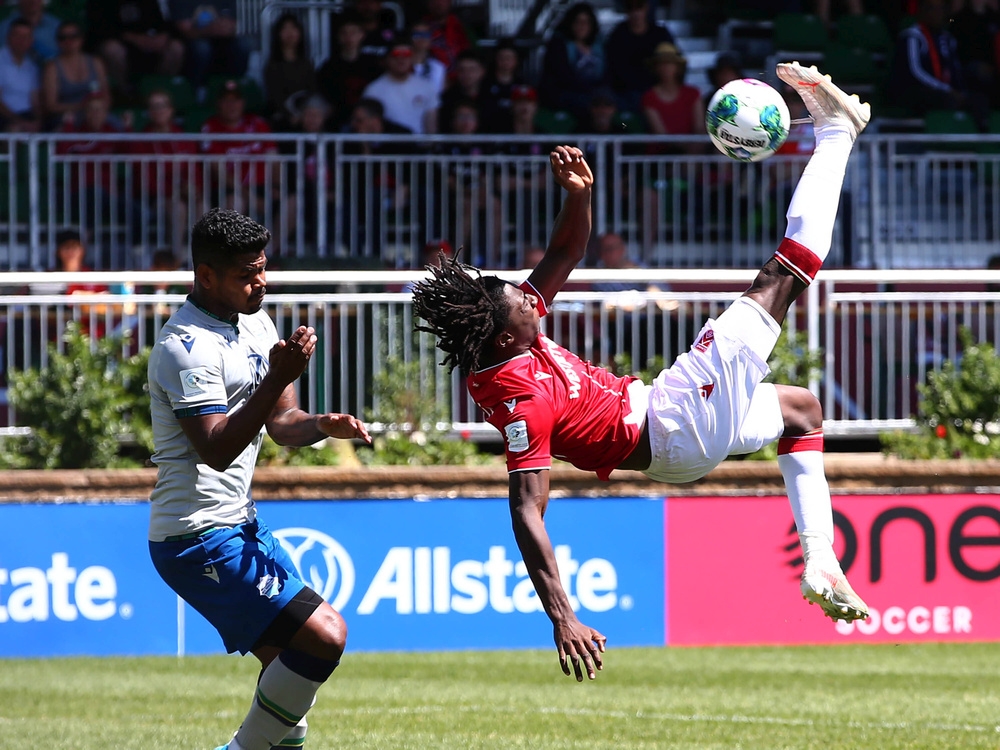 Reviews and recommendations are unbiased and products are independently selected. Postmedia may earn an affiliate commission from purchases made through links on this page.
Article content
ATCO Field is home sweet home for Cavalry FC these days.
Article content
A perfect run of Canadian Premier League games on the pitch in 2022 is proof of that.
It's just too bad Aribim Pepple won't be calling the Spruce Meadows stadium that any more.
He's on his way out the door — the transfer window, in fact …
Team TBA.
"We've agreed to terms with a club," said Cavalry GM/head coach Tommy Wheeldon Jr. " We're finalizing paperwork before we make a final announcement, but he will be transferred in this transfer window."
Article content
So Wheeldon Jr. and his charges will soldier on without the hot-footed attacker — without his six goals in his last five games — but knowing they're on a heater themselves with an 11-game unbeaten streak at hand and that five-for-five form on the home pitch making things nasty for CPL foes.
Article content
"We've got the best pitch and stadium in the league, in my humble opinion," said Wheeldon Jr. "I think grass does make a difference. Turf, you understand that our climate calls for it. But there's nothing like playing on grass — it's the purest element of it. We get to train on it, so it does give us a bit of an advantage. And then our crowd is brilliant — whether it's the Foot Soldiers, the grandstand, the friends and families … there's a great atmosphere there, and our players play up for it.
"It does become our 12th man."
The next incoming army is York United FC — the Nine Stripes — on Tuesday night at ATCO Field (7:30 p.m., OneCanada, OneCanada.ca).
At 2-5-8, they're not the team that was shut down Cavalry 2-0 during the third week of the CPL campaign.
Article content
Neither, however, is the first-place Calgary crew — now 8-4-2.
In fact, the last time the Cavs lost was in 2-0 fashion to host York way back on April 22.
"They've got everything to gain and nothing to lose," said Wheeldon Jr. "We watched them against Pacific (FC), and I personally thought they were the better team. At 2-1, they score one of those chances they had, the game's dead."
In the standings, York is next to dead-last, one point ahead of bottom-feeder FC Edmonton (2-4-9). A big reason for that is the Nine Stripes' 10-game winless skid which includes a 1-0 loss to visiting Cavalry on May 29.
The lack of offence has really hurt them — just above a half-goal a game — despite the addition of guru Martin Nash, formerly an assistant under Wheeldon Jr. here in Calgary. 
Article content
"It's been that way all season — the fine margins," said Nash after Friday's loss in Langford B.C. "We seem to find a way to make the mistake or not score the goal. it's been a funny season. At least now we've got some options — we can change the game a little bit and bring in some options whereas we couldn't do that before, but I don't want to lose the defensive identity that we have. We've got to find a way to get back to that and work on it because I think that's got to be a staple for a young team like ours."
But Nash knows it won't get any easier coming into ATCO, where the experience of Cavalry often lights up the enemy.
Especially these days.
"We're not going to take York lightly," promised Wheeldon Jr. "Essentially, it's a best-of-four series, so how we see it, we're tied 1-1 with York and we want to win the series against them. And playing at home, it's a nice time … hopefully, we can use our home-pitch advantage."
Article content
And stay on top of the league, even without that fine Pepple.
"The league table is a nice placeholder, but what's really important is how you finish the season in October," added Wheeldon. "We're not getting too carried away. I've always been a fan of the league table, and until that changes, we'll play it for what it is — one game at a time. 
"Let's live above the line of four and stay in the playoff numbers, and then when we get there, that's when we'll be judged over the 28-game season."
FREE KICKS
Cavalry gets a big name back on defence with David Norman Jr. returning from a two-game ban for his part in a scuffle against Pacific a few weeks back. But captain Mason Trafford (knee) remains out after missing last week's 3-0 win over HFX Wanderers FC. "It was a weird one," said Wheeldon Jr. "Against Ottawa, he took a knock on the knee and he's just got a bit of a bone bruise. It's one of the those where he's day-to-day, week-to-week. It's nothing serious per se." … The Cavs aren't rushing Myer Bevan (hamstring) back from injury, with the gaffer now thinking a mid-August return for the attacker is the plan. "We believe Myer's return was a hamstring injury — Grade 2 — so we believe he'll be back mid-August," added Wheeldon Jr. "Based on his form before (the injury), we just need him to be ready for the September-October window for the run-in." … Cavs new midfielder Mikael Cantave is still working up his match fitness before he's eligible for selection … Cavalry remains down four long-term injured players — goalkeeper Tyson Farago (back), defender Tom Field (knee) and forwards Anthony Novak (ACL) and Fraser Aird (ACL).
tsaelhof@postmedia.com
www.twitter.com/ToddSaelhofPM