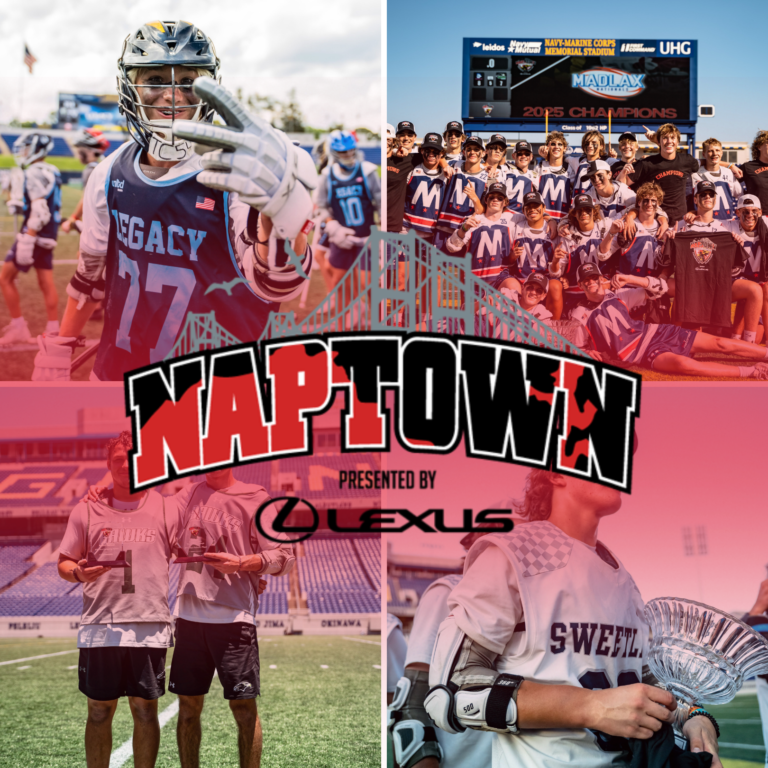 Paul Carcaterra and I called the four Naptown National Challenge Championship games from Annapolis on Wednesday for ESPNU and ESPN+. The games were all tight and highly entertaining. The play on the field was intense and super skilled. There were over 240 college coaches in attendance during the week, scrutinizing and evaluating potential recruits. This premiere event is widely respected and to hoist a title at the Naptown Challenge is a gigantic achievement for a club program. 
2023
---
Next Level Blue – DC
Matthew Till – Defender from Bullis is a verbal to Penn. He's an energy guy, that always brings the juice. Till is a late bloomer who started out on the B team, and clearly has developed into one of the teams best players. The scary part is that he has a lot more growth potential. He's still growing into his body, and once he puts on some more functional muscle, I think he will be a terrific defender at UPenn for coach Mike Murphy.
Tre Moore – Attackman/Midfielder from McDonogh and a verbal to Boston University. Next Level offered Tre the very last roster spot on the NL 2023 team in fourth grade. He couldn't catch and throw well, but you could see his athletic potential. He has really blossomed into a great all-around player. Tre is extremely explosive and a natural feeder, and he has been working hard on this shooting ability. If he continues to improve his shot, he is going to be a big contributor for Boston University, the Patriot League champions.
Chase Band – Bullis attackman who is verbally committed to Ohio State. Band appeared to be the teams best offensive player and one of the best at the Naptown Challenge. He did not get a ton of early love in the recruiting game, but he kept his head down and kept working. He had a break-out spring season for Bullis and Ohio State coach Nick Myers has always liked him. He has one of the fastest shot releases for the age group, and shoots with power along with accuracy. He is a terrific off ball finisher, shooter, and recently he has emerged as a legit dodging threat. Band will be fun to watch in the Big Ten.
Annapolis Hawks 2023 
Hawks took home the 2023 Naptown Challenge title in their backyard, Navy Marine Corps Stadium behind monster games from goalie Kasey Heath and lefty attackman Nick Golini. The hometown Hawks built a 9-5 lead and held on 9-8.
Kasey Heath – The right hander has verbally to Lehigh and has flashed his talents at this event for a handful of summers. He's got nice size, has explosive feet and hands, and isn't afraid to get involved with ground balls. Heath scored a goal in the final when as he busted over the midline and straight down Rowe Boulevard for a right handed rip on the run. It's not the first time this Kent Island keeper has scored. 
Nick Golini – This Navy verbal commit was the most productive player on the field during the 2023 championship game. Golini, who attends St Mary's in Annapolis, scored three times, all of them being unassisted efforts from the left wing. He's got a ample array of options from the wing, he can get underneath or topside depending on the defensive reaction to his initial push.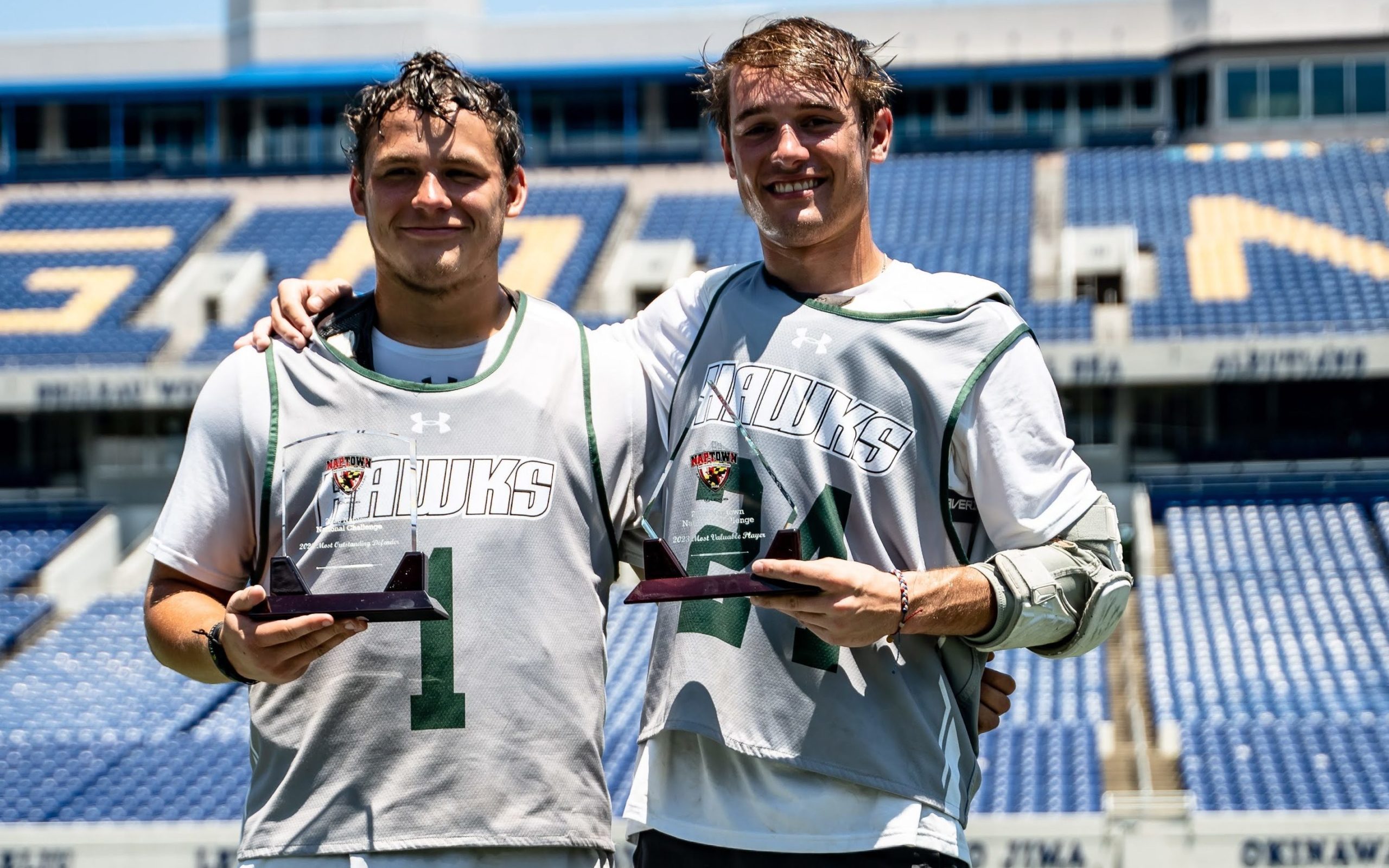 2024
---
True Illinois
Coach Devin Cruz continues to do outstanding work with this mid-western club. 
Kyle Eggebraten – Kyle is a 6'2" defender and has everything you look for in a prototypical high level DI defender. He has the size, the footwork, the aggressiveness, and the stick skills to handle the ball in traffic and create possessions for his offense.
Aiden Weisenborn – The 6'1″ lefty midfielder out of Wheaton Academy is what you picture when you think of big, down-hill midfielders that carry a cannon on the run. His ability to work inside and play physical off his dodges can tax defenses while opening up his teammates.
Johnny Carrington – Johnny is a lanky 6'1″ goalie out of Wheaton Academy, with the reach to steal goals off the board. He is explosive and clutch on the inside. I was impressed with his communication skills.
Brayden Lahey – Lahey is a contact driven right handed attackman out of Trinity Pawling. He can create from behind the net and free his hands from the hashes, generating high percentage looks. His poise with the ball is palpable as he calms down the offense.
Mason Szewczyk – Mason is a special player out of Culver, he's creative, with great size and a very good lacrosse IQ. His hands make him a vital part of face-offs as he can attack ground balls and morph them into odd-man rushes. Mason is butter, smooth in every facet. 
Michael Frier – The faceoff specialist out of Benet Academy started the four goal run in the fourth quarter winning possessions. He's one of the most academically well rounded players on the True Illinois roster. I'd expect to see him getting love from Ivy's and other world class academic institutions.
Liam White – The midfielder out of Boys Latin can run, he's explosive. How else do you describe a young player who can breakaway from every defender on the field? While some may question his size, Liam is a gamer who can attack the net at will and plays at a high pace, he does everything at 100mph.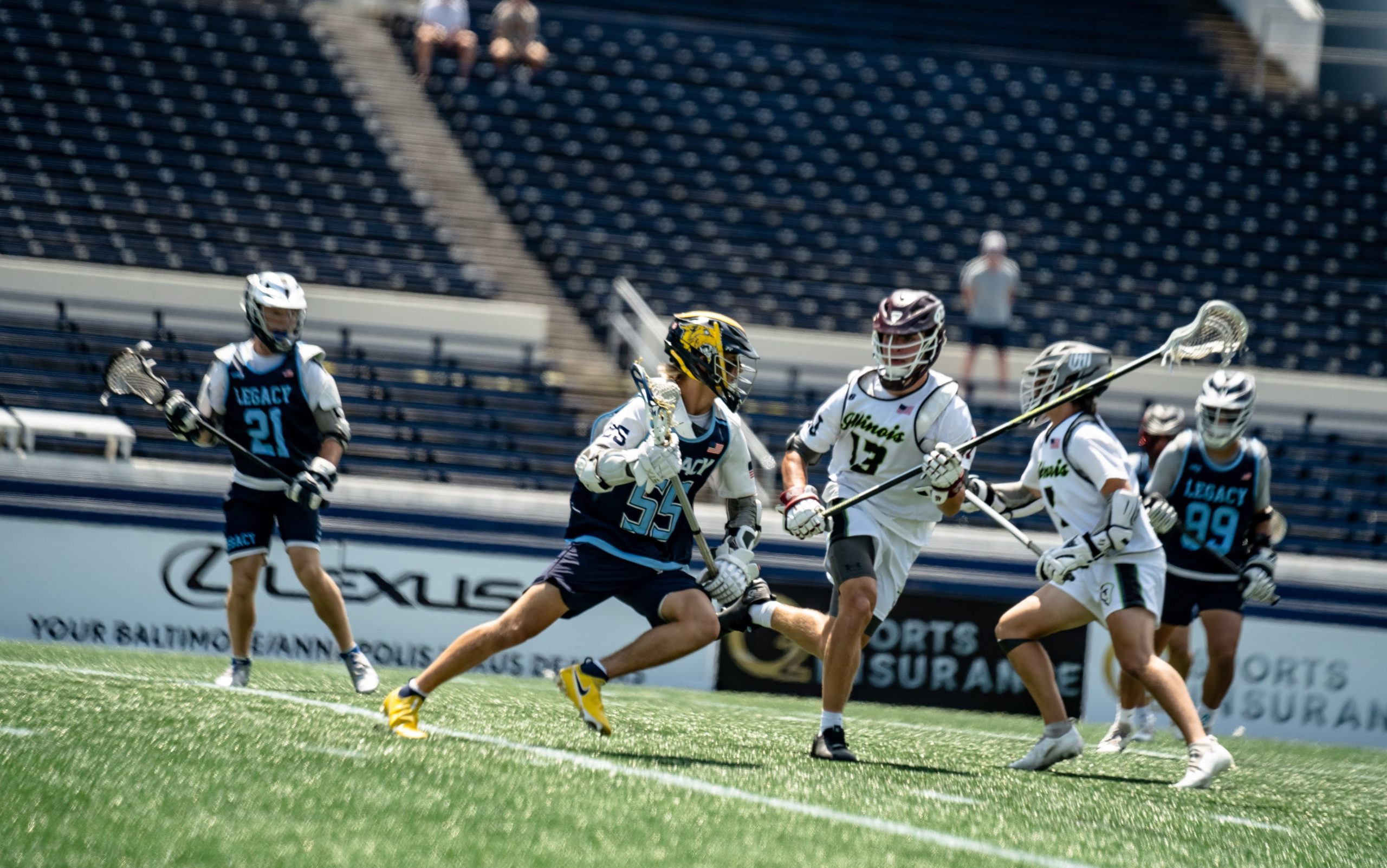 Legacy Taz 2024 
Taz won the 2024 Naptown Challenge title game 10-7 over True Illinois. True IL made it interesting in the fourth quarter after a four goal spurt. These athletes played seven games in three days.
Jake Anzelone – This playmaking LSM scored twice in the final and was all over the field. He attends Seaford HS in Nassau County. Four years ago Jake was a midfielder struggling to dodge. Legacy converted him to a pole and he has flourished in the role. He deserved game MVP.
Patrick Grimley – The Grim Reaper made his mark on Wednesday at Navy Marine Corps. Grimley is a student at Ocean City HS in New Jersey, and appeared to be a sturdy two-way throwback midfielder with a lively shot. 
Quinn Whipple – Whipple attends Taft via Pittsford, NY, and comes from a family rich in lacrosse lineage. Quinn's vision is incredible, he has the ability to snipe from distance, while also being crafty inside. He's one of the top players nationally in the class of 2024.
Tyler Eye – Lawrenceville's LSM is on a trajectory that ultimately lands him in the PLL. He's that good. Coach Tommy Zummo said that Eye is the best between-the-lines player he's ever coached. Eye takes calculated chances, he will get beat once in a while but he makes up for it all over the field. He can steal your lunch money. He hunts groundballs and loves to play offense. I felt as if I was watching CJ Costabile Jr. 
Liam Kershis – Kershis is a combination of his two former Shoreham Wading River alums Xavier Arline (Navy) and Chris Gray (PLL Atlas). Liam has the athleticism, the IQ, and the toughness and hunger. He plays calm and cool at all moments while showing an affinity for making big plays in crunch time. He projects to be a sought after recruit especially after his performance at the Naptown Challenge. 
2025
---
Annapolis Hawks
Matt Beachley – Benchley will be a four-year varsity attackman at Dematha HS. He's a terrific dodger/facilitator, but riding is what sets him apart from his peers. Like a young Ben Rubeor, he hunts defenders as they clear, and can dislodge the ball to trigger counter attacks. The Hawks clearly wanted the ball in his stick every possession.
Mason Klessinger – Mason will be a four-year varsity midfielder at Archbishop Spalding. He began by playing SSDM as a freshman, getting a feel for high-level HS lacrosse in the MIAA. He projects to be a two-way midfielder as a sophomore, where he should thrive on face off wings. His north/south dodging was eye-catching and he can shoot the alleys with both hands. This is a player who's worth keeping tabs on.
Madlax Nationals
The Nationals, with no numbers on the front of their jerseys, trailed 5-1 before unleashing a dramatic comeback for an 8-7 win in overtime. Coach Harrison Holak made some astute halftime adjustments which perked up the offense. 
Caden Southworth – Southworth is a Landon HS midfielder who is lethal in the open field with long strides and downhill change of direction hips. Caden played tough as nails and a displayed two-way midfielder skills with strong on ball defense and overall energy and stamina. The on the run shot was effective as his body control is very above par for the level.
Harrison Wheeler – The Second Team All-Region player out of Highland Park is equipped with an arsenal of take away checks, Harrison has the ability to throw them anytime, anyplace without sacrificing body position. He's a groundball vacuum cleaner and a young magician with the ball in his stick who is lethal in transition with the IQ to back up his handle. He is able to take faceoffs if necessary and is damn good at it, this young star is gritty as heck. Carc loved him.
Zakk Chesteen – Arguably the most talented offensive defender in the class with an incredible stick, deer like downhill gallop in the open field, and the IQ to match. Not to mention a missile of a shot on the run along with the capability to step down from 15. Defensively, he is a takeaway artist who uses his range to have his way with opposing attackmen. If he continues to improve, Zakk will be a top prospect.
Charlie Ball – Ball knows ball. He leads by example and vocally as one of the higher IQ players in the country. Charlie uses his smarts combined with lethal inside finishing and vision to quarterback the Madlax offense. A menace on the ride, Charlie hustles. He's a true competitor who is only going to get better.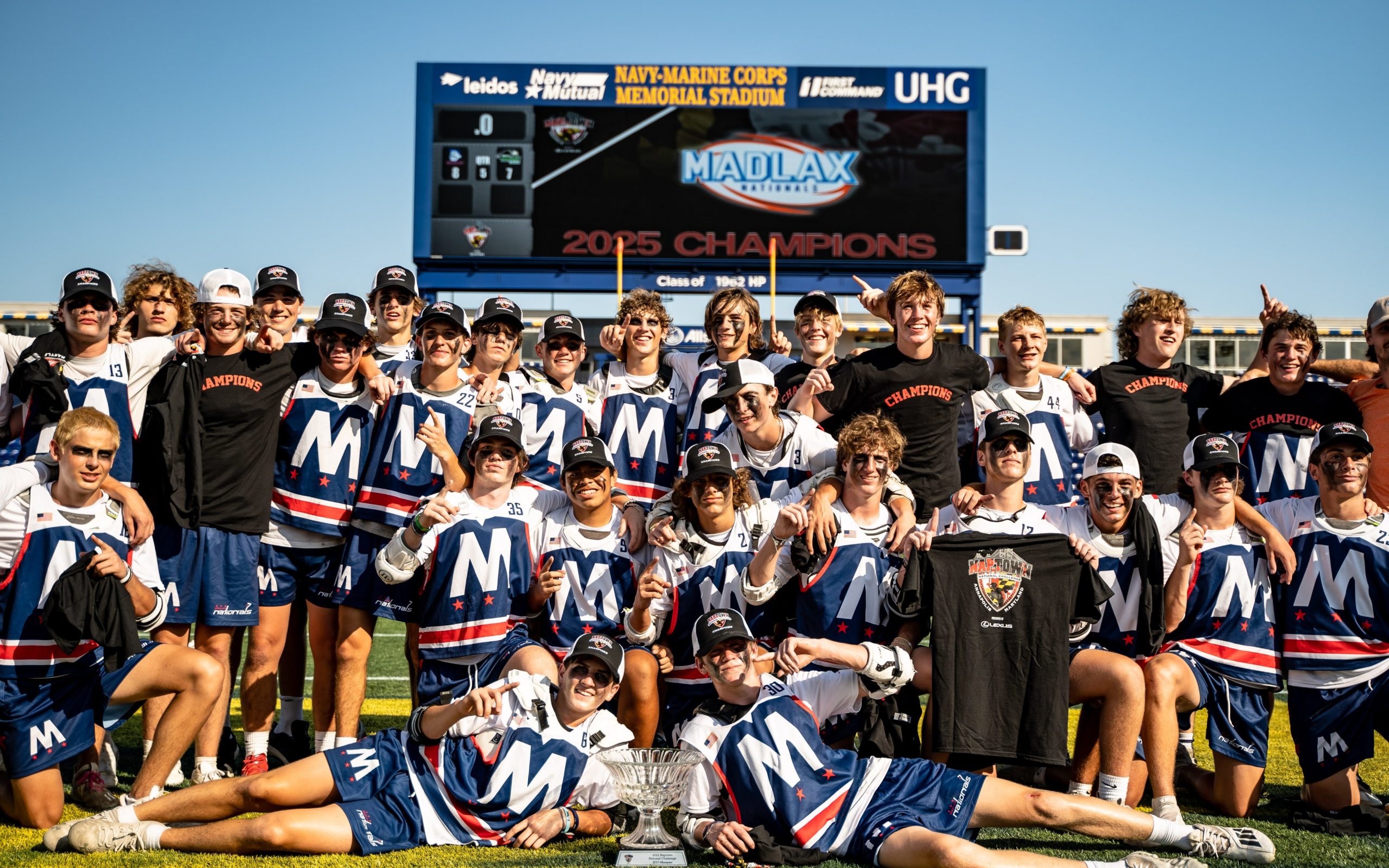 2026
---
SweetLax Navy
A team with a roster of players from central NY and Florida, scored the last four goals of the contest, winning 9-6 over the Hawks. They finished the game on a 6-1 run after trailing 5-3. I've never seen a bigger, stronger, faster, or a more mature looking group of rising freshmen, almost as if they were in the wrong age category. It was visually evident and they were dominant from the moment they played their first game at the Naptown Challenge. Apparently they are all rising ninth graders, although they could be 14, 15 or even 16 year olds by the end of June. 
Tano Auriuso is from Greece, NY in Rochester. Goes to Aquinas. Chris Doshna is a midfielder from Marcellus in Syracuse. LSM Phil Tangredi goes to CBA Syracuse, coached by Ryan Powell. Goalie Michael Slusar is from Naples, Florida. Playmaker Avery Valenti is a midfielder who attends Pittsford in Rochester.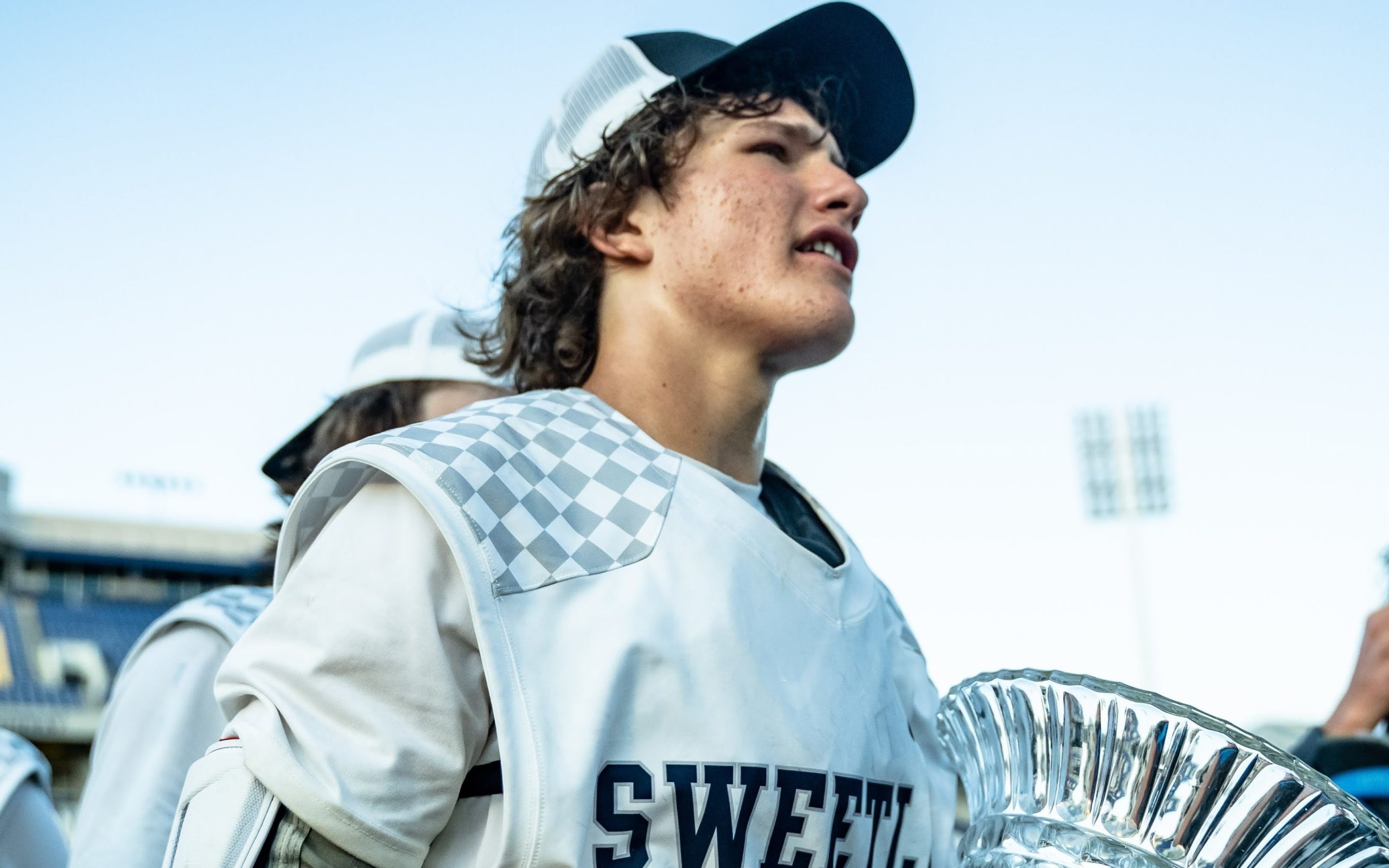 Annapolis Hawks
Brady Mollot is a highly skilled X attackman with a sensational game sense that will play at Spalding HS.
Brett Cotton is an athletic midfielder that will play for South River HS.
Dom Markovich is a speedster at the midfield will likely enroll at Boys' Latin in the fall.