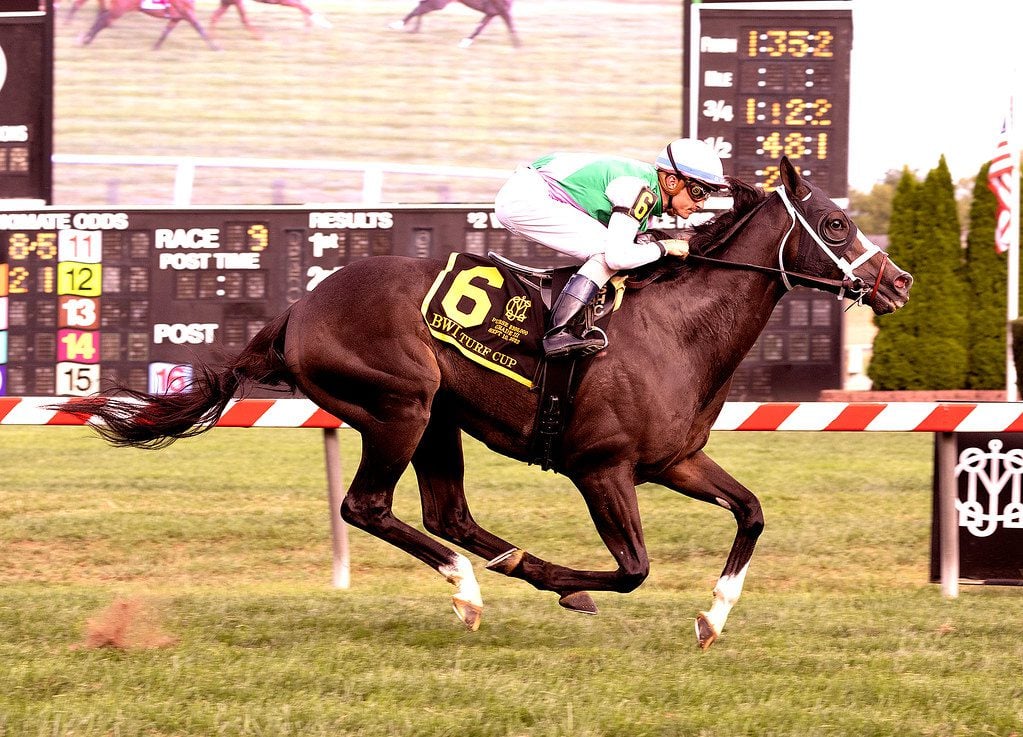 Frank Vespe

September 10, 2022
If Saturday's racing at Pimlico Race Course had a theme, surely it was patience rewarded.
Here was five-year-old In a Hurry, never in a hurry to win a stake, finally getting the first added-money victory of her career in the All Along. There was four-year-old Sibelius, finally becoming the horse trainer Jeremiah O'Dwyer thought he might be in a sharp Lite the Fuse Stakes score.
And finally, there was 35-year-old jockey Sheldon Russell getting his first graded stakes win since 2016, and first stakes win in over a year, aboard Set Piece in the Grade 3 Baltimore-Washington International Turf Cup.
Russell, out for nine months with a foot injury, returned to action July 1 with a victory, but he hadn't been able to secure his first stakes score on the comeback trail until today: 10 previous tries, no wins.
"I had a DQ, had a couple seconds," he recounted of his stakes travails. "It's always nice [to win a stake]. He's a really, really nice horse."
Russell had mounts in all four of the day's stakes. The odds of each were lower than the one before, and his results got better: from an eighth-place finish aboard 7-1 Peyton Elizabeth in the Shine Again to a third-place effort aboard 5-1 Lake Lucerne in the All Along to a runner-up finish on 9-5 favorite Jaxon Traveler in the Lite the Fuse, and finally to Set Piece.
"After every race, I'm flicking the page and going on to the next page, and it's a better horse, it's a bigger race, it's a better opportunity," Russell said. "And this was the biggest one of the day, so this one counts, and this one felt good."
Set Piece, trained by Brad Cox for Juddmonte, was off as the 8-5 favorite and entered as the most accomplished runner in the Turf Cup field. Russell had his mount, devoid of early speed, at the rear of the field in the early going. But in the Turf Cup – unlike in the All Along two races earlier – the pace, while not fast, was solid enough to give the closers a chance as longshots Bizzee Channel and English Tavern carved out a half-mile in 48 ⅕ seconds.
Entering the turn, Russell gave Set Piece his cue, and the six-year-old Dansili gelding responded willingly. Entering the lane, Russell tipped Set Piece wide, and he powered home 1 ½ lengths clear in 1:35.70 for a mile on firm turf.
"They went a lot faster [early] than I thought they would have," Russell said. "But he was nice and relaxed, and I was never really worried… At the half-mile pole, I had a double handful, it was just whether or not I could keep him in the clear."

It was Set Piece's third graded stakes win and second at Pimlico. He previously had won the Grade 2 Dinner Party on the Preakness undercard this past May. He now has 11 wins and over $873,000 in earnings from 23 career starts.
The race was in marked contrast to In a Hurry's All Along win on the Pimlico turf two races earlier. In that contest, jockey Forest Boyce got the Shug McGaughey trainee out to the early advantage and milked it for all it was worth, dawdling the half-mile in 52.65 seconds and three quarters in 1:17.59.
By the time the real running started, she still had plenty of horse under her, and In a Hurry came home fast to win by a half-length in 1:52.71 for nine furlongs. It was the five-year-old Blame mare's first stakes wins after five prior placings.
"We've had some near misses," acknowledged winning owner Stuart Janney, III, who also bred her. "A filly like this who's got some talent, you'd like to be able to send her back to be bred with as good a resume as possible, and she just hadn't won a stake. But she'd been very close and picked up a fair amount of black type."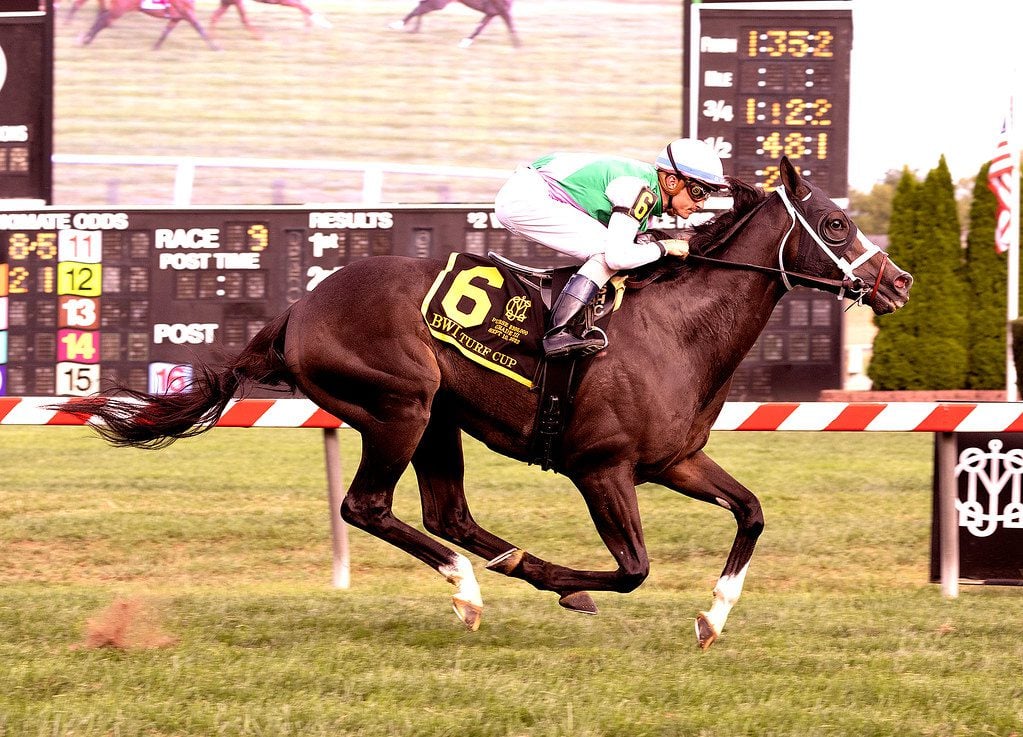 Among those stakes placings were two in graded company, in the Grade 3 Gallorette in May and the Grade 3 Suwannee River last December. Would Janney return her to graded company in search of the next big resume enhancer?
"This does allow you to think about that, because she now has won the stake" he said. "What we'll do later on this fall, I"m not really sure. We'll see what comes up, and I suspect this will be her last year racing. Then she'll be a mother."
In a Hurry paid $10.20 to win, just holding off the bid of even-money favorite Plum Ali.
In between the two turf contests, Sibelius dazzled with a 7 1/2 -length score in a sharp 1:09.30 for six furlongs on a fast main track. It was his first stakes win and second straight triumph overall; at four, he's starting to figure this racing thing out.
Sibelius paid $5.80 to win as the second choice, with favored Jaxon Traveler finishing second.
It was his fourth career win and third of 2022. O'Dwyer had tried him at distances from six furlongs to 1 1/16 miles, and while he'd run pretty good races at just about all distances, his last two races suggest that sprinting is his forte.
"From the turn of the year, he's just started to develop and get stronger," O'Dwyer said, later adding, "We've had this horse since a two-year-old. And you know, he's just finally maturing into the horse we always thought he might."
NOTES Trainer Mario Serey and jockey Grant Whitacre teamed up to win a stake for the second time in two weeks in the Shine Again, for fillies and mares that had never won an open stake. Whitacre put Swayin to and Fro in the action early, pressing the favorite, Oxana, from the get-go and gradually overcoming that runner to win by a neck in 1:10.93 for six furlongs. Serey and Whitacre had won the Timonium Distaff August 27 with Breviary, and they also teamed up to win the nightcap with Kobe's Girl… Handle on the 10-race program topped $4.2 million…