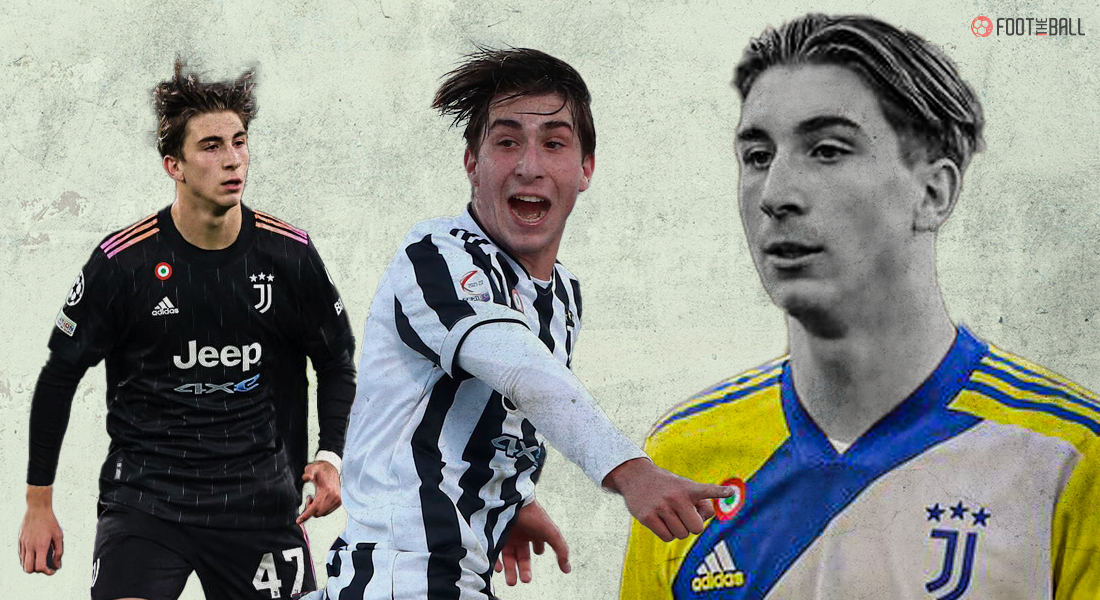 [ad_1]

When your idol while growing up was Pavel Nedved, you are Juventus through and through. When your current idol is Kevin De Bruyne, you already looking to be a superstar in the future. The Old Lady have another young gem on their hands in the form of Fabio Miretti. Even though Paulo Dybala is set to leave, the future is exciting nonetheless.
The 18-year-old has already tasted first-team action this season and is a regular at the youth level. Miretti has been playing at Juventus for more than 11 years, coming up through the various age groups. Moreover, he has also featured for Italy right from the U15s to the U19s presently.
Miretti looks to be making a big name for himself and could soon be a regular in the senior setup.
Also read: 5 ideal landing spots for Paulo Dybala
Who is Fabio Miretti?
Fabio Miretti joined his hometown club Saluzzo in 2007 before moving to Cuneo in 2008. He came on the radar of scouts at Juventus in 2011 and linked up with the Youth Sector. Having played at every level in the ensuing years, Miretti was moved up to the U17s in 2019.
https://www.youtube.com/watch?v=aAT4hju0nWs?feature=oembed
He scored 16 goals and had six assists in 17 matches in a sensational campaign that made the coaches take notice. Miretti was bumped up to the U19s for 2020-21, netting six goals and having four assists. In late 2021, he was given his first senior minutes against Malmo in the Champions League group stage.
By then, Miretti was also playing for the U23s and even captained the side on occasion.
His second appearance for Juventus came in March 2022 in the final minute against Salernitana.  "I have been playing for Juventus for 11 years, I have been in the entire youth sector and now I am part of the Under 23 in Serie C. However, when the first team needs I am ready to give my best," the youngster said after the match. H
The potential of Fabio Miretti
Miretti has been in top form for the U19s and U23s. Juventus are said to be extremely happy with his performances so far. Miretti has been superb in central midfield, able to play across a variety of positions. What is even more impressive is how good an eye for goal Miretti has. He can make line-breaking passes alongside shooting accurately from distance.
Miretti has been extremely influential for the youth teams with the U23s making it to the semi-finals of the UEFA Youth League. Having been an Italy international for a long time, he helped the Azzurri qualify for the 2022 Euro U19 Championship. Miretti needs to develop more on the defensive aspect of things.
Fabio Miretti's goal today against Belgium's U19. pic.twitter.com/9l1r9Pm1o7

— corto muso (@The_Juventino) March 29, 2022
Some decisions can be taken better in matches that will come with age. Moreover, given how many different positions he has been played in, the coaches need to take a call on which suits Miretti the best.
Stats and form
Miretti has been in top form once again this season. He had five goal contributions in the first half of the Serie C season, winning best player accolades. He has also scored twice for Italy in two games in the recent European qualifiers. Miretti's position does not allow him to score regularly. That is why he is often found making the critical passes and linking up play.
In gol Miretti con l'Italia #Under19 nel match contro i pari età della Finlandia nella seconda fase di qualificazione all'Europeo di categoria. ⚽

Complimenti, Fabio! 👏

Presenti in campo anche Mulazzi e Turicchia. 💪 pic.twitter.com/VHW3vYPir8

— JuventusFC Youth (@JuventusFCYouth) March 26, 2022
Miretti has the vision and technique to find players making attacking runs beyond the opponent's backline. Furthermore, he can quickly switch play in transition so that Juventus are on the front foot. One of Miretti's favorite weapons is to use long balls across the pitch.
He has mastered the art of using his growing knowledge of the game to find chinks in the opposition's armor. No doubt, Miretti can go on to become a very important piece in the engine room for Juventus.
Style of play
As mentioned above, Miretti is someone who loves to control the tempo of the game. A 'regista' can be used to best describe his influence on the game. Miretti can easily carry the ball long distances before laying it off.
His off-the-ball movement and making spaces to facilitate attacks are well known. Miretti has great close control with the ball and that is why he is often demanding it.
🗣 "My idol as a child has always been Nedved if I don't know why, since I was a child when I started to kick. The player who fascinates me the most is Kevin De Bruyne. What amazes me about his style of play, a complete midfielder in every way."

[Fabio Miretti / @tuttosport] pic.twitter.com/clnWASpxXM

— JuveFC (@juvefcdotcom) March 29, 2022
He loves getting on it as much as possible, so he can weave his magic and leave opponents befuddled. Moreover, Miretti is also no slouch from set-pieces so Juventus will have another great option to score. Though his goal contributions will see a dip surely for the senior team, it is how he contributes to the overall plan that is important.
Fabio Miretti at Juventus
Miretti signed a long-term deal in January to remain with Juventus till 2026. He joins Moustapha Cisse, who made his transition from refugee to scoring on his senior debut, and fellow Juventus talent Nico Rovella as some of the young players to keep an eye on.
There is a lot of love between the pair which is evident in Miretti's own words. In March, he said, "When you are small and they call you Juventus, you are happy and you play mostly to have fun, plus the fact that you wear the colors of a fantastic club. Then, as the years go on, it becomes a dream to go all the way." Indeed, the midfielder has a great chance of becoming a fixture in the first team.
🗣 "I've been playing for Juve for 11 years, I'm now part of the Under 23s. When the first team needs me, I'm there. When you're young and Juve call you, you're happy with the added bonus of wearing the colours of a fantastic club. I'm very happy."

[Fabio Miretti / @tuttosport] pic.twitter.com/bN4iKwXczp

— JuveFC (@juvefcdotcom) March 29, 2022
They have needed a player of his type since the days of Claudio Marchisio. Max Allegri is not the greatest when it comes to playing youngsters but even he cannot resist. Miretti's allure is sure to pay dividends sooner than later.


[ad_2]

Source link