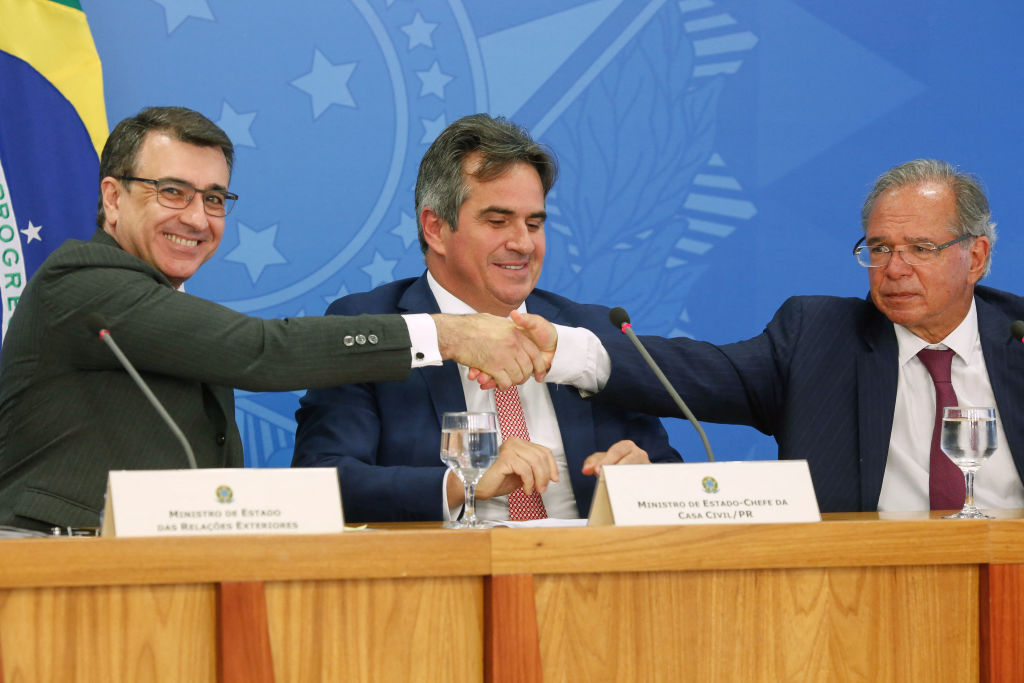 Membership in the Organization for Economic Co-operation and Development (OECD) indicates openness to trade, economic competitiveness and a will to align local policies to a global standard. For investors, a pledge to enter the club raises hopes of market-friendly policies and a level playing field for businesses.
Three Latin American countries, Argentina, Brazil and Peru, received an invitation on January 25 to start accession discussions. The current governments of each country sent polite thank-you notes. But all three leaders are quite different from the predecessors that requested to enter the OECD.
Accession is a years-long process and will likely outlast the terms of the three leaders, while changing domestic policies could mean a difficult path to meeting the criteria for admittance.
AQ spoke to economists from Argentina, Brazil and Peru about the accession process and what OECD membership could mean for their countries. 
Hugo Ñopo, senior researcher at GRADE (Group for the Analysis of Development), Peru:
Peru's invitation to start the OECD accession process means it has achieved some of the preconditions needed to meet the organization's standards. But there is much left to be done. Strengthening Peru's economy and making it work better for all sectors of society will require a series of reforms and improvements to the country's current institutional framework.
The OECD reform program with Peru focuses on five key areas: removing barriers to growth; improving public governance; combating corruption; developing human capital; and protecting the environment. Pursuing these goals will entail confrontation with various interest groups, who will use Peru's existing institutional framework to avoid losing their privileges. If OECD membership is to become a reality, the Peruvian business community's anti-regulatory fundamentalism will have to give way to a more inclusive vision of the future. Some winners in the current status quo will lose out in the name of the greater good.
This process will take several years and involve more than one government. Conceiving and implementing such an ambitious reform agenda not just as the policy of a given administration, but as a central policy of state, will be a challenge. But the need to protect the OECD process from changes in the political climate may also help strengthen it by establishing it as an accepted part of the national political agenda.
Laura Karpuska, assistant professor at Insper, Brazil:
In the best case, the OECD accession process will help Brazil commit to a positive micro and macroeconomic agenda. Pursuing membership could help drive the push for a better tax code, improve environmental policies, foster a more productive and efficient business environment and lead to a more open posture abroad. 
But all this this will depend on how the next government approaches the opportunity. It is hard to imagine the administration of Jair Bolsonaro pursuing an agenda in line with the OECD's values on sustainable growth and human rights. (Brazil's formal request to join the OECD came during Michel Temer's presidency, which had a very different approach to policymaking.)
Brazil's next government will be expected to revive a slate of economic, social and environmental policies to help get the country back on track – and guarantee its spot at the OECD.
The challenges in doing so will be significant and multi-faceted, following the significant backsliding over the last three years of Bolsonaro's government. From a macroeconomic perspective, a return to budget discipline will be a priority after justifiable increases in spending due to the pandemic, but also amid a weakening of institutions that monitor pork-barrel spending.
It will also be important for policymakers to restart the discussion on tax reform, a key point for the OECD. There are good bills in both chambers of Congress on this issue that have not received support from the federal government, and which could be given the spotlight again. Finally, given recent changes – some of which are still unclear – to entitlement programs such as Bolsa Família, it will be essential to clarify the state's redistributive agenda. After elections in October, Brazil faces the task of rebuilding – and that was before the OECD's invitation.
Marina Dal Poggetto, executive director of Eco Go Consultants and author of Tiempo Perdido (2021), Argentina:
The timing of the invitation for Argentina to join the OECD could hardly be worse. It arrives at the outset of a new financial crisis, as the country grapples with 51% inflation, a gap of 110% between the official and unofficial exchange rates and a combination of ridiculously expensive goods with ridiculously low-cost public services (gas, electricity, water, transportation, etc.) – along with a collapse in wages and pensions.
That isn't all. Argentina has almost run out of foreign reserves (net reserves are at just $700 million), and the country risk rate is above 1700 basis points, after an aggressive debt restructuring agreed with bondholders, which left out a few holdouts. Meanwhile, there is a new principle of understanding with the IMF to reschedule loan repayments over the next ten years.
Argentina's application to join the OECD was made during the first two years of the Macri administration, which claimed to advance a market-oriented agenda, but pursued a macroeconomic program with strong vulnerabilities that only worsened with the removal of all capital controls. The rest is well-known: A crisis began in 2018 when a shortage of credit coincided with a drought.
The agreement with the IMF is a necessary condition to keep the peso's value from deteriorating further. From 20 to the dollar when the crisis started in April 2018 to a dual rate of 220 in the market and 105 in the official exchange rate today. But whether this accord will succeed in that aim depends on what, precisely, the agreement entails. If it adopts gradualism and avoids structural reforms, this government will simply pass on the problems to the next one – another trip around Argentina's eternal cycle.
So yes, we should welcome the OECD's official invitation, but it arrives at an awkward moment. Unfortunately, the Argentine agenda is elsewhere.
Tags: Argentina, Brazil, Economic Policy, OECD, Peru
Like what you've read? Subscribe to AQ for more.
Any opinions expressed in this piece do not necessarily reflect those of Americas Quarterly or its publishers.