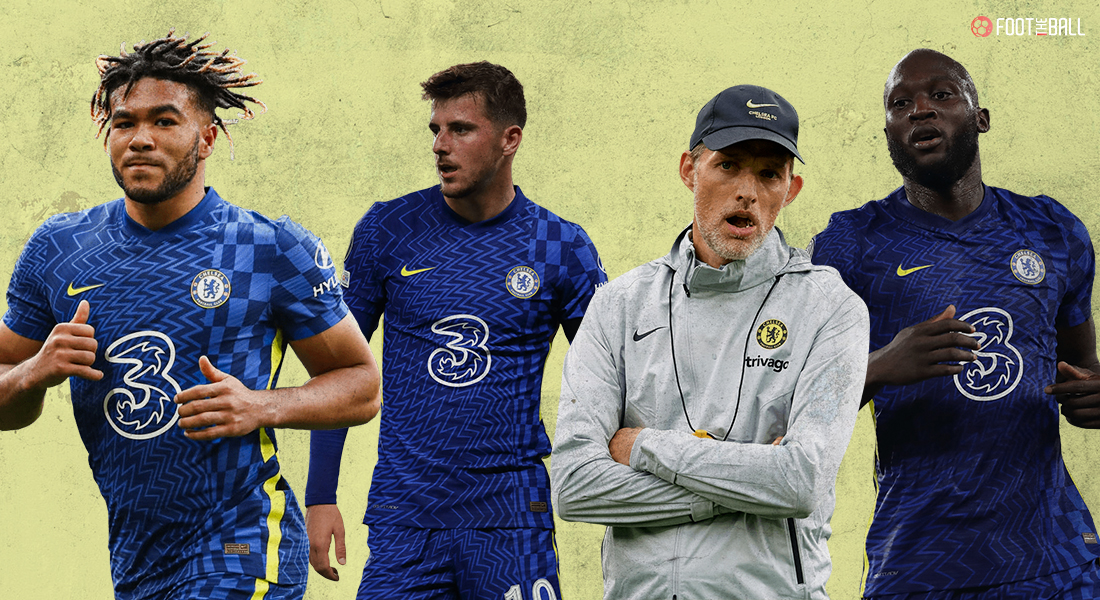 [ad_1]

Chelsea are on top of the Premier League table with 11 games down but it turns out they don't deserve to be in the position they are right now. Underlying stats paint a completely different picture for Tuchel and his players' journey so far in this campaign. They drew their last league game against Burney which has shed light onto their average quality although they have points on the board at this stage.
Chelsea had 24 attempts in their 1-1 draw against Burnley and only 4 shots were on target. What is even more shocking is that out of the 24 shots, 11 of their shots didn't even make it to the goal and were blocked by players inside the box. Chelsea had 70% of the possession and they hardly mustered any decent attempts at goal. Chelsea aren't playing like league leaders and here's how the underlying stats prove their incompetence.
STATS DON'T LIE
For nearly a decade, clubs and pundits have been using Expected Goals(xG) as a stat to determine the team's performance up front. Each goal scoring attempt has a different value and an average of all their attempts gives us their overall xG over a certain period of games. The more likely a shot ends up in the net, the higher the xG is. For instance, a shot from inside the 6-yard box means the player is most likely to score a goal and hence the xG is higher and if the ball actually beat the keeper doesn't make a difference on the stat. In the same way, a shot taken near the halfway line will have extremely low xG even though the player ended up scoring from that position. xG rates the actual quality of football played by the teams which is why it is the most popular way of analysing football.
Chelsea has scored 27 goals this season but according to their xG, they should only score 21.72. When a team outperforms their xG, it doesn't mean they are really good but only that they are lucky and as we all know, luck eventually runs out. They aren't creating good goal scoring chances and this was evident in their game against Burnley since they hardly were on target. What makes this a serious problem is that xG doesn't define a team's form but their actual quality of football and their flaws tactically. Their consistency will continue to take a steep dip if they don't fix their system and tactics soon.
WEAK AT THE BACK
Just like xG, we also have Expected Goals Against (xGA) which indicates a team's performance defensively. xGA shows us the number of goals a team should have conceded using the same reasoning as for xG and this is where Chelsea's incompetence defensively is evident. Chelsea have only conceded 4 goals so far in the league which is phenomenal but according to their xGA, they should have conceded at least 10 by now. A gap between the above numbers is not common which means Chelsea have been very disappointing at the back compared to their standards.
Edouard Many have made some amazing saves that were ideally impossible to save which is why Chelsea have conceded few goals. Without their keeper's brilliance, Chelsea would have been in trouble by now. Despite playing three centre-backs, Chelsea have made many mistakes which is a worrying matter for Tuchel at the moment.
THEIR ACTUAL POSITION
xPTS is another stat that combines both xG and xGA and determines how many points Chelsea should actually have and where they sit in the league table. Chelsea have 26 points but their xPTS says they should have 21.20. A difference of 14.80 is the worst stat in the league which means Chelsea are walking on thin ice. If their luck runs out and they perform as they do now, Chelsea will still be fighting for a top 6 finish and a title race is well off the cards at the moment. According to xPTS, Manchester City are the league leaders with 24.88 points and Chelsea stand 3rd really close to a 4th place West Ham side. They aren't first in any of the above mentioned stats and in a way don't deserve to be the league leaders and they won't stay at the top if they don't improve their football. Underlying stats have predicted the downfall of many top clubs and Chelsea too can be heading towards a similar fate as things stand.
[ad_2]

Source link