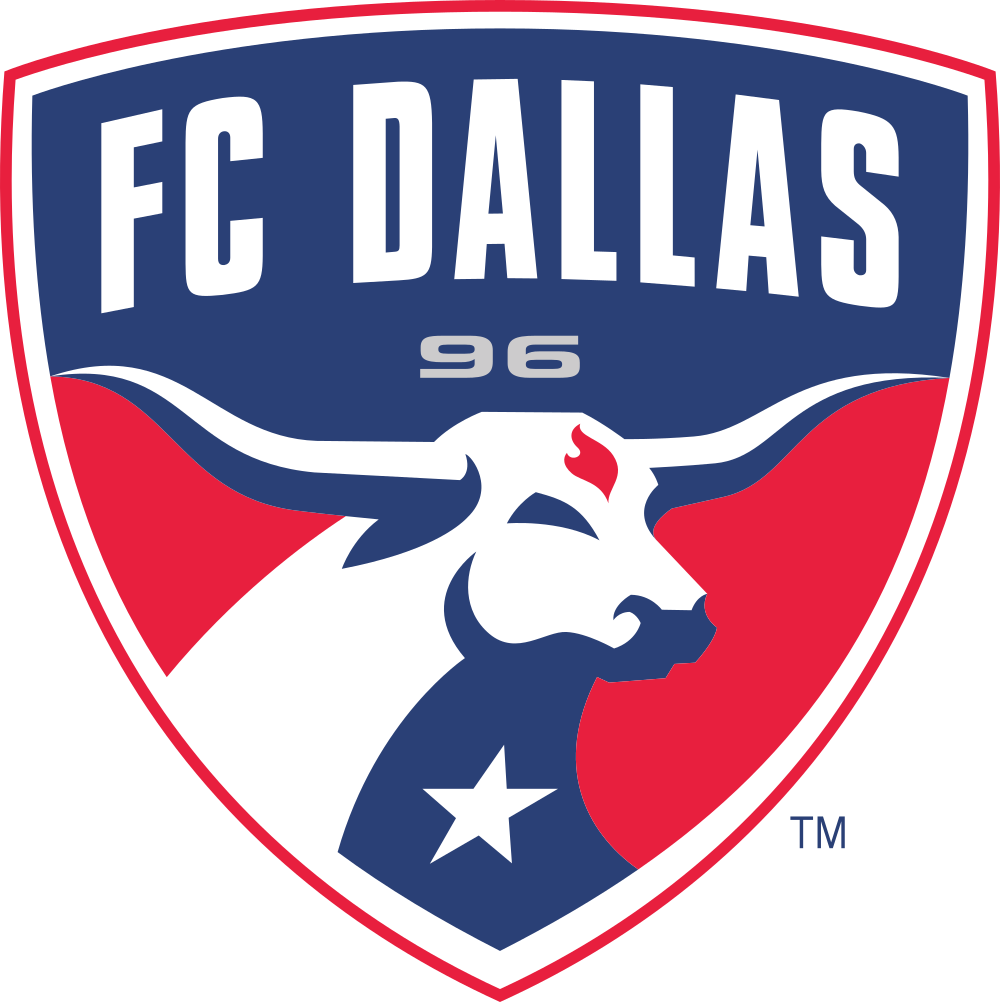 June 28, 2021 – Major League Soccer (MLS) – FC Dallas News Release
Frisco, TX – FC Dallas (2-4-4, 10 points) defeated New England (7-2-2, 23 points) 2-1 on Sunday night at Toyota Stadium following a brace from Homegrown Ricardo Pepi.
Game Summary
First Half:
11′ – GOAL (DAL) – Jesús Ferreira connected with Ricardo Pepi in the middle of the box who finished with a right-footed shot that went straight into the back left corner of the goal.
20′ – SHOT (DAL) – Justin Che connected with Pepi and his shot hit Matt Turner's goal post.
33′ – GOAL (NE) – New England's forward Gustavo Bou scored with a right-footed shot from the center of the box following a deflection from Dallas' defense.
35′ – SAVE (DAL) – Tajon Buchanan connected with Carles Gil and his right-footed shot from outside the box was saved by Jimmy Maurer in the center of the box.
41′ – SHOT (DAL) – Ryan Hollingshead took a shot from outside the box after connecting with Jesús Ferreira, but his shot was too high and flew over the crossbar.
45'+1′ – SHOT (DAL) – Jáder Obrian connected with Jesús Ferreira who dribbled into the box and took a shot only for it to be saved by Turner.
Second Half
48′ – SHOT (DAL) – Ryan Hollingshead took a shot from outside the left side of the box, only to be saved by Turner.
54′ – GOAL (DAL) – Ricardo Pepi dribbled through two New England players after connecting with a pass from Ryan Hollingshead and fired a right-footed shot past Turner to give Dallas a 2-1 lead.
86′ – SHOT (NE) – Teal Bunbury connected with Gustavo Bou's cross but his header went wide of the mark.
88′ – SHOT (DAL) – Paxton Pomykal's left-footed shot forced a save from Turner at his near post after collecting a pass from Ema Twumasi.
Lineups:
FC Dallas – Jimmy Maurer; Justin Che, Nkosi Tafari, Bressan, Johnny Nelson; Bryan Acosta, Facundo Quignón (Edwin Cerrillo – 77′); Jáder Obrian (Ema Twumasi – 71′), Jesús Ferreira (Paxton Pomykal – 77′), Ryan Hollingshead; Ricardo Pepi (Franco Jara – 61′).
Substitutes not used – Phelipe Megiolaro, Andrés Ricaurte, Tanner Tessmann, Kalil ElMedkhar, Dante Sealy.
New England Revolution – Matt Turner; DeJuan Jones, Jonathan Bell (Henry Kessler – 68′), Andrew Farrell, Brandon Bye; Lucas Maciel (Thomas McNamara – 46′), Matt Polster (Edward Kizza – 81′); Arnor Traustason (Adam Buksa – 60′); Carles Gil; Tajon Buchanan (Teal Bunbury – 68′); Gustavo Bou.
Substitutes not used – Brad Knighton, A.J. DeLaGarza; Scott Caldwell, Emmanuel Boateng, Brad Knighton.
Scoring Summary:
DAL (1-0): Ricardo Pepi (Jesús Ferreira) – 11′
NE (1-1): Gustavo Bou – 33′
DAL (2-1): Ricardo Pepi (Ryan Hollingshead) – 54′
Stats Summary: FC Dallas/New England Revolution
Shots: 8/16
Shots on Goal: 4/5
Saves: 4/2
Corner Kicks: 2/4
Fouls: 11/5
Offside: 1/1
Misconduct Summary:
DAL: Bryan Acota (caution) – 18′
NE: Matt Polster (caution) – 28′
DAL: Phelipe Megiolaro (caution) – 41′
DAL: Jáder Obrian (caution) – 71′
NE: Teal Bunbury (caution) – 75′
DAL: Ema Twumasi (caution) – 89′
DAL: Jimmy Maurer (caution) – 90'+2′
Weather: Partly Cloudy, 84
Attendance: 14,889
Referee: Kevin Stott
Assistant Referees: Jeffrey Greeson, Justin Howard
Fourth official: Marcos de Oliveira
VAR: Hilario Grajeda
FC Dallas Postgame Quotes
FC Dallas head coach Luchi Gonzalez
General thoughts on the match…
They're dangerous in transition. Vertically, they have fast wingers and outside backs that push forward. We knew it was going to be a huge challenge and a hard challenge. I thought we did set the tone at the beginning and we matched them in certain ways. We created some chances first. Then, they got back into the game with a fast attack transition. I don't think we took our foot off the pedal, I thought we actually responded well. We created a good chance with Jesús before the half. I didn't feel there was any shift in momentum, it was just both teams trying to push at each other and figure each other out. Second half, we continued to try and turn their back line, put balls in behind and make runs in behind synchronized. Not all of the three but one or two at a time, checking and supporting whatever the success was with the ball through.
On Ricardo Pepi and the strikers…
Pepi, a young player, but he showed he can play big when he needs to. I'm really proud of him and I think it's his first two-goal game at this level and it's another start for him. That's credit honestly to all of our nines competing with each other. I'm going to say that yesterday Franco (Jara), in training, was very competitive and supportive. That's what it's going to take, that collective support. The chip on your shoulder and competitiveness that you are not getting the start, but also being ready. Jara came in and helped us win the game. Maybe not in his traditional role because he had to help us defend, and his experience, helps us win games.
FC Dallas forward Ricardo Pepi
On how he feels after scoring his first MLS brace…
"It's a great feeling. I feel like this was needed for the team. FIrst I want to thank Jesús (Ferreira) and Ryan (Hollingshead), they did most of the job (for his goals) and the team did too, I just had to put it away. But it's a great feeling, the team needed it and we'll keep going forward."
On why he subbed out after his second goal…
"Honestly I feel like that last play was my last fuel in the tank. I was starting to cramp up and couldn't run anymore and there's always players ready on the bench to come in for me and I knew they'd do well so I wasn't worried about coming out."
On if he sets goals for himself…
"In my head, I just put that I want to play well, I want to play well for the team. If I'm going to score it's going to come by itself if I'm playing well. I feel like just playing well is going to bring everything naturally."
FC Dallas forward Jesús Ferreira
On how he felt in his position as an attacking midfielder…
"We knew the position we were in and no team wants to be in that position. It was a tough position. We knew that today was an important match, especially at home. So, I had to adjust. It's a role that I've been playing lately and today I had to show out. I think today I came out and did the best with the opportunity that I got and that was the game plan for today."
On his partnership with Ricardo Pepi…
"With him, he's a young guy and we have a partnership in the locker room and outside the locker room, outside soccer in general. I think that it's a special bond because both of us are young and we're looking at the same objectives: to score goals, assists. I think showing what we can do together is something special and when we work together and the team works together we can do great things."
• Discuss this story on the Major League Soccer message board…
The opinions expressed in this release are those of the organization issuing it, and do not necessarily reflect the thoughts or opinions of OurSports Central or its staff.

report this ad