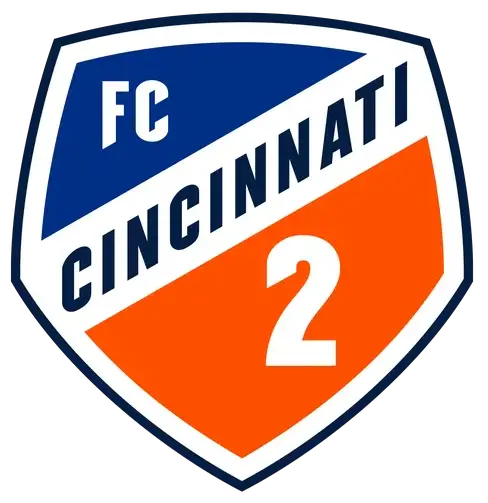 August 29, 2022 – MLS NEXT Pro (MLS NEXT Pro) – FC Cincinnati 2 News Release
FC Cincinnati 2 earned two hard fought points on the road against Orlando City B at Osceola Heritage Park on Monday night. The match finished 2-2 with the extra-time shootout going the way of the Orange and Blue, 7-6.
Favian Loyola scored his fourth goal of the season for OCB, opening the scoring in the 9th minute of the first half. A quick run of play down the right attacking flank led to the goal with Victor Yan picking out Loyola in a congested penalty area. Loyola calmly collected and worked the ball into a bit of space before firing a low shot into the back of the net.
The Orange and Blue out possessed OCB in the first half, 54% to 46%, but were unable to capitalize on the advantage. FCC 2 finished the half with six shots, none of which were on target.
But the second half saw a much different FCC 2 side. Calvin Harris scored his third goal of the season, heading the Orange and Blue level in the 54th minute. Arquimides Ordóñez found himself free down the far side of the pitch and breaking in on goal. OCB goalkeeper, Javier Otero, challenged Ordóñez in the box and a collision popped the ball straight to the waiting Harris who took advantage of the fortunate bounce.
Nick Markanich, who scored two goals in the last trip to Kissimmee, picked up his fourth of the year two minutes later to put FCC 2 ahead, 2-1. Morgan Marshall picked up his third assist with a beautiful cross into the area, finding Markanich who directed his headed attempt past Otero at the near post. With the goal, Markanich is tied for a team lead in goals.
Loyola, who inked his first pro contract with OCB earlier last week picked up another goal to complete his brace in the 60th minute to cap a wild five minutes of action. Alexander Freeman played provider making a short pass from the far side of the box into Loyola who tapped home.
The match would end in a 2-2 draw before moving to an extra time shootout. FCC 2 were perfect from the spot, converting on all seven penalties. OCB set the pace converting on their first six attempts before missing a crucial penalty and giving the Orange and Blue an extra point on the night.
Evan Louro, who signed with FC Cincinnati last week, made his debut for the 2s and showcased what made him one of the best goalkeepers in the USL Championship. Louro made six first half saves including a massive double save to keep things level late in the first-half.
FCC 2 return home on Sunday, Sept. 4, to take on New York City FC II at Mercy Health Training Center at 4 p.m ET.
FC CINCINNATI 2 GAME REPORT
FC Cincinnati 2 @ Orlando City B
Date: August 29, 2022
Competition: MLS NEXT Pro Regular Season
Venue: Osceola Heritage Park, Kissimmee, Florida
Kickoff: 7:00 p.m. ET
Weather: 87 degrees, cloudy
SCORING SUMMARY: 1-2-F
CIN: 0-2-2
ORL: 1-1-2
CIN: Harris (unassisted) 54′, Markanich (Marshall) 56′
ORL: Loyola (Victor Yan) 14′, Loyola (Freeman) 60′
LINEUPS
CIN: Louro, Garcia, Ramathan, Thomas, Markanich (Martin, 86′), Bailey, Robledo (Turcios, 46′), Marshall, Valenzuela (Sánchez, 66′), Harris, Ordóñez (Daley, 80′)
Substitutes not used: Campuzano, Noverr, Penagos
Head Coach: Tyrone Marshall
ORL: Otero, Galván (Hackenberg, 67′), Williams, Forth, Freeman (Prebenda, 78′), Taylor, Victor Yan (Gunera-Calix 46′), Granados, Halliday, Pareja (Silva, 72′), Loyola
Substitutes not used: Reid-Brown, Taifi, Bell
Head Coach: Martin Perelman
STATS SUMMARY: CIN / ORL
Shots: 16 / 16
Shots on goal: 7 / 8
Saves: 5 / 6
Corner Kicks: 5 / 5
Fouls: 14 / 17
Offside: 1 / 1
Possession: 59.5 / 40.5
MISCONDUCT SUMMARY
CIN: Ramathan (Yellow Card, 38′)
ORL: Victor Yan (Yellow Card, 25′), Pareja (Yellow Card, 33′), Freeman (Yellow Card, 40′), Forth (Yellow Card, 75′)
OFFICIALS
Referee: Luis Arroyo
Ast Referee(s): Preston Joyner, Sergio Santana
Fourth Official: Alejo Calume
About MLS NEXT Pro
Launched in March 2022 by Major League Soccer, MLS NEXT Pro is a professional men's soccer league in the United States and Canada that completes the player pathway from MLS NEXT through to MLS first teams. With 21 Clubs competing during the inaugural season – 20 MLS-affiliated and one independent club, Rochester New York FC – MLS NEXT Pro will grow the game through innovation and diversity by bringing professional soccer to new markets, creating career opportunities for professionals on and off the field, and providing communities with a strong sense of pride. Eight additional MLS-affiliated clubs will join MLS NEXT Pro in 2023, with more independent clubs joining in the years ahead. For more information about MLS NEXT Pro, visit mlsnextpro.com
• Discuss this story on the MLS NEXT Pro message board…
The opinions expressed in this release are those of the organization issuing it, and do not necessarily reflect the thoughts or opinions of OurSports Central or its staff.