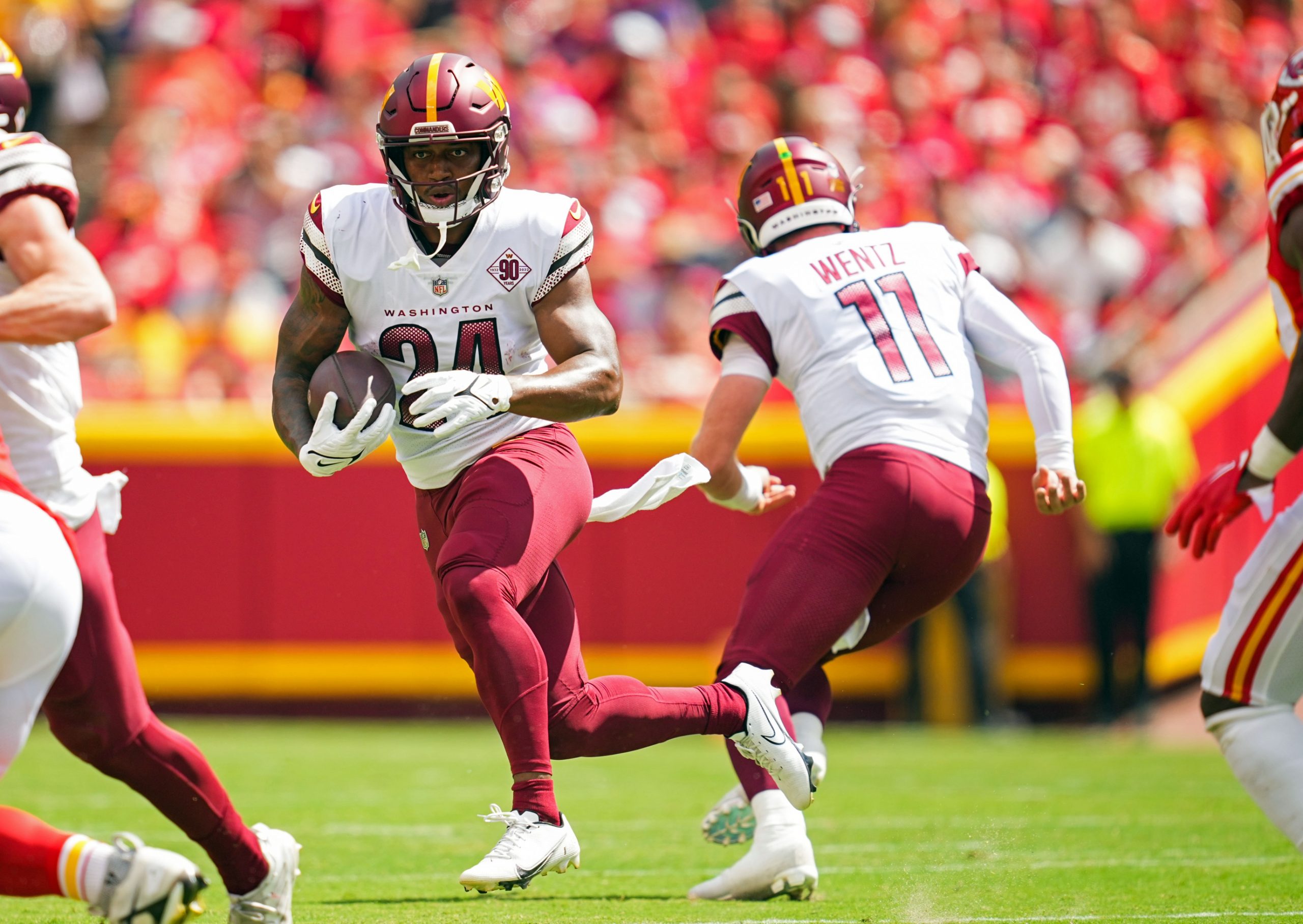 • Houston Texans RB Dameon Pierce appears to have won the team's starting running back job after earning the highest grade among all running backs in Week 1.
• Pittsburgh Steelers WR George Pickens has already earned a spot among the Steelers starters, and now just needs to see more targets.
• Kansas City Chiefs TE Travis Kelce was already trending down at the end of last season, and his usage in the preseason adds to that concern.
---
PFF's fantasy football recap focuses on player usage and stats, breaking down all the vital information you need to achieve fantasy success in 2022. Here, we touch on only players who are relevant in fantasy football leagues.
These are my 10 biggest reactions to the games from the past four days. To get a more in-depth breakdown, check out my reactions from Thursday, Friday, Saturday and Sunday.
Draft RB Dameon Pierce, not Marlon Mack
Mack started for the Texans last week and took all of the first- and second-down snaps with the first team. Pierce played with the second team but was the highest-graded running back of the week. The rookie didn't play in the first half of the second game, which was very disappointing until Pro Football Network's Aaron Wilson revealed the Texans liked Pierce enough that he didn't need to play. Mack was the early-down back in the first half, and Royce Freeman took over in the second. This is a good indication that Pierce will be the starter in Week 1.
Texans receiving back Rex Burkhead didn't play in the first preseason game but saw snaps in Week 2. He's traditionally been a receiving back, and he led the Texans in first- and second-down snaps outside of two-minute drills last year. He was restricted to third downs, the two-minute drill and one random first down in Week 2, which is bad news for Burkhead but good news for Pierce.
Burkhead could still be draftable, as the Texans could be in a lot of pass situations this season, which would leave Burkhead on the field while Mack and Pierce are on the sideline. Mack is now probably just Pierce's handcuff.
---
Draft RB Brian Robinson Jr., not Antonio Gibson
The rookie third-round pick started while Gibson rotated in. Robinson out-snapped Gibson on early downs, two to one. Gibson received all of the third-down snaps with the first team, but that was only because J.D. McKissic was out with an injury. Gibson also played with the second-team offense for the second straight week. This backfield will likely be a three-man committee all season, making it a headache for fantasy managers. Robinson is the one player in the backfield to carry on your roster, since he should lead the team in carries and touchdowns. Gibson's ADP should continue to fall, while Robinson's should increase.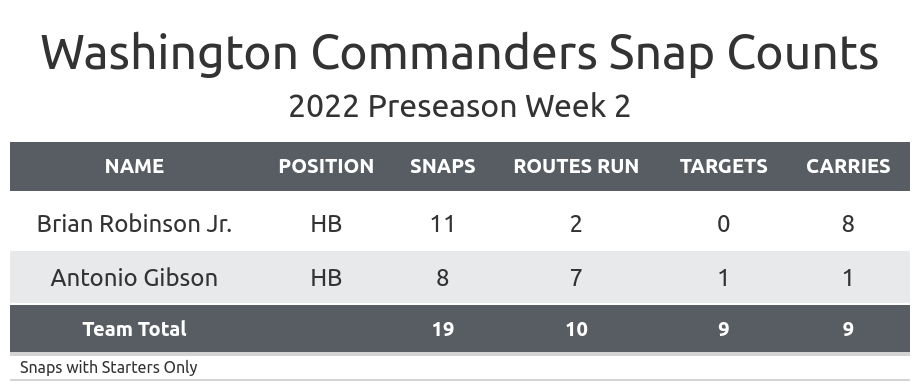 Subscribe to PFF+ to continue reading
Already have a subscription? Sign In