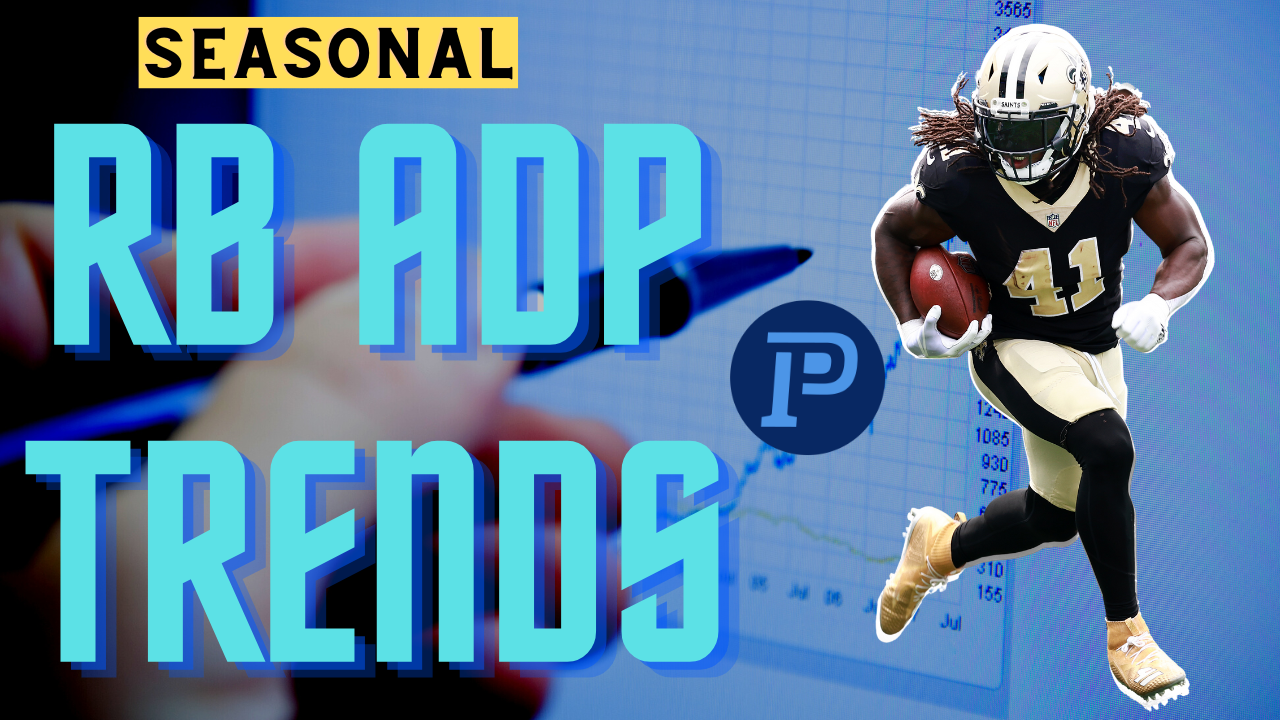 As we navigate closer to the NFL season, more leagues are beginning their re-draft draft process. Players are rising and falling in average draft position as reports, rumors, and injury updates come out. In this piece, I shed a light on some higher profile running back ADP trends and how to approach them as re-draft season is upon us (ADP trends are as of mid-July 2022).
Alvin Kamara (-8.4 ADP Spots)
With a potential suspension incoming, Alvin Kamara's ADP has been dropping, and rightfully so. He is likely to be out for six games.
Every year Kamara has been in the league, he has finished top-eight among RBs in Fantasy Points Per Game. However, Kamara's efficiency has decreased, averaging 0.76 (No. 44) Fantasy Points Per Opportunity. New receiving weapons Chris Olave and Jarvis Landry will not necessarily take Kamara's shallow targets but will siphon the overall passing game away from Kamara.
Kamara is currently being drafted in the 30s on Underdog, trending downwards over the last few weeks. James Conner, Travis Etienne, and Ezekiel Elliott are all going in his range. Obviously, if a suspension is official for Kamara, he should be drafter lower than all three of these backs. However, if he is not suspended, Kamara is a prime receiving back and should go above all three.
Mark Ingram (+24.9)
Kamara's backup, Mark Ingram, has had experience and production for the Saints in the past. Last season, Ingram had double digit points in three out of four games, with Kamara out last season, with a top-eight finish in Week 8. He also had 19 targets in those four games without Kamara, almost taking on Kamara's full role in his absence. Tony Jones and Abram Smith may pose a threat to Ingram's workload, but Jones could not step forward last season and Smith is a UDFA rookie. Ingram is still the primary beneficiary of a Kamara suspension.
Ingram's Underdog ADP is rising fast. It is now hitting the 170 range. Running backs in his range include Ty Johnson, Jamaal Williams, Tevin Coleman, and Marlon Mack. If given the reins to the Saints backfield, Ingram has shown the ability to produce at an RB2 level. Continue to draft him where he's going because he has more upside than most other RBs in his range.
Kenneth Walker (-8.1)
A second-round pick, Kenneth Walker slides in to a Seahawks backfield with Rashaad Penny, Chris Carson, and DeeJay Dallas. Out of those three, Penny likely poses the biggest threat to Walker's workload. Penny averaged 5.2 (No. 2) True Yards Per Carry last season and has flashed the potential to explode if and when he is healthy. Walker was not much of a pass-catcher in college, with a 5.4-percent (32nd-percentile) College Target Share, so he'll have to cut into the rushing attempts for Seattle.
Walker is currently going around pick 100 in Underdog, a solid value for his upside, should he take over with a full workload. However, he has dipped a bit while Penny has risen, and now they both go around the same range of ADP. This is a situation where fantasy players can take advantage of Walker's slip and Penny-mania, grabbing the younger and fresher back in the later rounds.
Marlon Mack (+9.3)
Newly signed with the Texans, Marlon Mack stands to gain from a wide open backfield. Prior to his Achilles injury, Mack was impactful for the Colts, gaining over 2,100 total yards and scoring 18 total touchdowns form 2018-19. While he likely will not return to that form, Mack is still 26 years old and has the chance to grab opportunity on a team unlikely to contend.
Rex Burkhead will likely eat into a receiving workload while Dameon Pierce will get chances as a Day 3 rookie. However, despite trending upwards, Mack is still being drafted in the 170s in Underdog fantasy. Running Backs with more backfield competition and less of a path to a lead workload like Darrel Williams and Tevin Coleman are going ahead of him. Take a chance on Mack's volume upside at his current ADP before he skyrockets too high.
The #Texans are going to be bad, but volume is KEY in fantasy football and Marlon Mack is dirt cheat in drafts🤷‍♂️

Backfield Breakdown: Houston Texans

✍️https://t.co/HuIKNvDRjr#nfl #football #FantasyFootball pic.twitter.com/l1AYdQ5TZn

— PlayerProfiler (@rotounderworld) April 13, 2022
Cordarrelle Patterson (-5.3)
Hybrid athlete Cordarrelle Patterson exceeded expectations for the Falcons last season. He totaled over 1,100 total yards and 11 touchdowns last season finishing with 14.7 (No. 16 among RBs) Fantasy Points Per Game. Under an RB designation, Patterson flew with 1.06 (No. 5) Fantasy Points Per Opportunity. He adds unique usage to fantasy football, and his receiving factor boosts his value greatly for leagues awarding receptions. The additions of Tyler Allgeier and Damien Williams are unlikely to detract from his usage, and the Falcons' lack of receiving weapons will continue to give Patterson targets. However, Atlanta's sub-par offense will impact Patterson's ability to get opportunities.
Patterson currently has an Underdog ADP just over 100. Running backs going around him include Chase Edmonds and Melvin Gordon. Both Edmonds and Gordon have more competition for rush attempts and targets than Patterson does but play with better offenses. Patterson likely has more upside than backs going after 100 (other than Kenneth Walker), but be wary of the opportunity in Atlanta.
Gus Edwards (+8.9)
Coming off injury, Gus Edwards is poised to share a backfield load with J.K. Dobbins, Tyler Badie, and more. The Ravens added depth to what was an injured backfield last season, adding questions to Edwards' workload. When healthy in 2020, Edwards averaged 4.8 (No. 7) True Yards Per Carry with 9 (No. 7) Breakaway Runs, despite seeing 7.3 (No. 4) defenders in the box on average. He has been efficient throughout his career but needs opportunity and receiving usage to really hit it off. Edwards has never seen a Target Share above 4-percent in his career.
With an Underdog ADP around 160, Edwards is being drafted around backs like Khalil Herbert, Kenneth Gainwell, and Tyler Allgeier. Edwards is a superior runner to all of these backs, but the injury, lack of targets, and lack of clarity on workload bring his value down. However, he is on a heavy rushing team and has RB2 upside if J.K. Dobbins misses games. Draft Gus the Bus where he's at, but no earlier, or you may miss out on a player with a clearer path to touches.