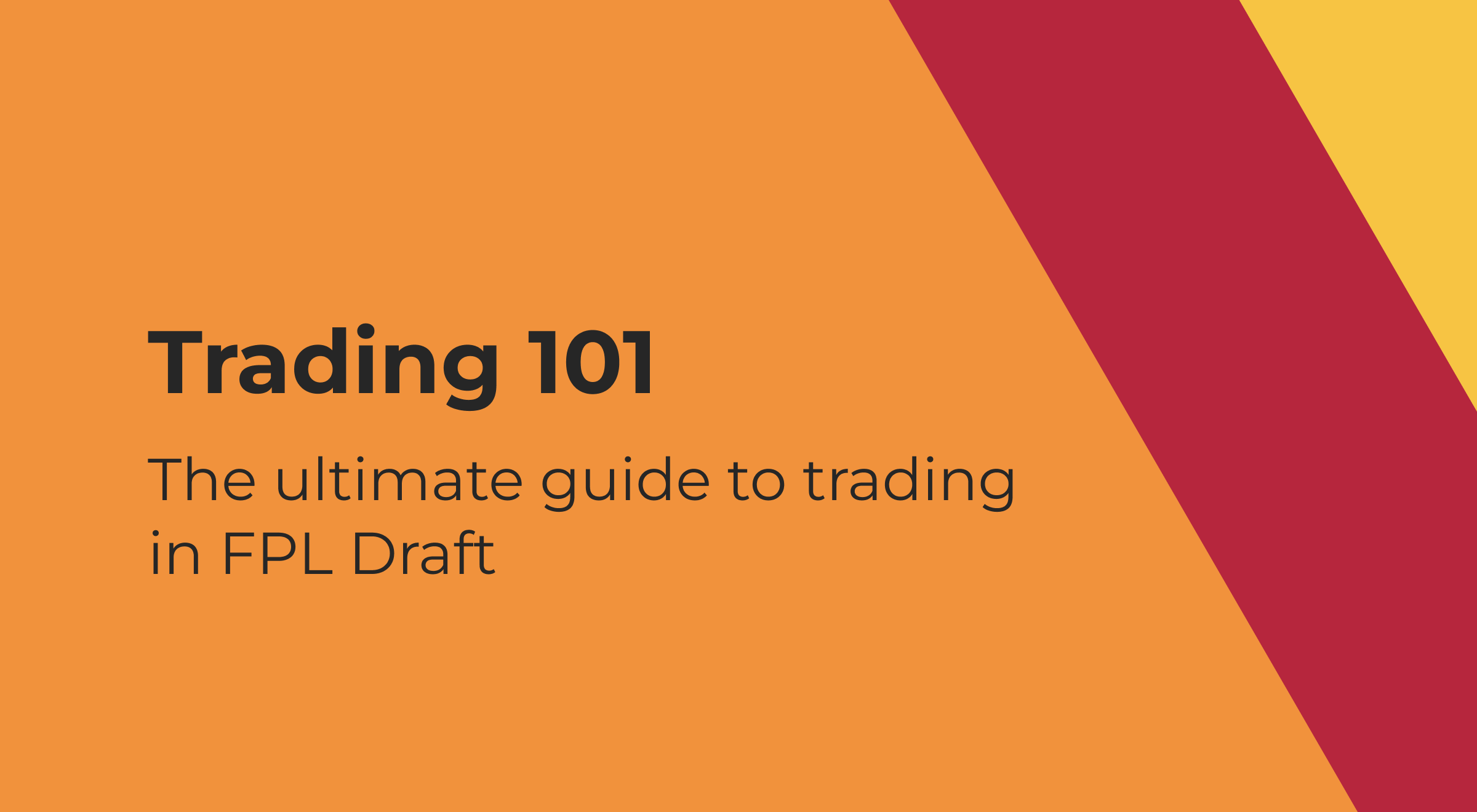 One of the best things about playing draft FPL is the ability (and necessity) to trade with your fellow league managers.
For most of the players that get picked up on draft day, this is the only way you're going to be able to recruit them to your own team. You'll soon get the hang of it but experienced draft managers will tell you there's nothing better to add some spice to the league leaving you feeling scared, helpless and paranoid.
OFPL Trading
Making trades on the OFPL platform is easy but there are a few things you should know:
When you set up your draft league there are several options you can choose when it comes to approving trades (these options appear as a drop-down before you create the league, see below):

Allow all trades – trades are automatically processed once accepted
Admin approval – trades need to be vetted by the league admin
Manager approval – trades can be vetoed if 50% of the league disapproves
You also have the option to switch off the trading function – but why would you want to do that!?

To make a trade, head to the 'transactions' tab and search for the player you'd like to recruit. Here you'll see their current manager's initials next to them which you will be able to click and open the trading page. From here you can put together a deal and select the players you want to exchange before submitting for the opposing manager's approval.

Trades cannot be made during free agency (the 24-hr period between the waiver deadline and the start of the gameweek proper) – in other words, once the waivers process, trading stops.
You can only trade like-for-like player positions, eg a defender for a defender.
Multiple players can be traded at the same time, eg a defender + striker for another defender + striker (but again, these must be like-for-like positions).
Valuations & Motivations
There are a few reasons you'll want to make a trade in Draft FPL, with the most basic being – there's a player you want that somebody else has. It's not that complicated.
When putting a trade together the most basic thing to do is to work out how many points each player will get moving forwards (factoring in your own biases and analysis) to decide whether you think you're getting a good deal or not. If you're offered a trade and it's clearly in the green you're going to be far more inclined to accept it. Most trades by design are not always the easiest to call at face-value so taking the time to do this will ensure you're not being ripped off.
The dashboards in Draft FC can help with your valuations and motivations. A particular recommendation is the 'Points by Position' chart in the Personal Dashboard. If your midfield, defence or strike force is behind the rest, you should place a greater importance on picking up players in those positions.
The reason you're making a trade will also impact the value. If you're bottom heading into the final few weeks of the season, you're far more likely to give up reliable assets in favour of guys who could explode. Equally if you're trying to hold onto top spot you may be motivated to get players in who cover the teams below you (eg you may want a Liverpool defender because your rival has Van Dijk) – in these types of scenarios you may well be comfortable with paying slightly above their market value.
Negotiating
Negotiating isn't a pre-requisite to successful trading – many a deal goes down after a manager throws potential trades out without any preamble, but generally some discussion is helpful.
We released a great Podcast Episode last year on the negotiation strategies behind trading.
This is where drafting with people you know or having some line of communication is helpful. In a league where you know the other players you're looking to appeal to their biases – players they've owned before, the club they support, how desperate are they? Naturally if you're proposing a trade you're looking to get more than you give – and so is the other manager! It might be that you're trading for short-term points at the expense of longer term potential or maybe you're looking to snap up a proven asset who has started the season poorly.
There is of course more than one way to skin a cat, but if I had to give some general advice it would be as follows:
The deal starts long before the trade
Random news articles about poor form, bigging up replacements, snide comments about how weak your opponents midfield looks – all small seeds that need to be sewn early to allow a bumper harvest later on.
Make the first offer
This can be a take-it-or-leave-it opening gambit, or something a little more fluid with a "what do you think about this?" line. Either way making the first offer with a counter-offer already in mind is usually the way to go and if I've learned anything from 5 years playing Draft FPL it's that most managers will reject the first offer regardless, so better to start a little high and play from there.
Let the manager know you've sent the trade through and provide some rationale
The aim of the rationale is to present your case as to why this deal is win-win for both of you.
Perhaps it's pre-season (after draft day) and I get a real desire to own Zaha because I've ready some article in the Athletic that says he's going to win the golden boot this season. I could propose a direct trade for Saint-Maximin with the following message:

"Hey mate just sent you a trade offer, Saint-Maximin for Zaha. I don't see much between them and Palace have a tough opening run of fixtures, so you might be able to get more from Saint-Maximin early on. Let me know what you think."

For the record, I would not expect to get Zaha for Saint-Maximin, but that gives you an idea of how you can frame it. Later in the season there is much more information to play with and the same offer could be presented as follows:

"Hey mate just sent you a trade offer, Saint-Maximin for Zaha. Zaha is probably the better player but Saint-Maximin could explode and given you're struggling at the bottom of the league, maybe you want somebody with more upside? Let me know."

Time
It doesn't matter what you're negotiating – a car, a house, a new striker for your draft team – time is your best friend and worst enemy. We've all heard it before – "yeah we're able to sell this car for £4k, but the offer is for this weekend only so if you want it you need to put a deposit down NOW". Here's how time pressure can be used with the above example again.

"Hey mate just sent you a trade offer, Saint-Maximin for Zaha. Let me know by lunchtime if you're up for it because I told Sam I'd do a deal with him otherwise, cheers."

In reality, the hour before the waiver deadline tends to be a hotbed for trades and has time-pressure built in.
Structuring the deal
Like-for-like deals don't require too much explaining but once you start adding players into the equation it can get a bit more complex. Most commonly trades tend to involve 2 or 3 players on each side and they're usually structured like this because you're trying to trade across positions and other players are having to make up the difference in value.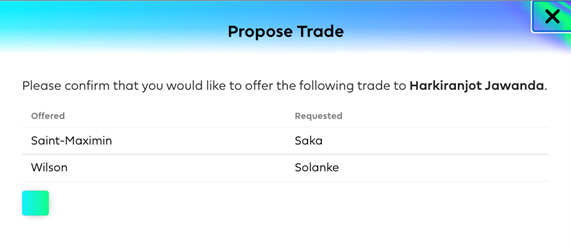 Take the example below, manager A wants Saka from manager B. Saint-Maximin is clearly not of equal value so they have also offered manager B an upgrade on one of their strikers to make up for it. You can see how easily deals like this can get complicated as small gains are sought to upgrade other positions.
During the season you may find that you own a player who has some trade value that you're looking to drop. You may have held onto Solanke since draft day and despite playing every game, has only scored 2 goals in 10 games, as such you're looking to move on. You may have even spotted somebody in the waiver pile you'd rather try instead. In this scenario, advertising the fact you're open to offers could pay off – the chances are you're going to get a better calibre player in a trade than you are from the waiver pile. Last season (21/22) I was able to offload Jesus for Pukki in a similar fashion and was able to catch Pukki at just the right time ahead of a good run of form.
Creativity
Trades don't have to be as simple as A+B for C+D. Beyond the constraints of the game engine there's nothing to stop you from getting creative with your deals.
Our league for example allows loans – particularly useful around the blank and double-gameweeks. Manager A gives manager B a playing goalkeeper as a single week loan, so that they then get a temporary upgrade on a midfielder spot the following week. You may also want to add conditional clauses to the deal – eg if player X doesn't start/score in the next 3 games you can nullify the deal (this could be a nice added guarantee to get a deal over the line).
These are just a couple of examples but I'm sure you can think of other ways to get creative. One thing I would warn against however is including 'external factors' in the negotiations, such as offering £20 to accompany the trade, as these fundamentally ruin the competitive integrity of the league.
Final Thoughts
Just remember your reading of the game could be top notch but when it comes to trading in Draft FPL, you'll win some and you'll lose some. Overall they even themselves out so don't lose sleep over them and most importantly (as always), stay shook.