Fantasy Football Fixtures Gameweek GW1
Centre Forwards are back in fashion then?
I should really begin with a bit of an apology, although in essence I'm not really apologising at all. I've sort of disappeared over the summer, almnost to the point of invisibility, but with dam good reason! I swore to myself that finally, for once, after 14 summer's of promising myself I would but never actually doing so I would finally have an actual break from all this malarkey. And so I did. So what have I done woth my spare time? Well, for starters I've had more holiday's than Judith Chalmers (use Google youngsters) and I haven't finished on that front yet. I've filled my usual 'site time' with real downtime: I watched the cricket. I've read 6 books that have been lingering on the shelf for a good few years. I watched the cricket. I went to watch the new Thor movie which resulted in a 3 week binge of catching up on all things 'Marvel' which I have missed over the years I watched the cricket. I've basically landscaped my back garden (trust me that's quite the task as it is huge!). I watched the cricket. And I've generally relaxed and enjoyed a normal life once again. Did I mention that I watched the… cricket?! So much so that I almost forgot to come back!
What did remind me that I may need to get my arse in gear though was another wonderful weekend spent catching up with some of the FF247 team in Manchester. To get us off on a light note here are some of the pics from that particular jaunt…
One other small detail that I should really mention about my 'new found' summer is that as part of it I decided to pay zero attention to any football news at all! I just thought I'd best mention that bit before launching into a fantasy football article that some may lean on to influence their upcoming decisions as it may have an impact of its credibility! The good news is that I have played catch up a bit this past week, the bad news is that the only actual footage I have seen is a 10 minute YouTube video of Everton beating Dynamo Kyiv and Saturday's entire Charity Shield. You'll just have to trust me on the rest…. And so onto the football;
FPL FIXTURE TRACKER
The (bleedingly obvious) trouble with attempting to ascribe colours to a fixture tracker at this time of the season, or indeed even worse trying to write about any team's fixtures, is that you simply do not know how most teams will actually perform come GW1, or 2… or 3, 4, or 5… I'm yet to find or hear about any concrete correlation between how a team performs away in Minnesota, or even Blackpool, and how that then translates to actual PL results once the real action begins. Sure enough it can give us an indication but it is all supposition and teams will still be bedding in their new recruits. Some teams will not even have played new recruits at this stage, as they won't even have bought them yet. In a nutshell we know not of form or substance and yet are expected to second guess it all.
All we can really do is go on gut feel and some element of what we know about the teams likelehood of success. As such here are your Favouable / Unfavourable / Unfathomables for the first few weeks.
But first up that all important Fixture Tracker itself…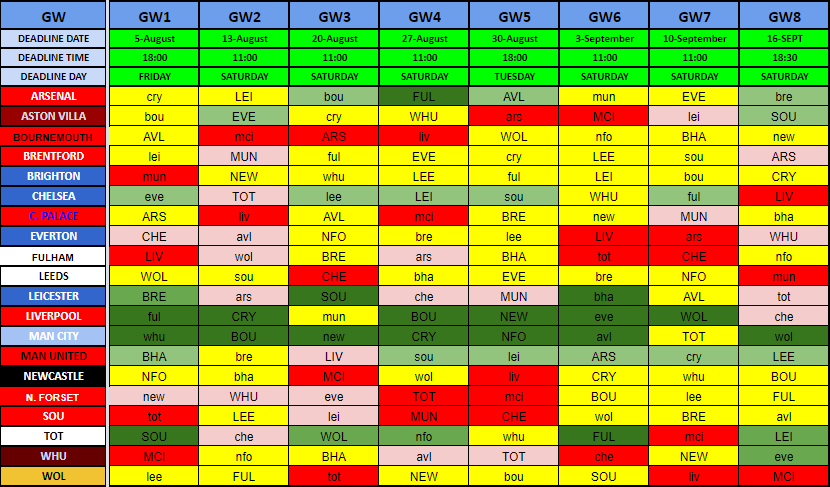 FIXTURE TRACKER LINK
FIXTURE TRACKER 2022/23
FAVOURABLE FIXTURES
LIVERPOOL – ful CRY mun BOU NEW eve


The first of our teams with a brand spanking new centre forward, and you'll sense a theme running through this 'favorable' section; most of them don't even normally bother to play with one, and so it will be mightily interesting to observe how each adapts to a slightly new style of play to accommodate him.
I'll admit to a wry smile and a slight pang of 'urgh, the cat's out of the bag already' when I saw what impact Darwin Nunez had on Saturday. You see, I watch a fair bit of Champions League football, and I was very excited for both his and Liverpool's prospects when I saw they had landed him. He felt like the missing piece in an already very complete and almost perfect jigsaw. Many saw Mane leaving as a hole, I simply saw it as an opportunity. They had already replaced Mane out wide with Luis Diaz and had already begun to shift Mane inside to fit both in, and trust me, as an actual centre forward Nunez is an upgrade, a big one. A big frightening one.
But it's not my place to wax lyrical about the players, that will come I'm sure in our Tips article later on this week. My job is to convince you that Liverpool have some great fixtures to begin with. Well, that bit is easy… just look at the fixtures, and then look at the Liverpool players. Job done? Thought so. Now go pick just 3 of them. That's the hard bit here.
MANCHESTER CITY – whu BOU new CRY NFO avl


Our second team with a brand spanking new centre forward, and this one was probably a bit more obvious. Or at least we'd bloody well hope so. Or else, welcome to world football for the first time, etc. My one fear with Haaland was never going to be Haaland, it was always how Man City would suddenly adapt to life with a forward, having not really played with one since Aguero was in his pomp, and that was a good while back now. The Charity Shield sort of illustrated that too, in a nutshell. His movement was sublime and he made some brilliant runs, but he was rarely if ever played in, as that's just not what City do. It'll be a learning curve all round, for them, for him, for Pep and ultimately for us.
Just as an aside, if you didn't see the game, ignore some of the online nonsense about how he flopped, he didn't. Yeah he missed a sitter at the end but he was otherwise fine and in truth KdB was the one more out of touch, but once Pep readjusts the radar of the lateer the former will prosper. Tust me. There will be an avalanche of goals from him.
But it's not my place to wax lyrical about the players, that will come I'm sure in our Tips article later on this week. My job is to convince you that Man City have some great fixtures to begin with. Well, that bit is easy… just look at the fixtures, and then look at the City players. Job done? Thought so. Now go pick just 3 of them. That's the hard bit here.
Well ok, not so much with City, as it's possibly Haaland, maybe Cancelo, and then a lucky bag of mids to be juggled with. Either way the fixtures look very promising, although truth be told West Ham will probably kick up a stink about this and ruin GW1 for City, much as Spurs did last season; just after Pep had lost in the Charity Shield to… Liverpool. Three out of the next four are at home though and two of those are against newly promoted teams; aka Pep cannon fodder.
ARSENAL – cry LEI bou FUL AVL mun


Our third team here also have a new centre forward, albeit this a seemingly more reluctant one! Jesus has famously shied away from the main role since playing it for Brazil, no less, at Russia 2020 and blanking, and sort of since insisting that he is more of a winger / wide forward. Reluctant as he may be he's hit the ground running with (as far as I can tell) 7 goals in pre-season including a hat-trick on Saturday vs Sevilla. Maybe Arteta has convinced him he can be his main man, either way whatever he has said or is doing to him it seems to be working for the team too as Arsenal have now scored 19 in 5 games.
But it's not my place to wax lyrical about the players, that will come I'm sure in our Tips article later on this week. My job is to convince you that Arsenal have some great fixtures to begin with. Well, that bit is easy… just look at the fixtures, and then look at the Arsenal players. Job done? Thought so.
Or perhaps not, in fact I'm less than convinced about that myself, as this is probably now becoming more to do with the main team involved than the opposition. Palace away and Leicester at home are no pushovers for anybody but if Arsenal are to convince then these are the sort of games that they need to brush aside. To cushion any such investment though they then have two newly promoted teams on the bounce. It then gets tougher but by that point we should know whether this is a new dawn or just the same old Arsenal. After some very shrewd transfer business and with Mikel's feet now well and truly under the desk I suspect the former, but would also never be surprised with the latter.
SPURS – SOU che WOL nfo whu FUL


Our fourth team actually has a centre forward already, a rather good one, and they know exactly how to use him, and often do to good effect. Watch and learn Klopp, Pep and Mikel? He also has a rather good back up partner. If it wasn't for budget constraints I would image both Kane and Son would be on nearly everyone's team sheets as set and forget.
But it's not my place to wax lyrical about the players, that will come I'm sure in our Tips article later on this week. My job is to convince you that Spurs have some great fixtures to begin with. Well, that bit is easy… just look at the fixtures, and then look at the Spurs players. Job done? Thought so. Just pick 3…
And there's your sticking point. I'd imagine. Kulu? Perisic? Even Doherty or Richarlison?
Either way the games look ok, ish. Aside from perhaps Chelsea and West Ham, both away, the other four you'd take, and even those two are often good for goals.
UNFAVOURABLE FIXTURES
Now we venture into 'No shit, Sherlock' territory…
FULHAM – LIV wol BRE ars BHA tot


We seemingly go through this whole same routine routine with Fulham every couple of seasons; they come up with so much promise and looking so great and then… bang, PL, etc. Not to get all Alan Brazil on your ass! Well, this time they have to prove it to us and it is a baptism of fire to do so. You can add Chelsea onto that above list too as the 7th fixture in the sequence, just for good measure.
BOURNEMOUTH – AVL mci ARS liv WOL nfo


It's a very tough start for another newly promoted team. They may well be good to go from GW5 with some more friendly fixtures to cope with, but they may also be bottom by that point, looking at the ones prior.
CRYSTAL PALACE – ARS liv AVL mci BRE new


One of the more promising lights of the 'lesser' teams last season many would have been excited to include a Palace asset or two but that may have been tempered somewhat with these fixtures, for the first four at least. It does get better after that.
UNFATHOMABLE FIXTURES
AKA the rest…
These are the ones who we just don't know what to expect from. Perhaps the pick of that bunch(?!):
MAN UNITED – BHA bre LIV sou lei ARS


Have seemingly bought well, have had a decent pre-season and may well hit the ground running. But equally it feels like it could all fall apart at the seams at a moments notice. It probably won't with ten Hag at the helm now but this is Man United post-Fergie and it has a habit of doing so ever since. Brighton and Brentford in the first two seems like a good playground to test it all out on though.
NEWCASTLE! – NFO bha MCI wol liv CRY


Yes, that exclamation mark was very deliberate indeed. Much like their fellow United above they are very much a club in transition and very much have a two game cushion to get their act together before sh*t gets serious! (they have Man City and Liverpool in two of the following three).
CHELSEA – eve TOT lee LEI sou WHU.


This is a real head scratcher. Signing Sterling was a major coup and should signal their intentions. But pre-season has seemed a bit chaotic, from afar. Although that is probably to be expected with new ownership and all that has gone before. Unlike the two above their first couple of fixtures are actually less forgiving, although that may paper over some cracks before they ease up from GW3 onwards. Everton may seem like even more of a basket case but Chelsea haven't won at Goodison since 2017, and Everton have won the last 4 PL fixtures there.
Thanks for reading Fantasy Football Fixtures Gameweek GW1. This article was written by Inittowinit.
VOTE ON THIS WEEK'S CAPTAIN POLL
SET-PIECE TAKERS
Predicted Line-Ups FPL 2022/23
You can access our Live feed to these here.
FF247 LEAGUES FOR 2022/23
Both leagues will be shut to new entrants as of 01/01/23.