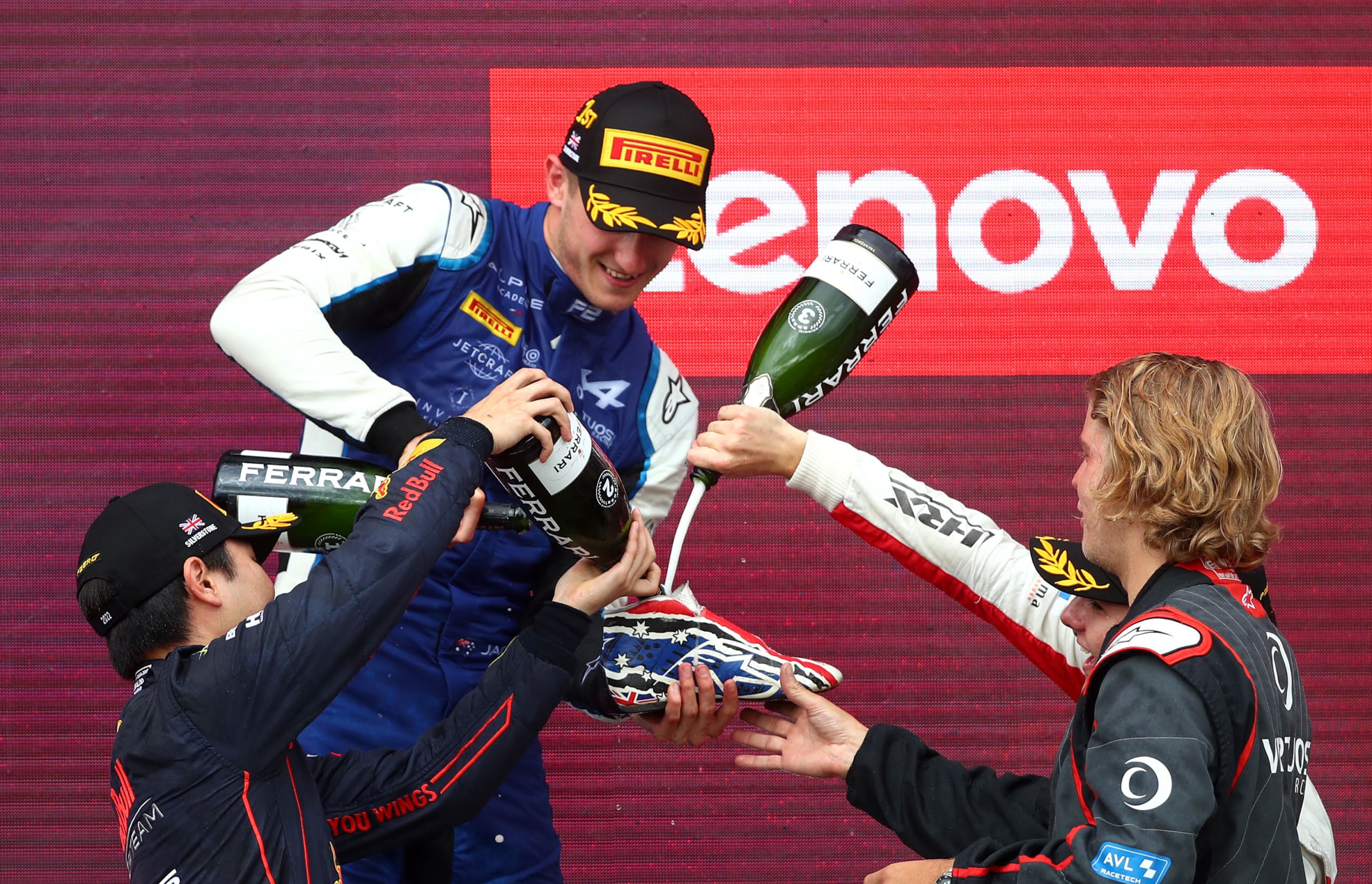 Jack Doohan won today's Formula 2 Sprint Race, his first victory in the sport. He was followed home by Ayumu Iwasa (P2) with Enzo Fittipaldi (P3). The trio were interviewed by the press after the race.
Jack Doohan
The Aussie was first up for the press conference, and expressed serious relief about his result:
"It's an amazing feeling to get the first win. To have the pace and find the sweet spot and not winning for a long time, it feels so good. I've always had confidence in our pace. I'm very happy to give myself and my team a victory today."
The drying circuit made the victory harder than it seemed on the TV though, with wet tyres that were heating up on a drying circuit.
"It was hard to know when to go and when not to. But I knew if I didn't make a mistake, I'd win. Whether he [Iwasa] was right up my rear or 5 seconds back, it didn't matter, the result is the same."
The Feature race tomorrow is expected to be a dry affair, but Doohan is confident of another good result:
"We're expecting to be a lot quicker in qualifying. Everything's possible when we keep our nose clean."
Doohan also expressed surprise at finding out he's now sixth in the championship, but quickly collected himself to say his ambitions lie a lot higher. He even tested a Alpine Formula 1 car at Monza recently:
"I'm nowhere near where I want to be in the championship, I'll try and get up there as much as I can as the season goes on. It'll be eyes forward from now on, no looking back. The Monza test was to familiarise myself more with the F1 car. With it being big braking events, it's a good one for this."
Ayumu Iwasa
Ayumu Iwasa matched his best result in F2 by getting second place on Saturday. He almost got his first win as well, as he chased down Doohan on the last lap.
"It was really close. To be honest, I was struggling, but I was quick. I was managing the tyres from the beginning, so I was struggling with the rears throughout. If I pushed harder, I could've caught him, but that's racing."
The Japanese Red Bull academy driver did have some regrets when it came to his race-craft, explaining that he should've pushed earlier:
"I was managing the tyres till the end, I thought when Jack was pushing quite hard with eight or so laps to go. I should've acted a bit earlier myself, really."
Today's podium came off the back of two poor weekends in Baku and Monaco, but Ayu always had faith in the car. It was he, the driver, who was letting the team down:
"The car was so quick all of the time throughout the year. I was making bad situations myself, but this is a good point to change things around. I have confidence in the car. Even in bad weekends like Monaco and Baku, we had pace."
Iwasa was also quizzed by F1 Chronicle's George Howson on how this result could help his chances of an AlphaTauri seat in the near future:
"To be honest, I'm don't know. I'm thinking I should focus on the F2 racing. If I don't have enough speed, I cannot go F1 anyway. I'm focusing on my performance improvement and going for a win."
Enzo Fittipaldi
Enzo Fittipaldi completed the podium today, despite being under serious pressure by Theo Pourchaire in the closing laps:
"Theo and I had really similar pace, I knew it was going to be a battle in the end. The pressure was there, but we managed it well today to get P3."
When asked if he thought he could've got a better position, Fittipaldi sounded happy about his final placing:
"I think we maximised the result we could've got today. Jack and Ayu were really quick, I'm very happy with the P3 and it's good points for the championship. I was too quick in the start and the tyres fell away."