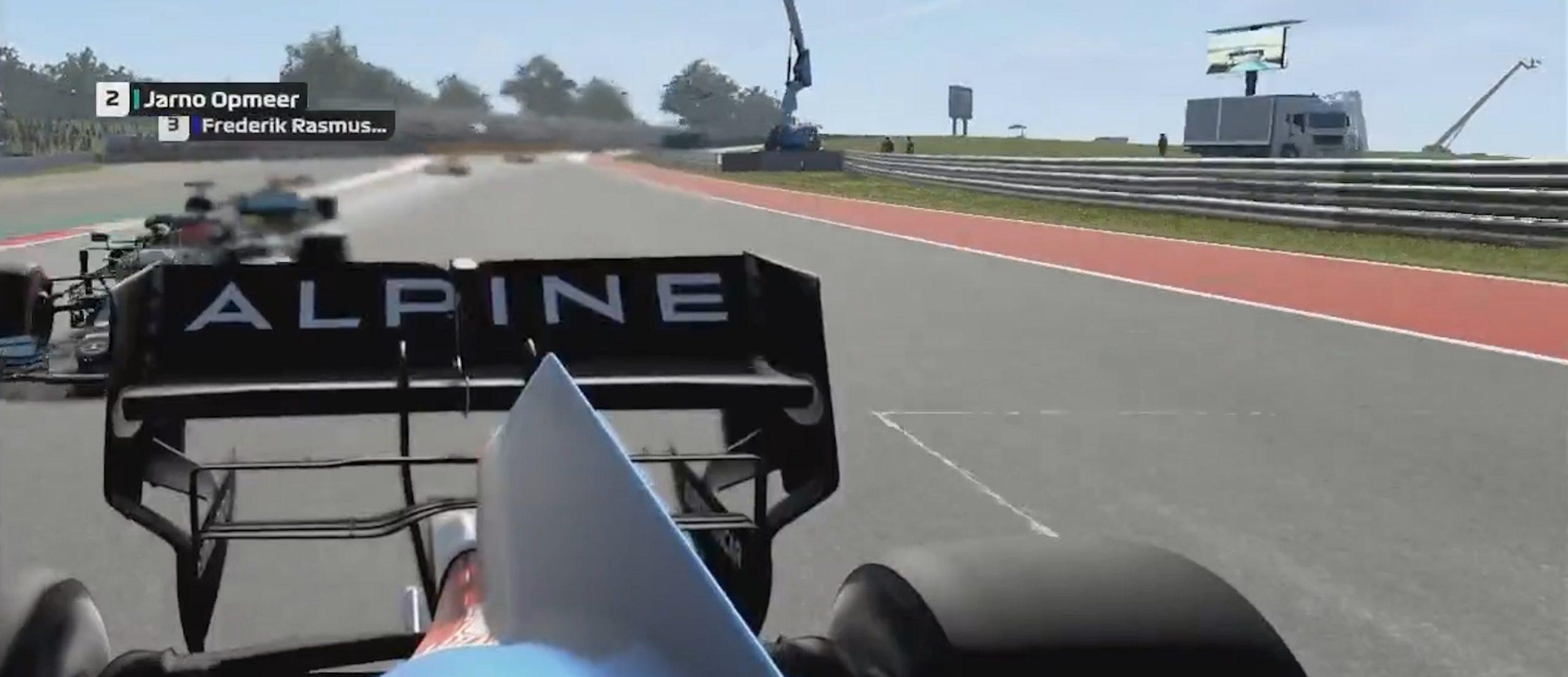 December 1, 2021
Leading a race is a special thing indeed. The feeling of being out in front, setting the pace, is one that can make you feel on top of the world. It's not the same as winning a race though – and leading is no guarantee of crossing the line first.
Alpine's Nicolas Longuet found this out the hard way during our last race around COTA, when he fumbled the lead on the very last lap and wound up third. The tactical disadvantage conferred when leading on the final lap is colossal in F1 Esports, so to avoid being caught by those behind with DRS and extra energy to deploy, Longuet attempted a risky move. But as he explained post-race, it didn't quite go to plan.
"It looks a bit strange from a third person view, but my thought process was that I had one lap fresher tyres than Jarno [Opmeer], so I expected to have a little bit of a pace advantage towards the end. I thought if I led the last lap, I would have enough ERS to defend. Crucially I made a couple of mistakes going into the start of sector 2, and I really overheated the tyres a lot, and I was just a sitting duck.
"What I tried to do was a bit cheeky; to let them pass so I could get the DRS and re-overtake them back. But it was too late, I made the wrong call. I'm pretty frustrated and I'm sorry to the team, because the race was going brilliantly until then."
Slipping into the lead on the penultimate lap, Longuet, who scorched to a second pole of the season, was in prime position to take the win. However, with the lengthy back straight around Austin, he knew being caught with DRS was likely.
Instead, he engineered it so that he would gain the DRS on the final lap, by pulling over and letting Opmeer and Frede Rasmussen past. The prospect of a double-slipstream plus DRS assistance is a juicy one, especially when there's a win on the line, but he missed the detection point, and ended up losing both positions without gaining DRS.
What possesses a driver to go to such lengths? Is it worth playing defensively at the risk of squandering a potential win? When you look at the track record in 2021, Longuet's decision actually makes a lot of sense.
ROUND 1: BAHRAIN
Longuet was a contender from the off in 2021, setting a monstrous pole position in Bahrain and looking set for victory. Enter Lucas Blakeley, who snatched the lead on the very last lap, due in no small part to a helping of DRS and ERS on the main straight. With the twisty midsection, Longuet couldn't get close again, and almost dropped into the clutches of Alvaro Carreton in third.
ROUND 4: GREAT BRITAIN
Dani Moreno grabbed the net lead of the race from Frede Rasmussen on Lap 11/18, and looked steady holding station at the front until the very last lap. Rasmussen, arguably the most patient driver in F1 Esports, just bided his time, and absolutely sailed past on the final lap, sweeping round the outside with just a few corners to go. Moreno's search for a first win continued…
ROUND 5: ITALY
In a complete role reversal, Rasmussen found himself on the defence on the final lap in Monza, and it was Moreno who piled the pressure on. With team mate Marcel Kiefer leading out front, Rasmussen's best hope was to take second. However, he was gobbled up by Opmeer heading into the final corner on the penultimate lap, before Moreno blasted past the pair of them on the start of Lap 19. To add further insult to injury, Rasmussen was then hit from behind by David Tonizza, and plummeted down the order.
ROUND 9: USA
As we explored above the final lap in Austin was ultimately what undid all of Longuet's hard work. Making his move on the penultimate lap, Longuet had to defend on the final tour, which left him vulnerable. A scruffy first sector paired with his unfortunate timing meant that he didn't have the opportunity, and missed out on becoming the sixth different winner of the year.
Never one to shrink from a challenge, Longuet is preparing to go all-out for the final event. This includes the Brazilian Grand Prix circuit, site of his last victory in F1 Esports.
"I need even more race experience – I thought my tryes were in a better condition than they actually were. So I think the main focus for next time will be focusing on race setups so that my tyres don't just fall off the cliff like they did.
"I'm probably even more motivated to do well at the last event. I've shown that I'm back with this pole position in the USA, it's time for me to be there consistently."
With three races remaining, Longuet is currently P7 in the standings with 57 points, 10 points behind Red Bull Racing Esports' Marcel Kiefer. Will he ascend the ranks in our final event? Tune in to all the action on Wednesday December 15 to find out!