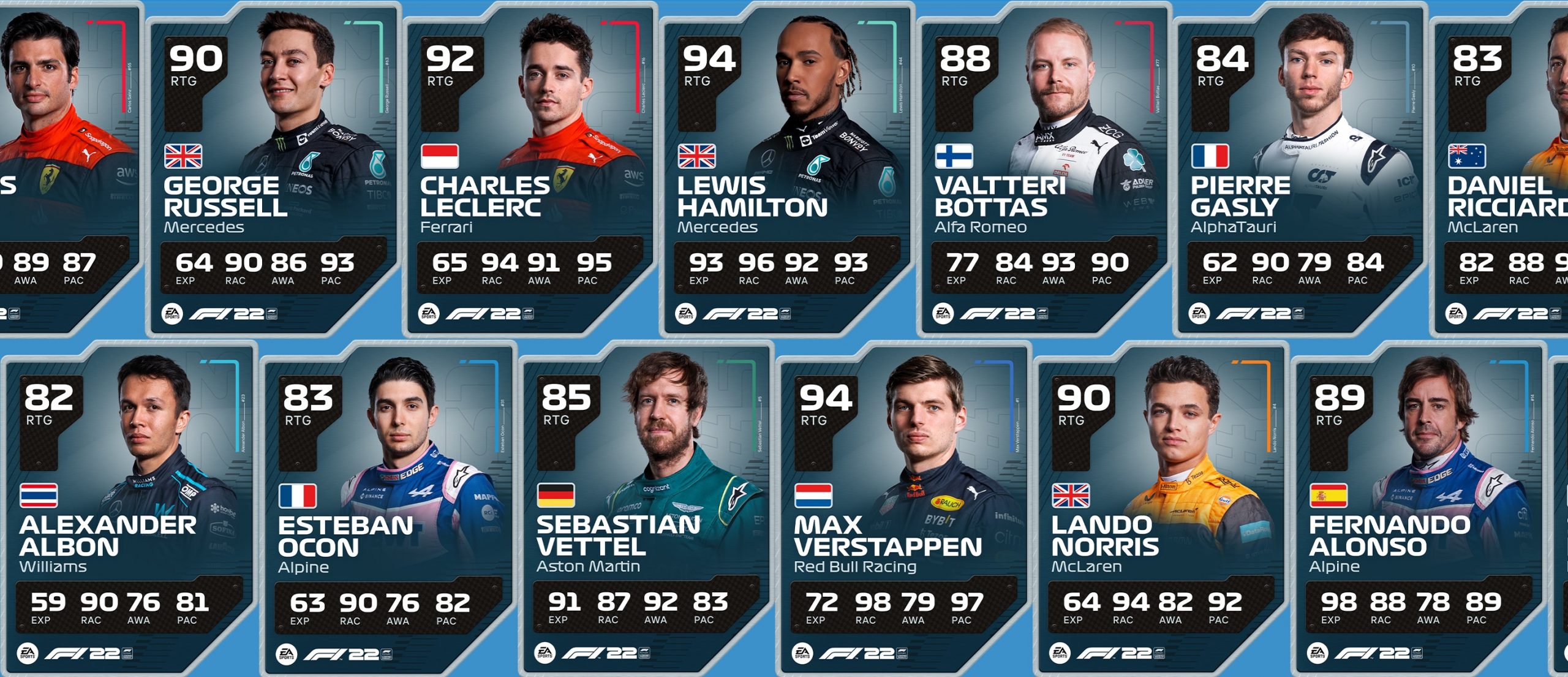 July 3, 2022
We're so close now… F1 22 is almost, almost here! Returning for a third successive year, My Team will provide 10 seasons of replayability and drama, as you become Formula 1's 11th team. It's up to you to build a brand, relationships with power unit suppliers, and of course, choose your team mate.
You can have anyone from the current F1 grid in your squad – if you can afford them. To help you make your choice, each driver is scored out of 100 on five key attributes, and we're here to break down who has the best scores in F1 22's Driver Ratings. But first…
WHAT ARE THE RATINGS?
EXP: Experience. Number of race starts, compared to the all-time record.
RAC: Racecraft. Measuring how well a driver holds on to positions, and climbs through the field.
AWA: Awareness. Drivers are rewarded for keeping out of trouble and driving clean.
PAC: Pace. Raw speed in qualifying, races, and compared with team mates.
RTG: Rating. A combination of all other factors.
Let's take a look at these ratings, shall we?
THE FRONTRUNNERS
Their title battle in 2021 will go down as one of the fiercest in F1 history – so it's unsurprising to see Max Verstappen and Lewis Hamilton so closely matched here. Both champions hit the heady heights of 94 RTG overall, with a mix of seriously strong traits scattered throughout. Verstappen of course loses out in the EXP category, making his debut a full eight years after Hamilton. Will you be picking either of these two as your team mate in My Team?
STARS OF THE FUTURE
Our next group all feature on the box art of F1 22. Ambassador Charles Leclerc gets a whopping 92 RTG, which is fitting after his meteoric start to the season. Though he hasn't scored a win since Round 3 in April, he's sure to recapture the speed that got him there in the first place, later this year.
British duo George Russell and Lando Norris both score a 90 RTG, with identical EXP, and just a few points of difference in all other categories. They might be the most well-matched pair in the game!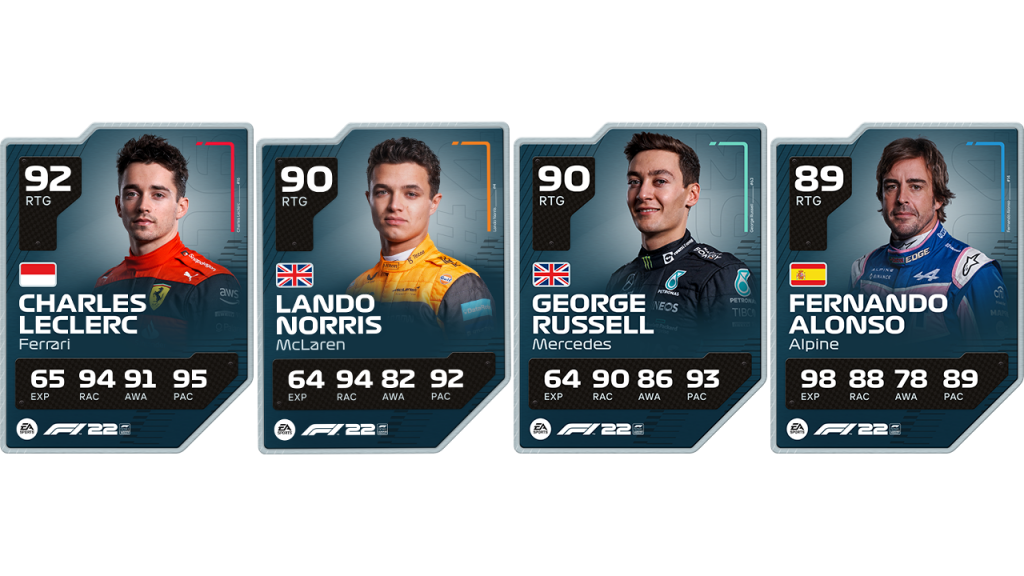 He's a little older than the trio, but Fernando Alonso also gets a look in here as the next-best driver, hitting 89 RTG, with the best-in-class for EXP at 98. Not surprising given that he is due to break the all-time record for race starts later this season…
SELECTABLE IN THE 80s
The 80s are fondly remembered as a high point of culture, and in F1 22 the 80s plays host to the most well-populated group of driver ratings. Sergio Perez and Valtteri Bottas both get an 88 RTG here. Bottas' lower metric for EXP is countered by his superior pace and awareness, making them two sides of the same coin.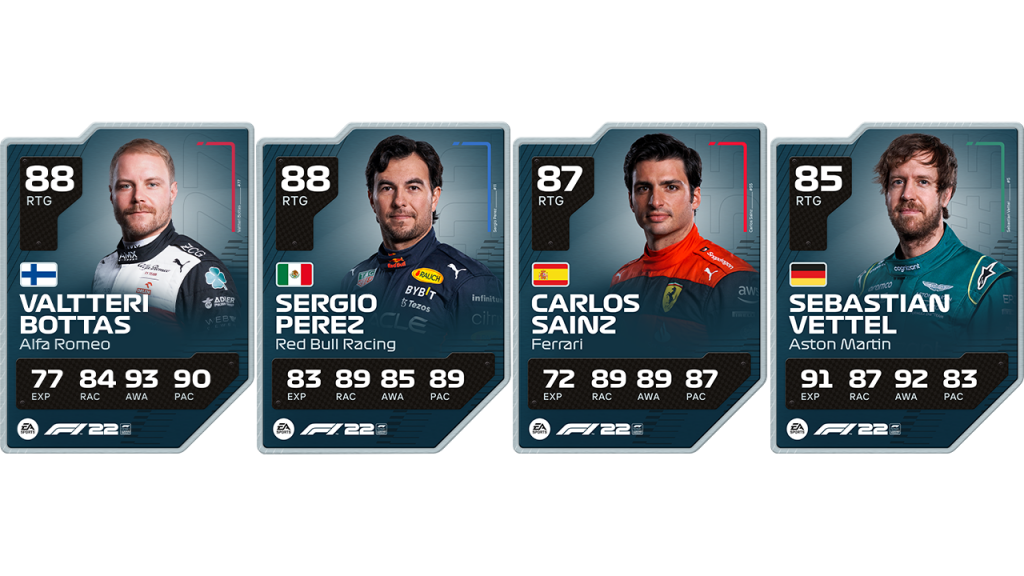 On his own on 87 RTG is Carlos Sainz, who is enjoying a strong sophomore year with Ferrari. With 89 RAC, 89 AWA and 87 PAC, his consistency is not to be overlooked. Four-time champion Sebastian Vettel clocks in next with 85 for his RTG, boasting great stats in EXP and AWA – although he loses out slightly in RAC and PAC.
Much like Norris and Russell, compatriots Pierre Gasly and Esteban Ocon are perfect foils for one another. Their RTGs are set at 84 and 83 respectively, and all other scores are very closely-matched indeed.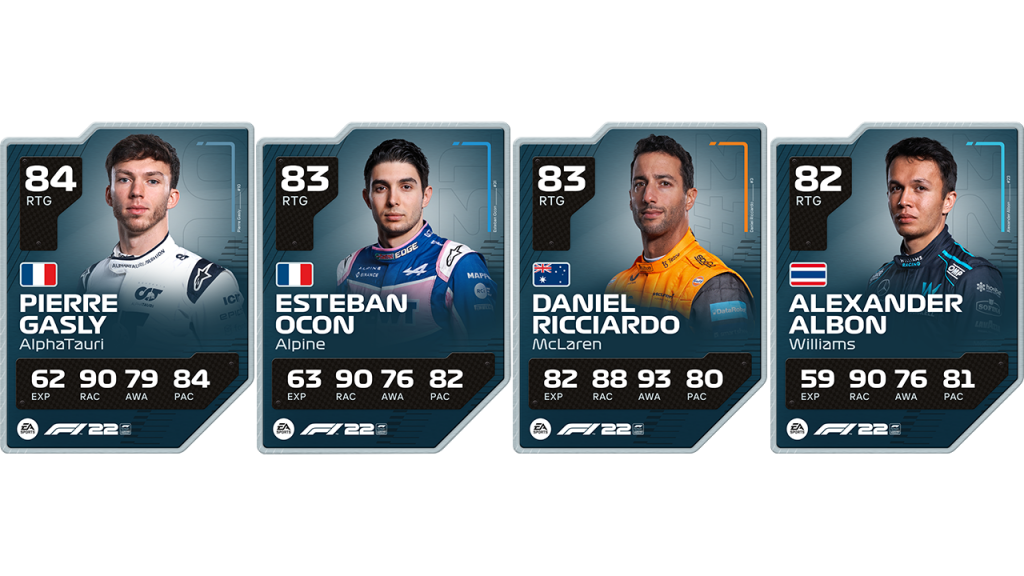 Daniel Ricciardo (83), Alex Albon (82), Kevin Magnussen (81), and Lance Stroll (80) round out the 80s with their RTGs.
ROAD TO F1 GRADUATES
Just missing out on a score in the 80s, Yuki Tsunoda scores 78, with a solid 83 PAC stat hinting that he could be on an upward trajectory in future. Mick Schumacher, who graduated from Formula 2 at the same time at Tsunoda, is just one point back on 77, clocking solid points across RAC, AWA and PAC.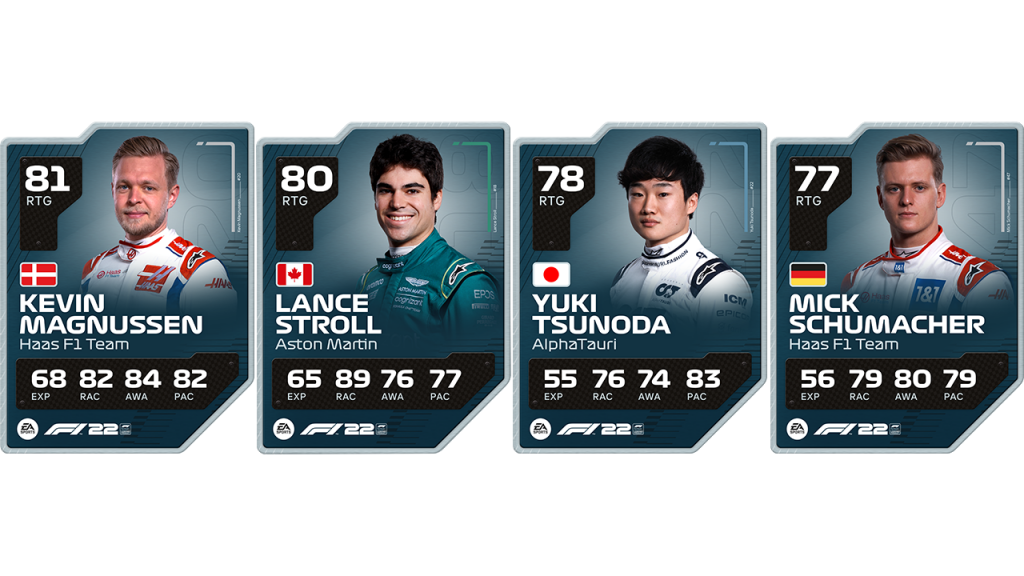 Zhou Guanyu is the only rookie for 2022, so it's unsurprising that he hasn't built a huge score in F1 yet. However, as his team mate Valtteri Bottas pointed out in our hilarious team mates guessing scores video, "this will be bigger next year". Joining Zhou on 70 RTG is Nicholas Latifi, who would make a fine team mate early on in the game.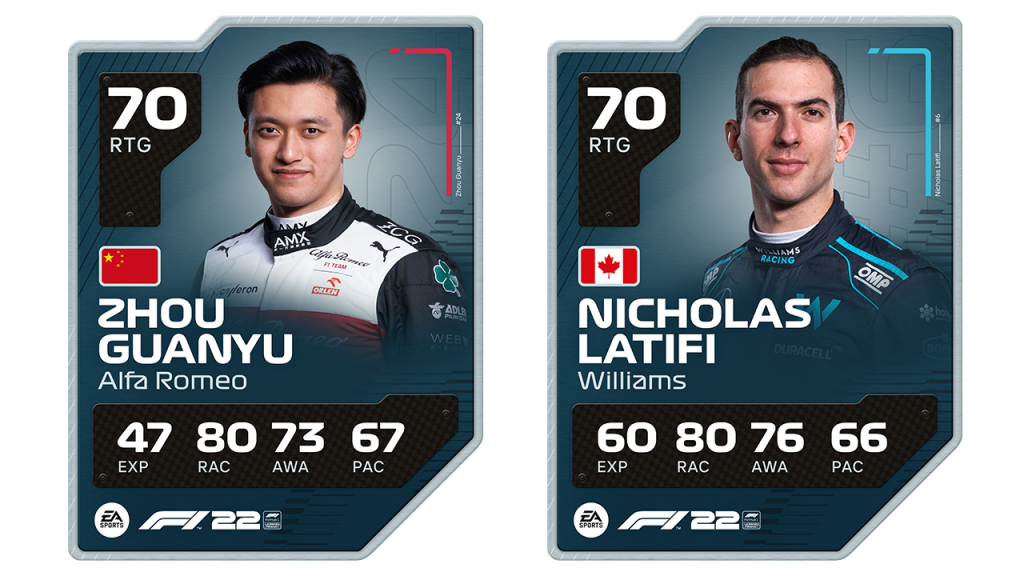 So there are your drivers for F1 22! The game launches worldwide on Friday, July 1. Let us know who you pick as your team mate on socials using the hashtag #f122game!