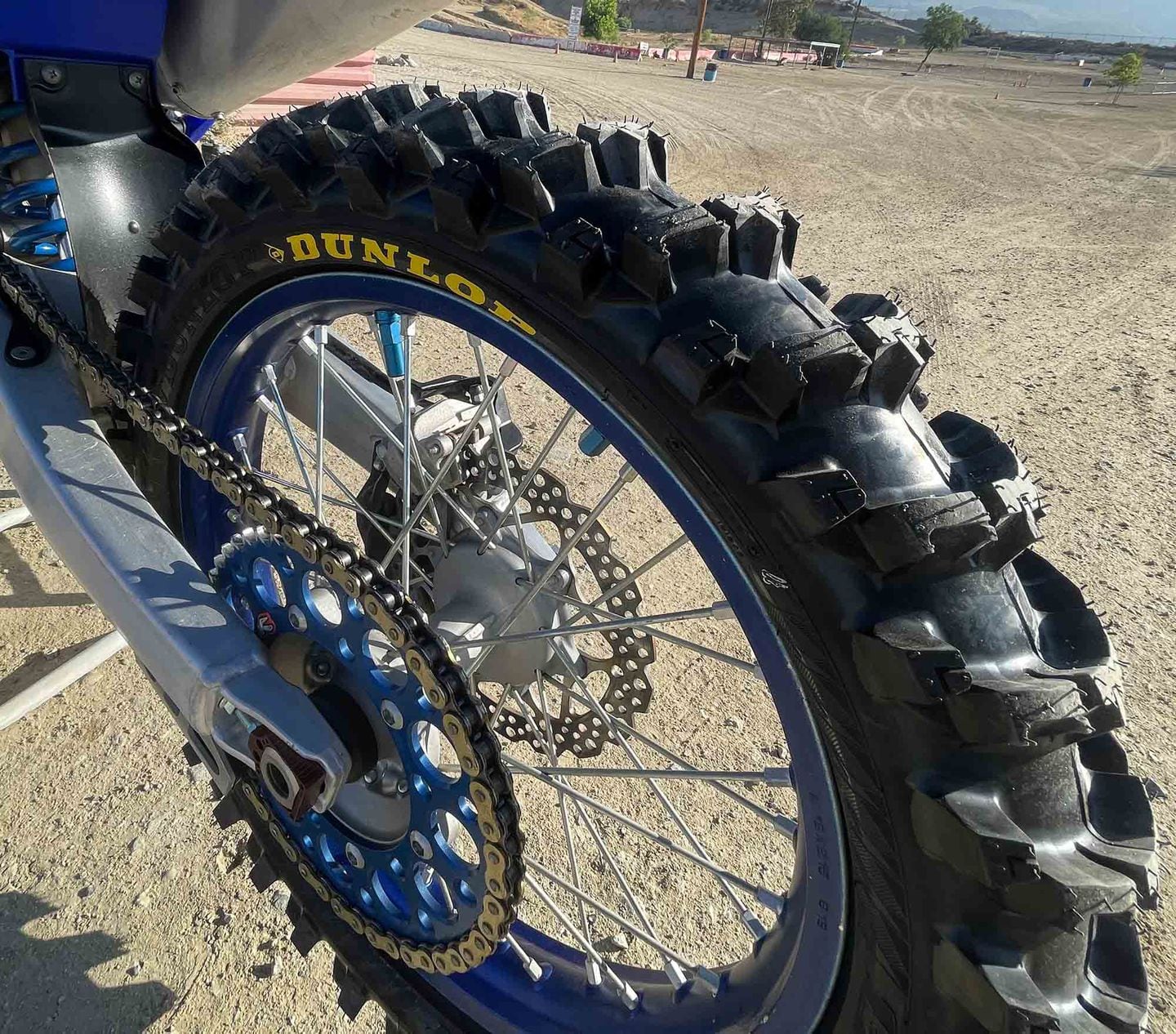 Dunlop recently released its all-new sand/mud tire, the Geomax MX14, with a private ride day at Glen Helen Raceway. After a presentation and going over technical specifications, the rest of the day was filled with tire mounting, lots of riding, and even a holeshot challenge. The Geomax MX14 is rear-only and takes the place of the Geomax MX12 as Dunlop's sand/mud tire.
The Geomax MX14 replaces the outgoing Geomax MX12 as Dunlop's sand/mud tire. (Dunlop/)
You can tell how aggressive this tire is at first glance. Each knob is 18 percent taller than the Geomax MX12′s. Dunlop claims to have improved traction due to the warped shovel shape of each knob. It's designed to scoop, cut into the ground much easier, and help penetrate the dirt, thus providing more traction.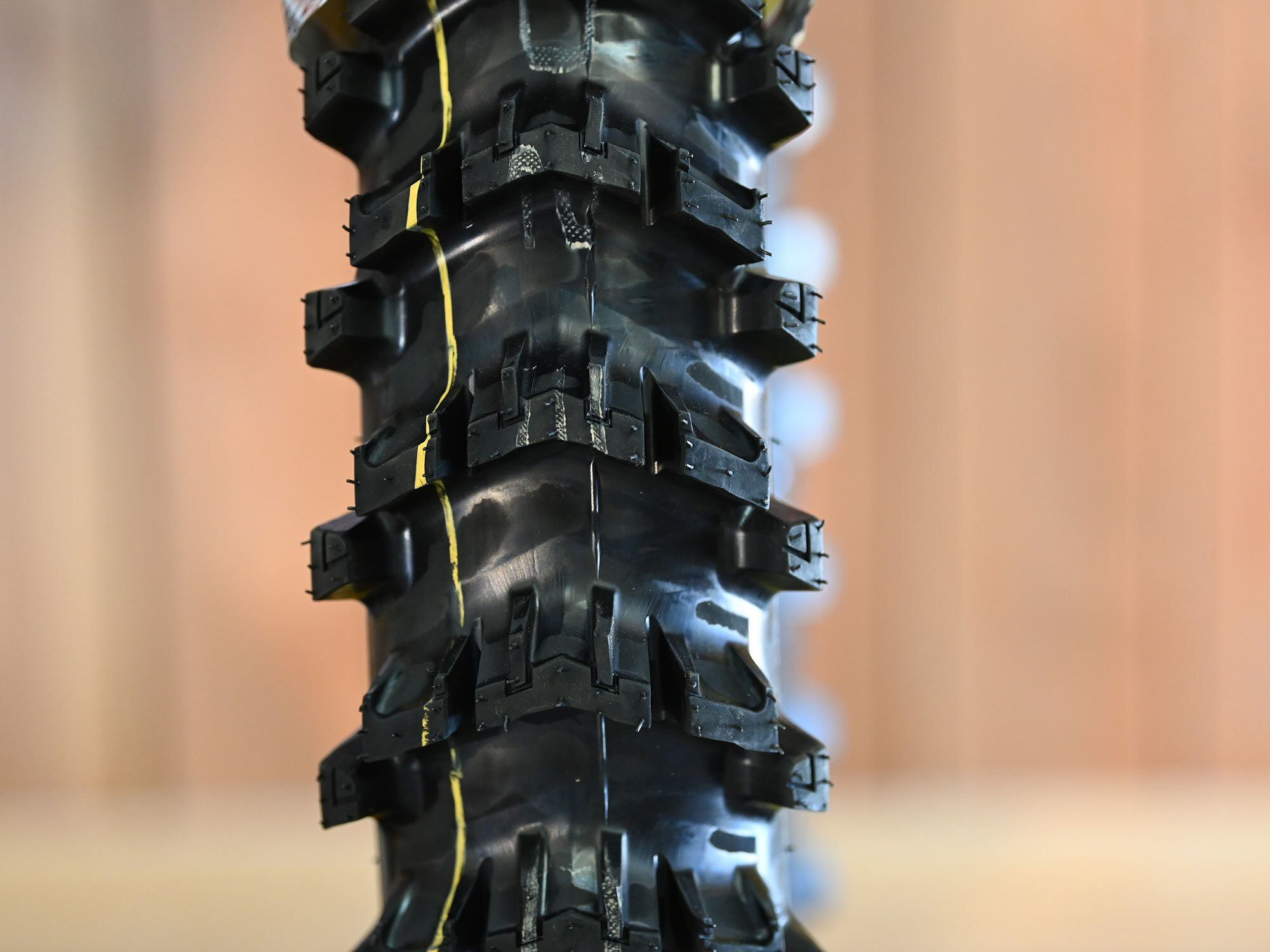 According to Dunlop, the optimized tread design and block angles are intended to improve the tire's scoop/paddle effect. (Dunlop/)
With the increased knob height as well as added stiffness, Dunlop stated the tire has a 23 percent increase in contact area compared to the Geomax MX12. In short, your chances of a holeshot just took a big leap forward—literally! Dunlop referenced the 2021 MXGP series as an example of this, where the new scoop tire captured holeshots at three of the five rounds that were hosted at sand tracks, including Belgium's Lommel.
Related: 2022 Dirt Rider 450 Motocross Bike Comparison Test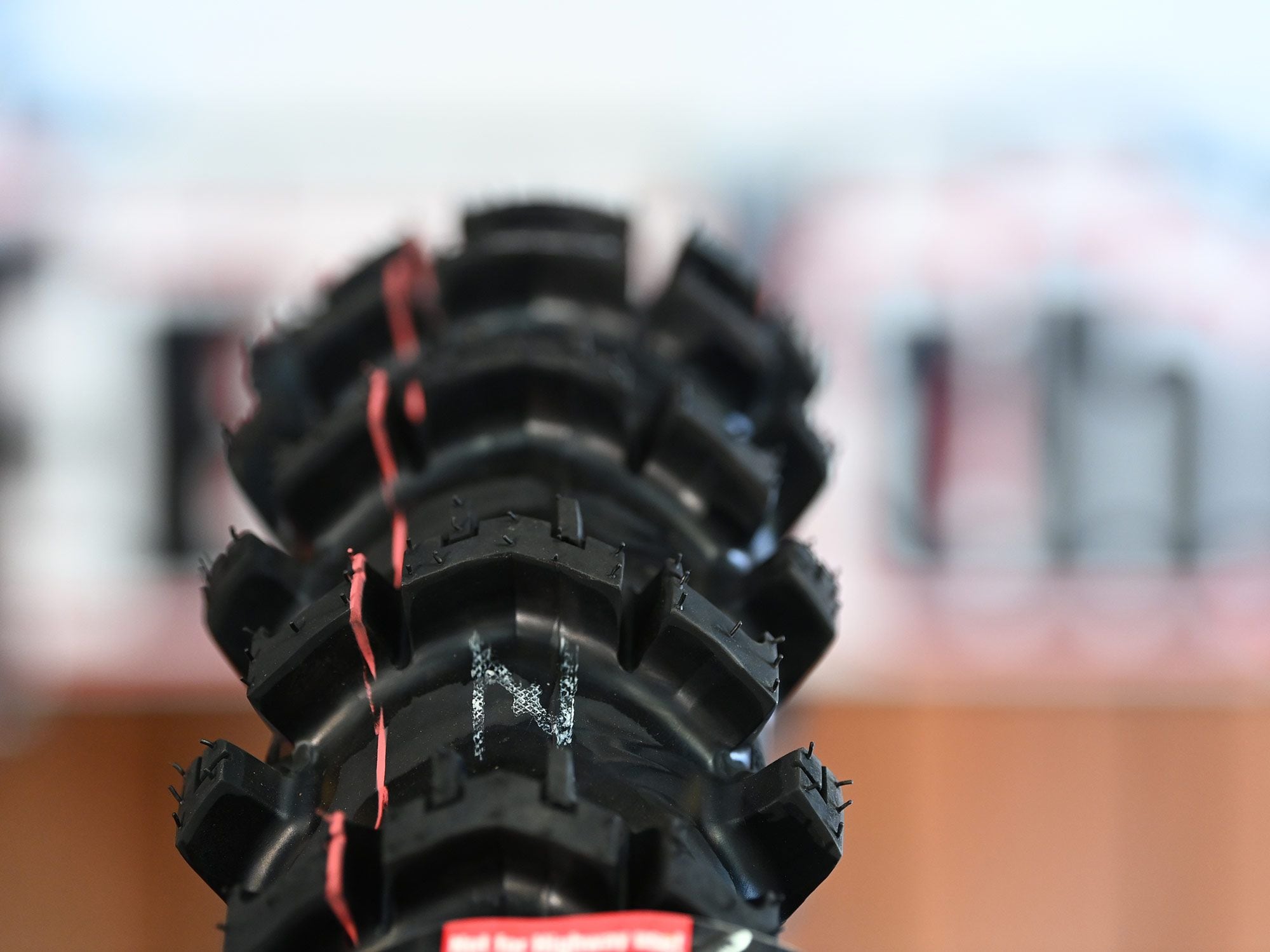 Block height is 18 percent taller than the Geomax MX12's. (Dunlop/)
The Geomax MX14 has been in the works for quite some time. It was even race tested at a couple rounds of the Lucas Oil AMA Pro Motocross Championship last year. For instance, Team Honda HRC's Hunter Lawrence went 1-1 at the 2021 Southwick National and Rockstar Energy Husqvarna Factory Racing's RJ Hampshire clinched the overall victory at the 2021 RedBud National, both using the Geomax MX14!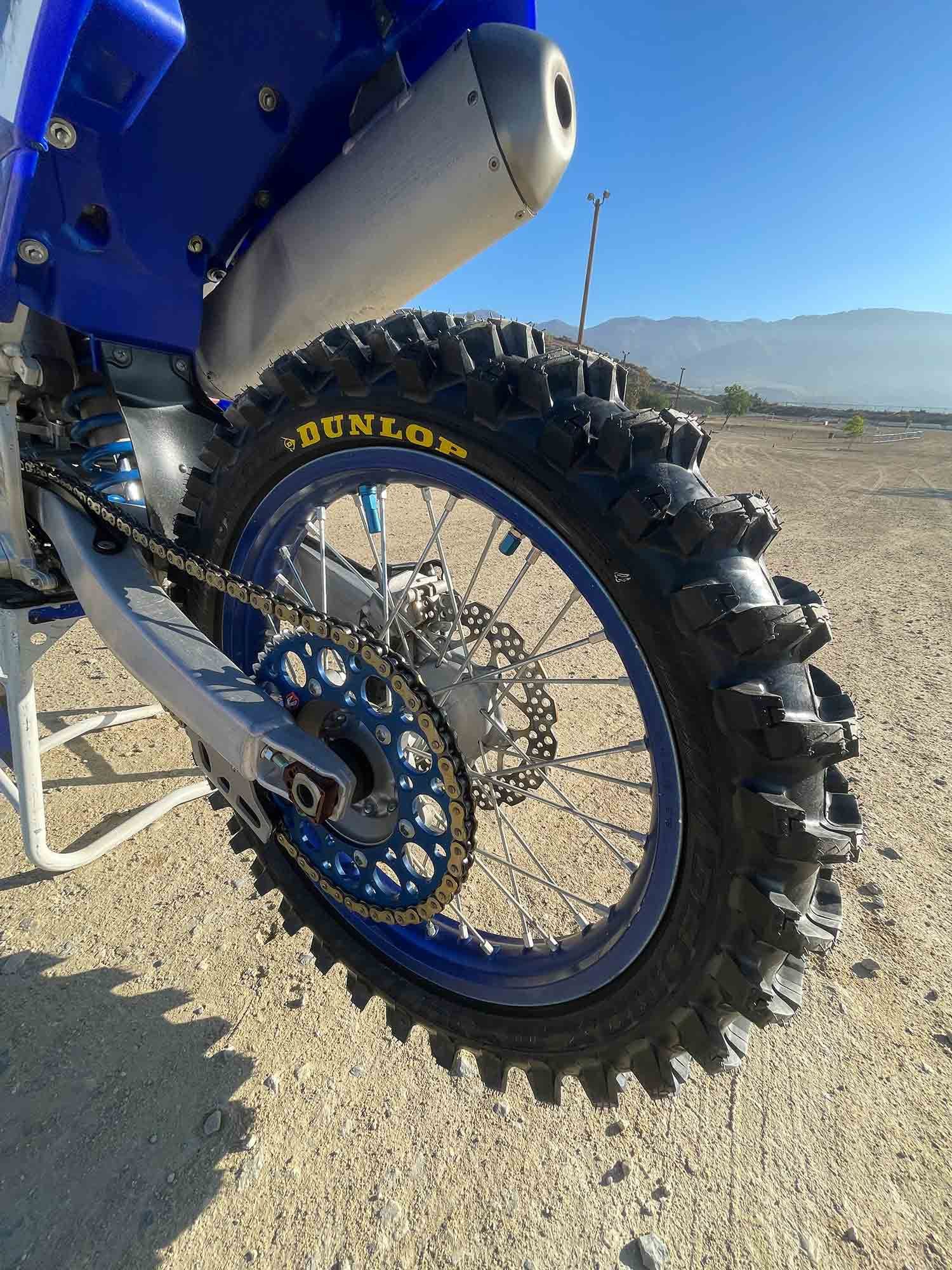 Right at first glance, you can tell the Geomax MX14 is designed to have tremendous traction on sandy and muddy tracks. (Cody Johnston/)
This new tire was developed for soft terrain, sand, and muddy tracks. If you happen to live in or around California, you may have had the opportunity to ride Glen Helen Raceway. The main track prep for races and "fast Thursdays" before the Nationals is very deep and sloppy in the morning. Then it becomes a bit sandy midday, which leads to epic conditions all day long!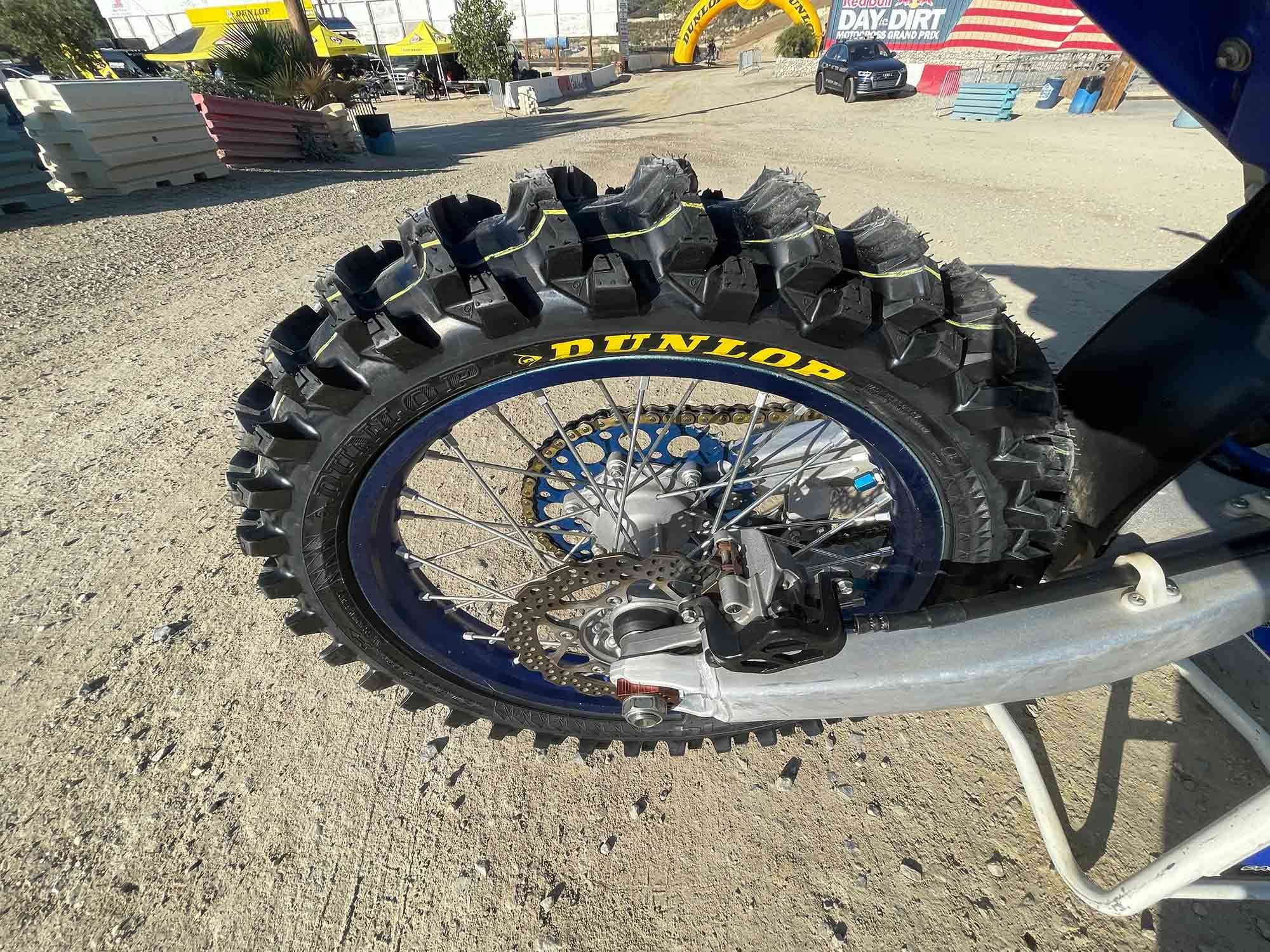 A warped shovel shape of the blocks improves traction as well as ground contact area by 23 percent over the Geomax MX12. (Cody Johnston/)
For the Geomax MX14 intro, the Glen Helen crew groomed the track very close to a National-style prep. Morning conditions were muddy and slippery. Having prior experience riding this style of track when preparing for Pro Motocross in 2016 and 2018, I could instantly tell the scoop tire was a huge advantage in the muddy conditions.
Related: Dunlop Introduces New MX53 Motocross Tire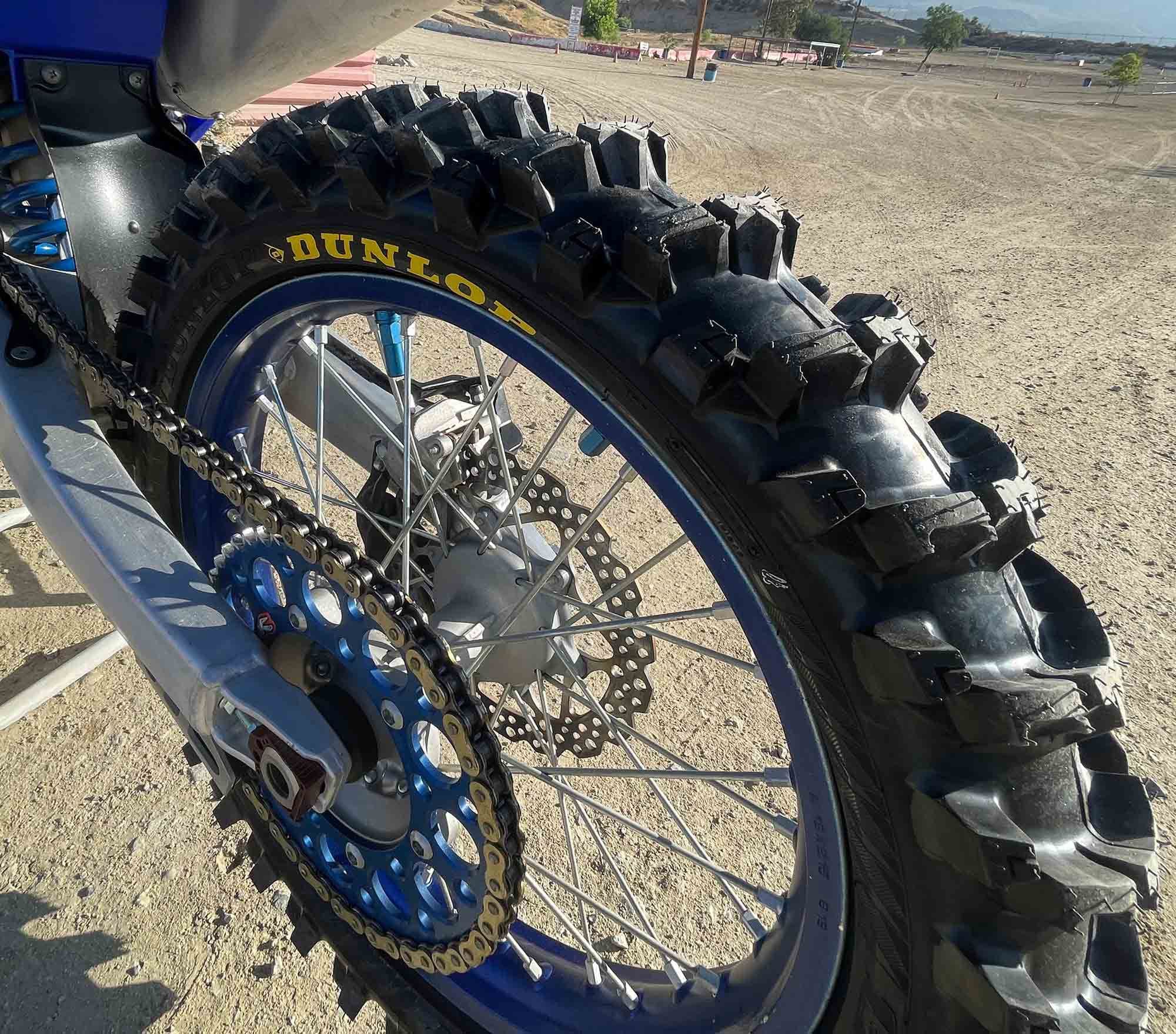 If there's a tire designed to throw roost at your buddies, this is it. (Cody Johnston/)
I ran Dunlop's Geomax MX3S soft-to-intermediate terrain rear tire when I made my attempts at racing the Nationals and remember how little traction I felt during qualifying practice due to how it was ripped, tilled, and heavily watered. The Geomax MX14 would have helped tremendously with traction everywhere in the deep conditions, especially exiting corners and blasting up the treacherous Glen Helen hills such as Mount Saint Helens, where traction is key to help shave a second or two off your lap times.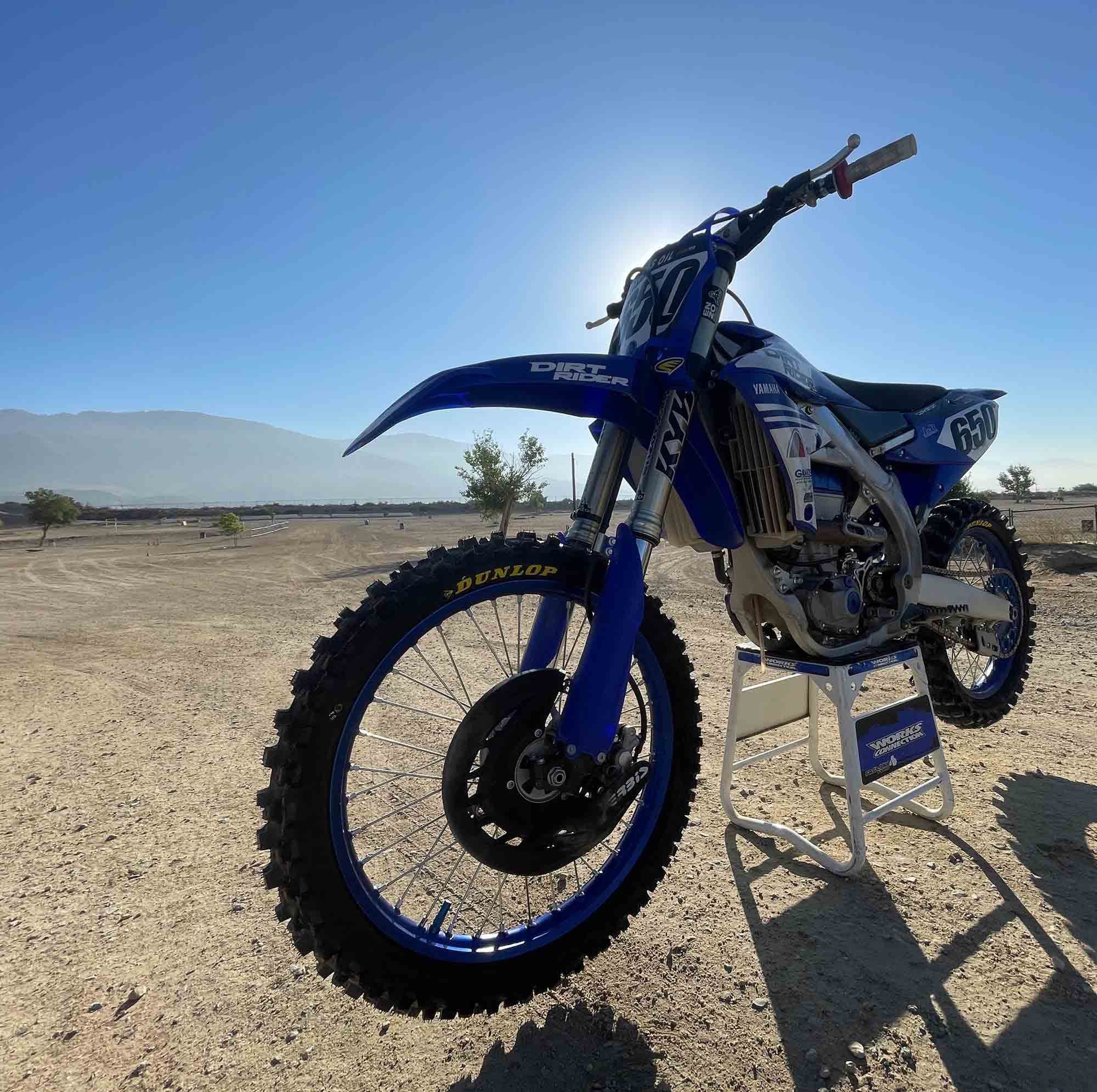 The Geomax MX14 is rear-only, so Dunlop recommends its Geomax MX3S or Geomax MX33 front tire to pair with it. (Cody Johnston/)
The Geomax MX14 worked better than expected as the day went on, as its increased footprint helped with grip when the track became more hard-packed and dry. When developing this tire, Dunlop wanted to improve its performance over the Geomax MX12′s on dirt other than sand and mud. Some soft and sandy tracks may still have a few hardpack sections or jumps, so it didn't want to leave that out of the equation. I can confidently say it succeeded!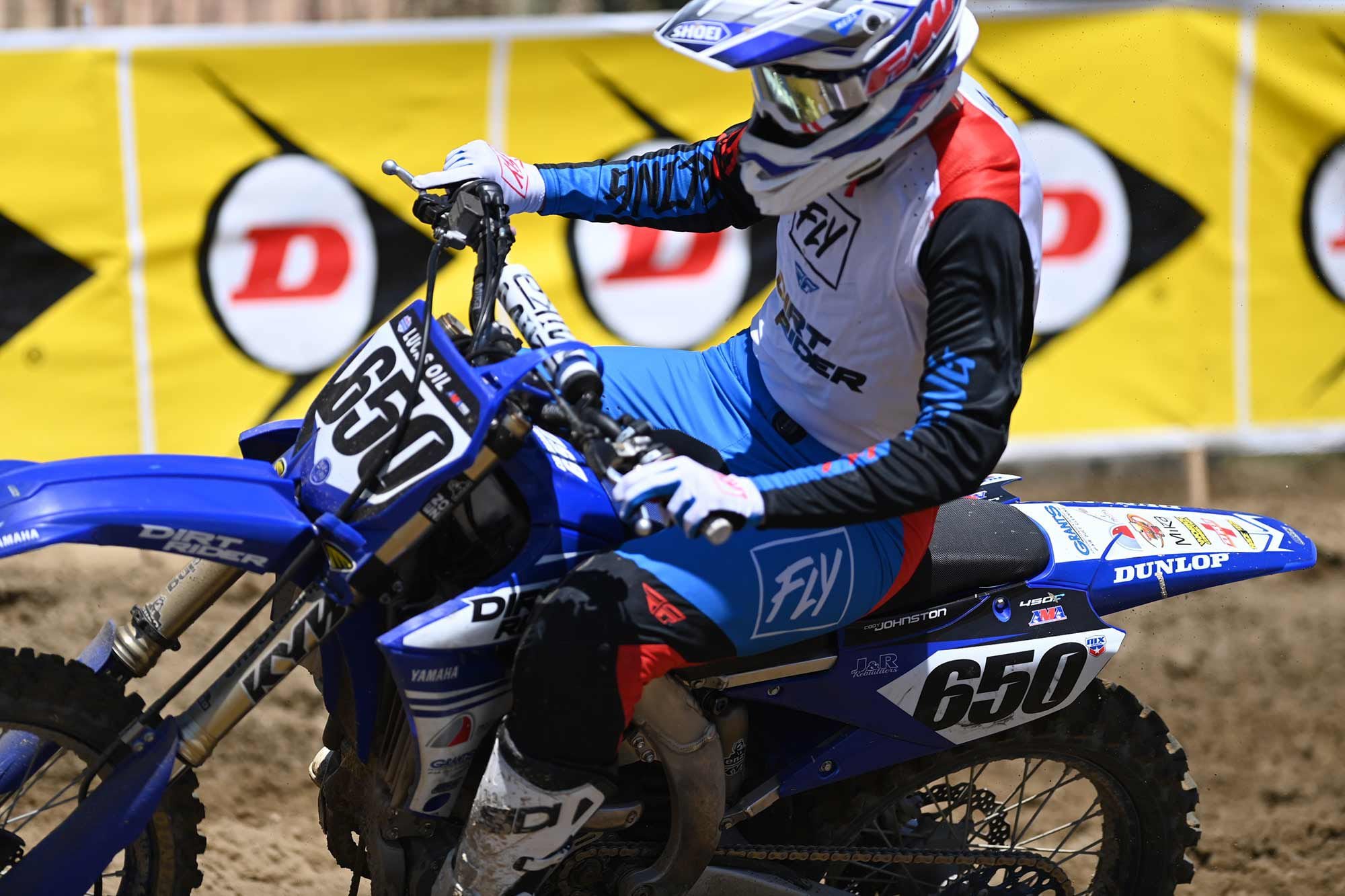 Offered in eight sizes, the Geomax MX14 is available for both minis and full-size dirt bikes. (Dunlop/)
Now more than ever, I really want a spare rear wheel for my personal 2020 Yamaha YZ450F. That way, I can have a Geomax MX14 at the ready for courses like E-Street MX, a sand track in NorCal that my friends and I sometimes go to, as well as if I encounter sloppy conditions anywhere else.
Related: 2022 Dirt Rider 250F Motocross Bike Comparison Test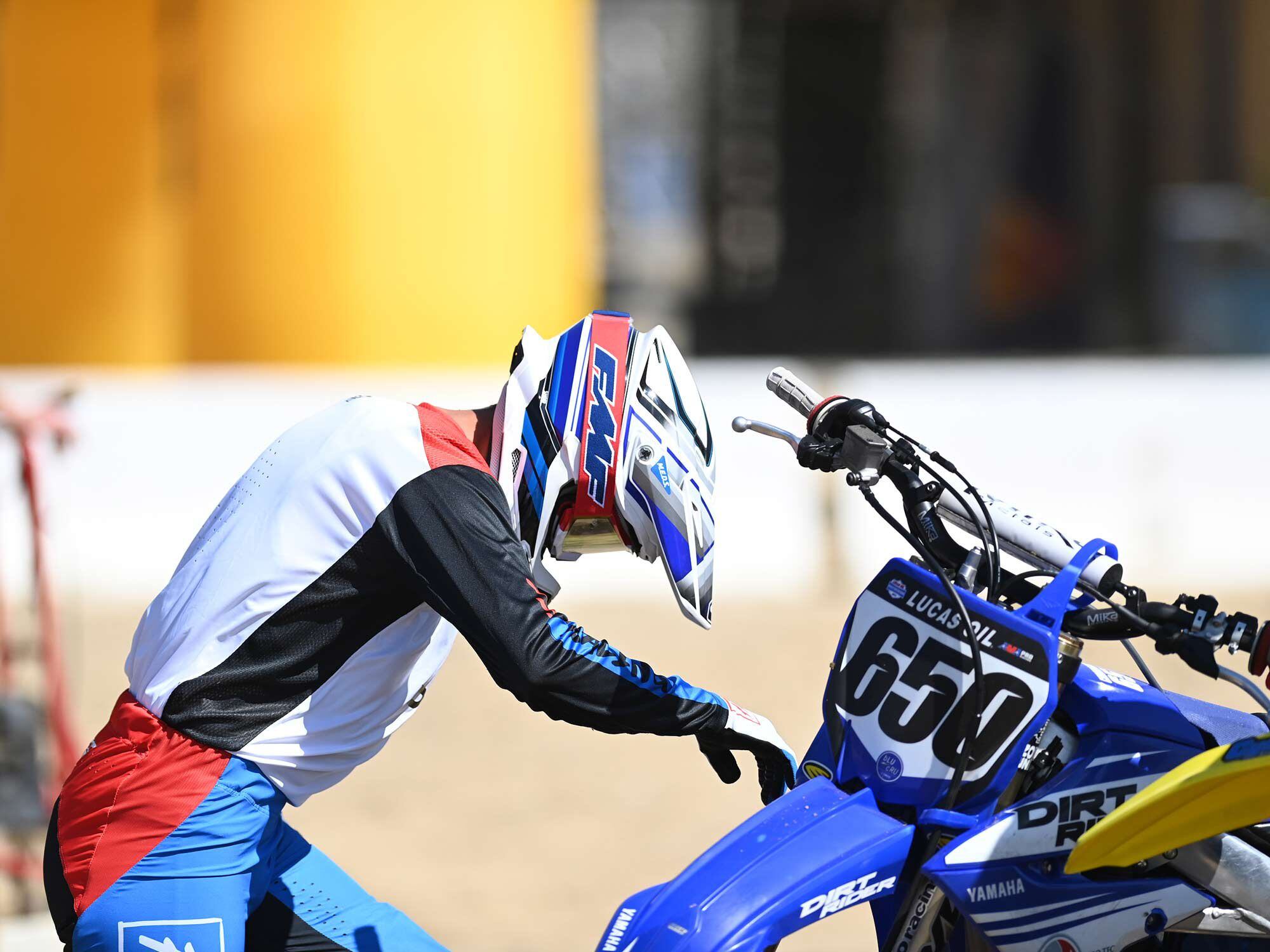 Prepping my gate for the holeshot challenge. (Dunlop/)
Then I could switch back to my standard rear wheel with a Dunlop Geomax MX33 soft-to-intermediate-terrain tire mounted on it later in the day should the dirt become firmer. Although, with how well the Geomax MX14 performs in slightly harder-packed conditions, I may just decide to leave it on all day!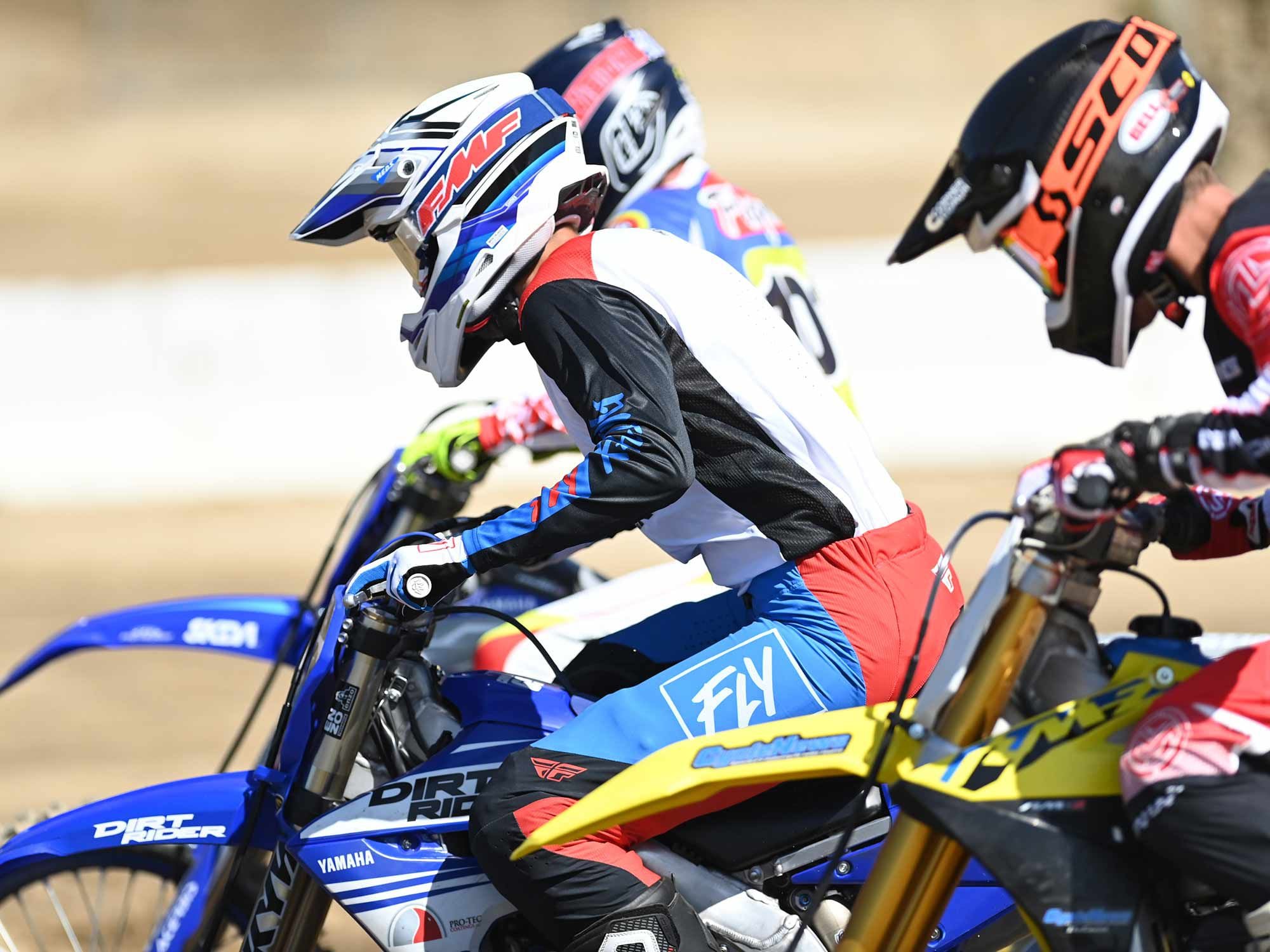 Starts are one area that Dunlop focused heavily on when developing the Geomax MX14. (Dunlop/)
Once again, Dunlop has done a superb job of creating a tire that works excellently in the conditions it's designed for while broadening its range of use in other types of dirt. I can't wait to see what Dunlop comes up with next!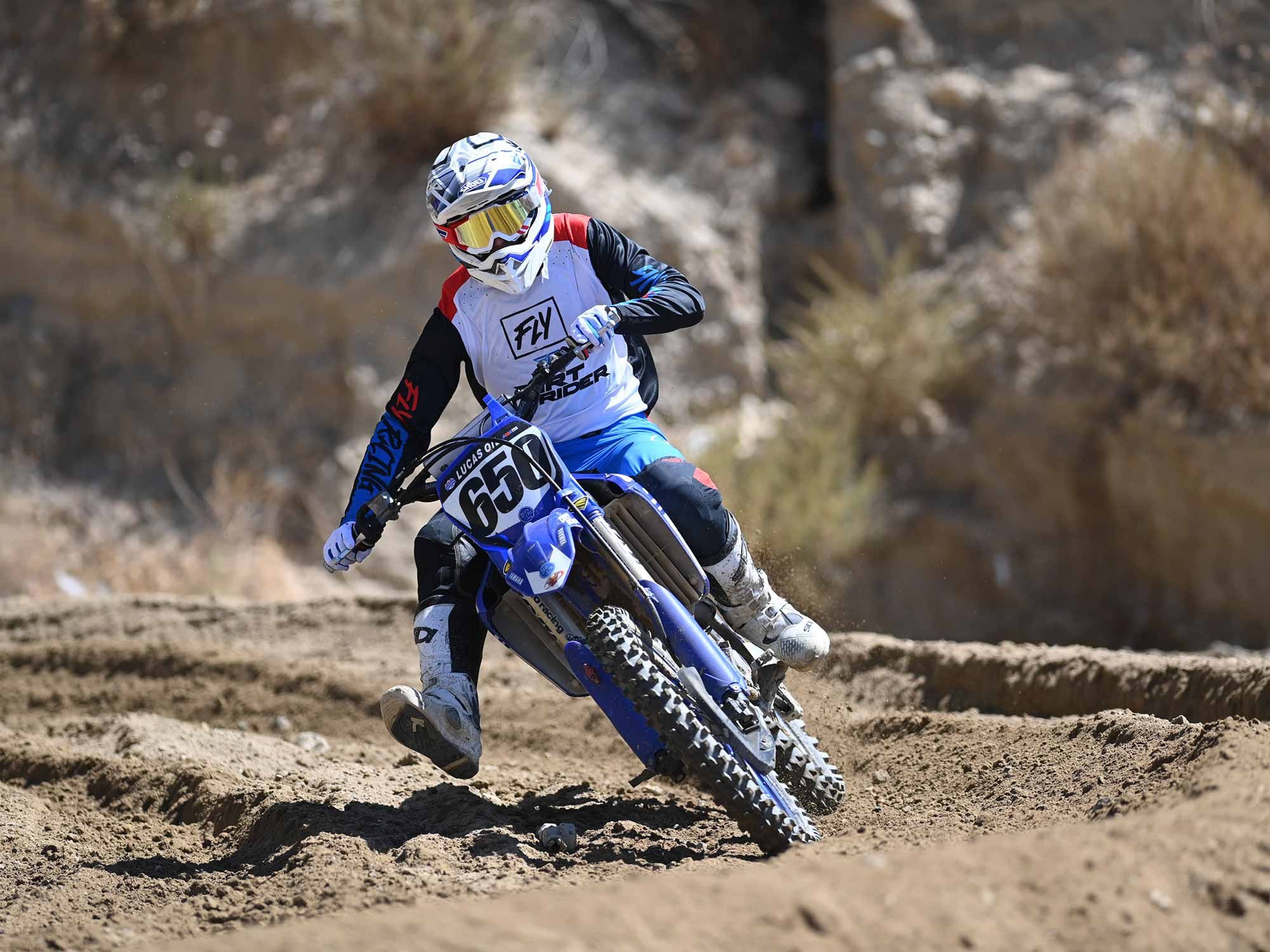 Although it's not designed specifically for harder terrain, the Geomax MX14 performs admirably later in the day when the track isn't as deep. (Dunlop/)
Dunlop Geomax MX14 Rear Tire Sizes
70/100-10
80/100-12
90/100-14
90/100-16
110/100-18
100/90-19
110/90-19
120/80-19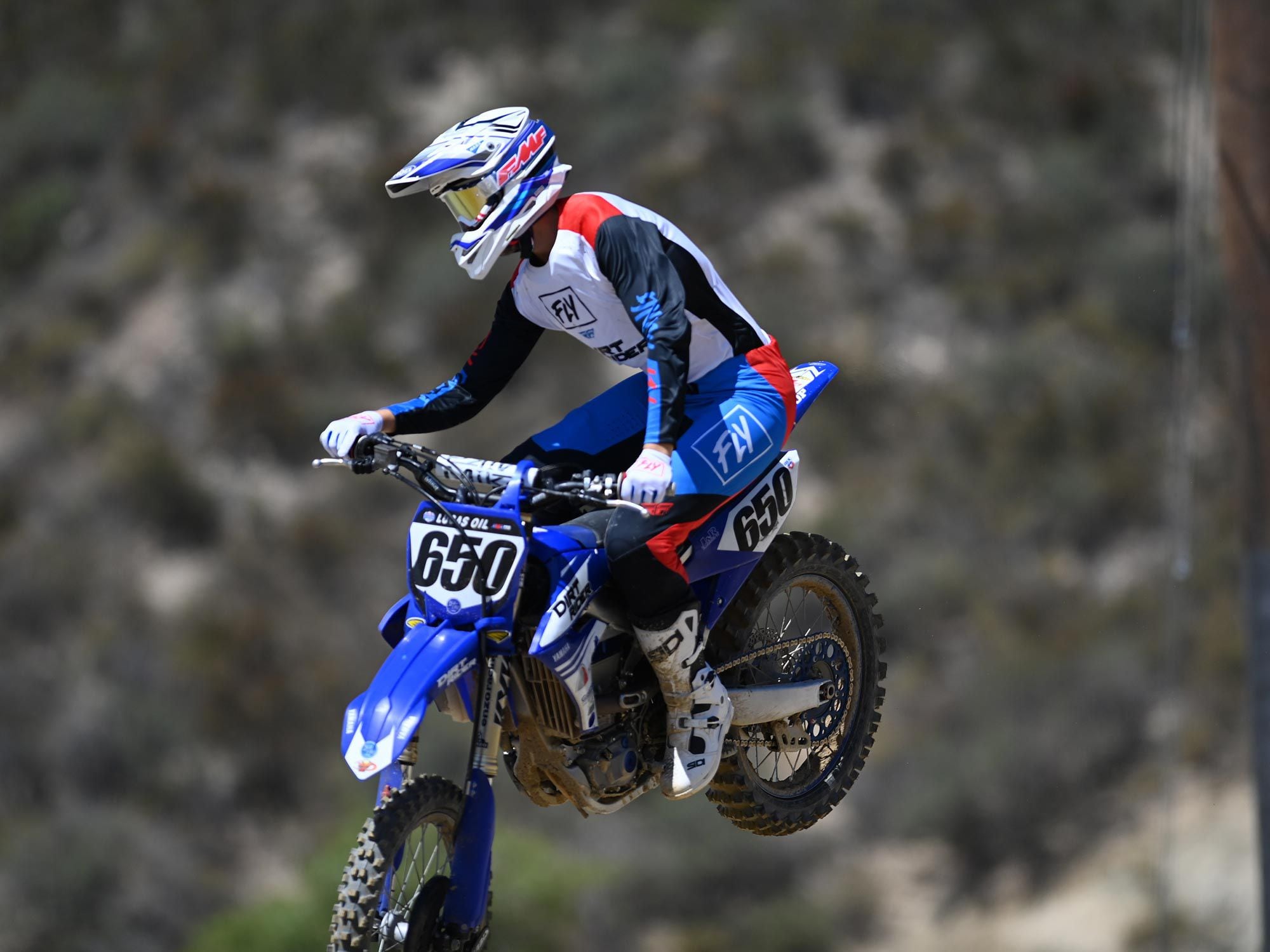 Dunlop knocked it out of the park with the Geomax MX14. I only wish it was around when I was attempting to qualify for the Nationals in 2016 and 2018! (Dunlop/)