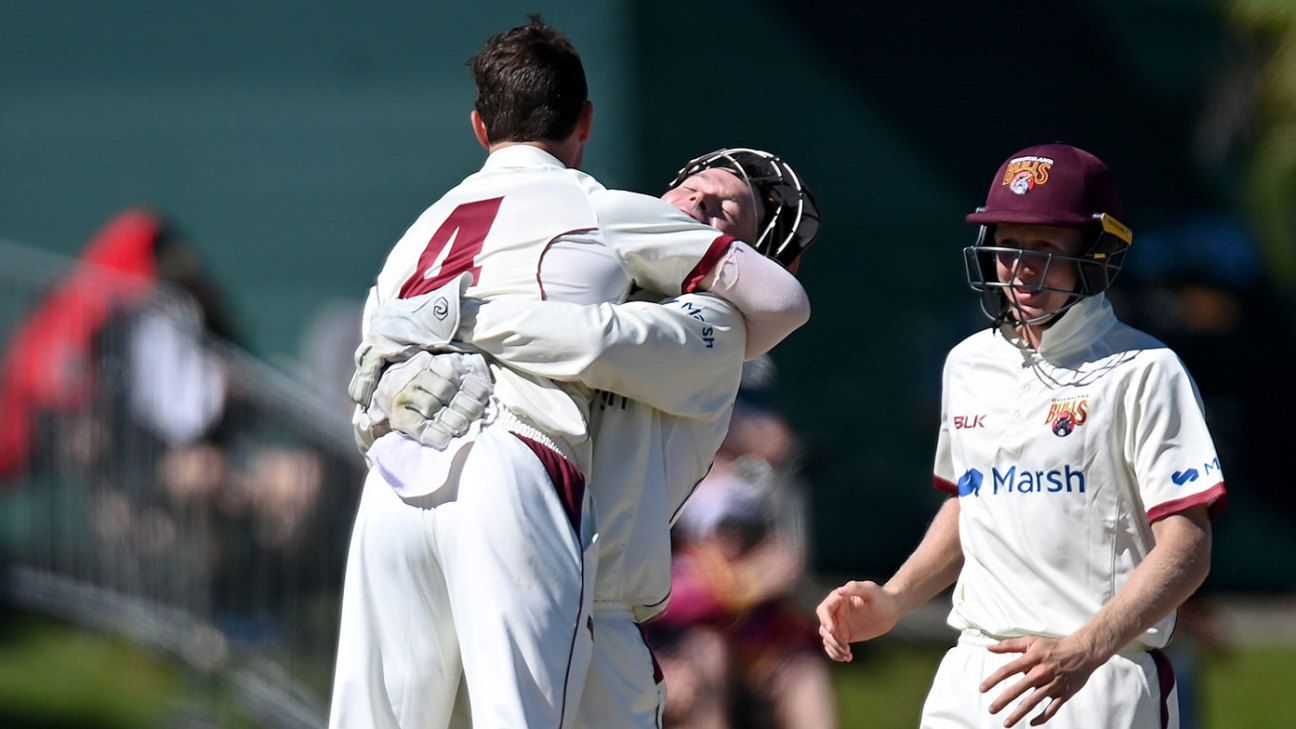 Report
The home side wrapped up the match inside the opening session of the fourth day
Queensland 389 (Labuschagne 192) beat New South Wales 143 (Neser 5-27, Wildermuth 4-21) and 213 (Doggett 3-37, Bartlett 3-42, Swepson 3-68) by an innings and 33 runs
Queensland won the Sheffield Shield for the ninth time as they secured an innings-and-33-run victory over New South Wales in a final they dominated from start to finish.
It was only a matter of time when play resumed on the fourth day – at the very early time of 8.54am – with New South Wales five down in their second innings still more than 100 runs behind and the winning moment came when Josh Hazlewood edged Brendan Doggett.
Mitchell Swepson claimed three of the remaining wickets needed during a probing spell of legspin having previously seen Queensland's quicks take all the rewards.
Michael Neser, who set up Queensland's stranglehold on the opening day with a five-wicket haul, made the first breakthrough when Sean Abbott edged to second slip with just two runs added to the overnight total.
Baxter Holt, one of youngsters brought into the New South Wales side for the latter part of the season, and Mitchell Starc resisted for 19 overs to raise the prospect of Queensland needing to bat again before Swepson made his incisions.
Holt missed a sweep and was struck on the back leg in front of middle stump and then Trent Copeland nicked a perfect leg-break to the keeper.
Starc continued to resist, taking his innings beyond 100 balls, but lost Nathan Lyon when he edged Swepson to slip where Usman Khawaja plucked out the catch high to his right.
With nine wickets down lunch would have been delayed but that wasn't required when Doggett, who was impressive in the second innings, lured Hazlewood into having a nibble outside off to send Queensland and the crowd – which passed 10,000 across the four days – into wild celebrations to end the longest season on record.
Andrew McGlashan is a deputy editor at ESPNcricinfo