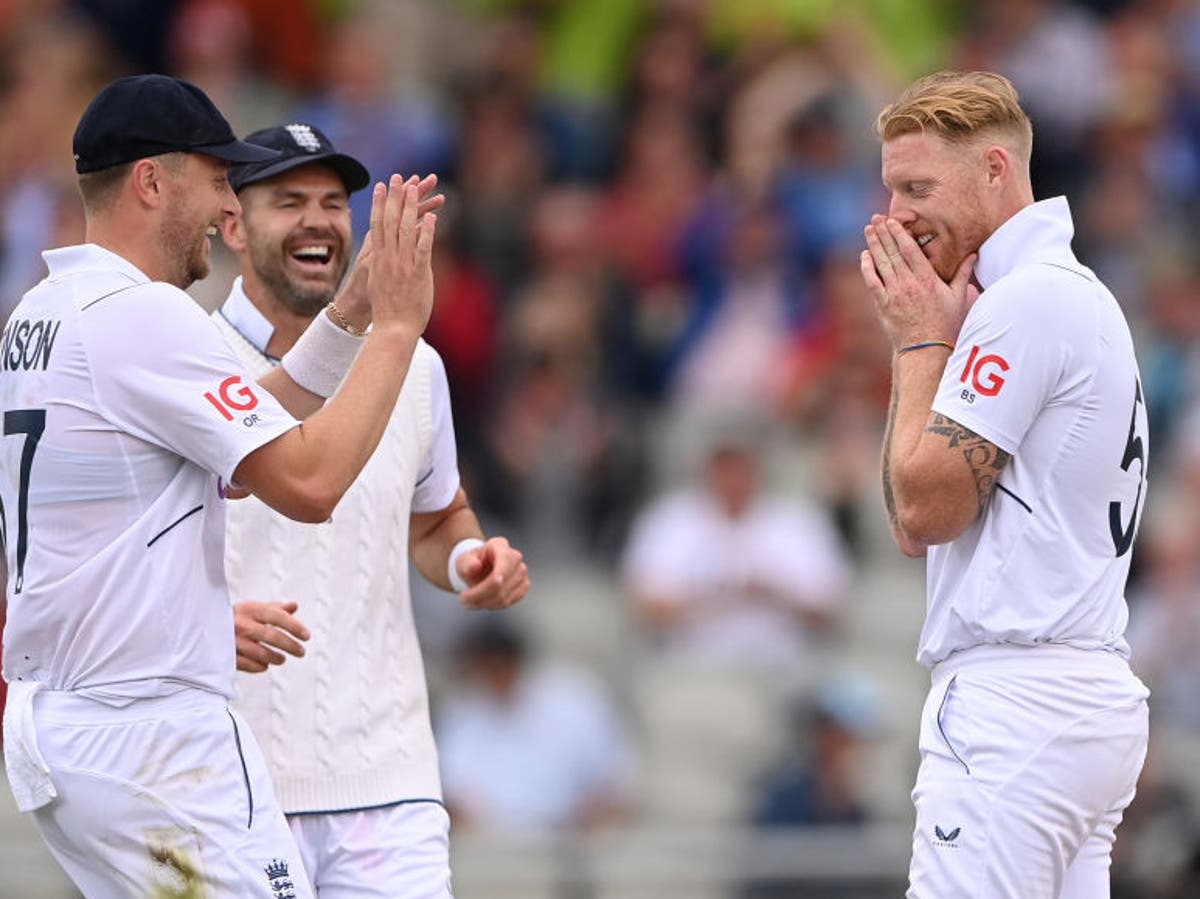 England are taking on South Africa on day one of the second Test today and Ben Stokes's side are looking to bounce back from a comprehensive defeat at Lord's. The South African bowling attack ripped through the English batting line-up, led by the pace of Kagiso Rabada, Anrich Nortje, Lungi Ngidi and Marco Jansen, and England must come up with a way to stem the loss of wickets at Old Trafford this week if they are to level the three-Test series.
England make one change with Ollie Robinson coming into the bowling attack to add height and bounce, with Matthew Potts dropping out. Zak Crawley retains his place in the starting XI despite his continued struggles as opener, with Harry Brook waiting in the wings and tipped for a call-up for the third and final Test should Crawley falter once more here. South Africa make one switch, bringing in a second spinner – Simon Harmer – in place of seamer Jansen.
Who will win the second Test in Manchester? Follow all the latest score updates and live commentary from Old Trafford below.
England vs South Africa
OUT! Sarel Erwee 3 (12) ct. Ben Foakes, b. James Anderson, South Africa 3-1
OUT! Dean Elgar 12 (42), ct. Bairstow, b. Broad, South Africa 35/2 (12.5)
OUT! Keegan Petersen 21 (29), ct. Root, b. Broad, South Africa 41/3 (14.3)
OUT! Aiden Markram 14 (27), ct. Foakes, b. Stokes, South Africa 68-4 (21.3)
OUT! Rassie van der Dussen 16 (30), lbw b Stokes, South Africa 76-5 (23.4)
1661431998
South Africa 85/5 (27), K Verreynne 12, S Harmer 0, J Anderson 1-19 (9)
Anderson is amongst things right away, beating Harmer's leaden-footed push outside off stump with a smidgen of away movement. The batter then chances a couple of strides down toward Anderson, attempting to knock him off his line and length, shouldering arms at a wider one.
By way of riposte, the bowler produces his first bouncer of the day, which Harmer can safely dip beneath.
Harry Latham-Coyle25 August 2022 13:53
1661431749
South Africa 85/5 (26), K Verreynne 12, S Harmer 0, O Robinson 0-34 (8)
A somewhat wayward first over after the resumption from Robinson, Verreynne pulling nicely along the floor to the straightest of two men back on the fence behind square on the leg-side, taking two..
James Anderson has ball in hand at the other end.
Harry Latham-Coyle25 August 2022 13:49
1661431499
South Africa 81-5 (25.1)
Ollie Robinson will restart proceedings for England after an excellent, if wicketless, first spell back in the side. Kyle Verreynne faces up…
And caresses a gentle half-volley through the covers for an all-run four.
Harry Latham-Coyle25 August 2022 13:44
1661431363
Afternoon session
The South African pair saunter back out there under blue skies flecked with clearing clouds. England gather for a pre-session huddle on the boundary.
Harry Latham-Coyle25 August 2022 13:42
1661430914
Can South Africa fight back?
One wonders how South Africa will approach the afternoon session. Attempting to sit in and survive has not really worked – might we see a more proactive method from Kyle Verreynne and Simon Harmer immediately after the resumption? Dean Elgar will fancy his bowlers to cause plenty of problems on this surface if the lower order can claw his side up to something competitive.
Harry Latham-Coyle25 August 2022 13:35
1661430379
Lunchtime report
England's pace attack rattled through South Africa's top order as the tourists' decision to bat first at Emirates Old Trafford backfired on the first morning of the second LV= Insurance Test.
Despite skittling England cheaply twice in their innings victory at Lord's, the tourists spurned the chance to make use of murky conditions in Manchester and paid the price by slumping to 77 for five.
Lancashire local James Anderson got the ball rolling with the initial breakthrough, before Stuart Broad and captain Ben Stokes took two apiece to take a firm grip on the innings.
The tourists were on the back foot after winning the toss and choosing to bat.
Harry Latham-Coyle25 August 2022 13:26
1661429533
Lunch! South Africa 77-5 (25)
Oddly, it was the overheads that had Ben Stokes keen for a bowl this morning but there has been no real swing for England today, and what looked a firm, batter-friendly pitch has actually offered plenty of nip. Full marks to England's seamers for making use of it – they really have been very good, and can now set about making inroads into a long South African tail with the sun just starting to peek through the thick Manchester cloud.
Harry Latham-Coyle25 August 2022 13:12
1661429230
Lunch! South Africa 77-5 (25)
A fine morning for England, happy enough to be asked to bowl having lost the toss. It looked a slightly curious call from Dean Elgar to grant the hosts first use of bowler friendly conditions at Old Trafford and his top order have been tortured by an immaculate display of seam bowling from James Anderson, Ollie Robinson and Stuart Broad. No South African batter has yet looked fully settled and a couple for Ben Stokes before lunch will make the England captain all the happier at the interval.
Harry Latham-Coyle25 August 2022 13:07
1661428974
South Africa 76/5 (24.1), K Verreynne 3, S Harmer 0, J Leach 0-4 (1.1)
Dropped! Nearly another one burgled by England, but Ben Foakes can't gather a thin under-edge! It's another poor start to the over from Leach, short of a length outside off stump, but Verreynne dithers on the cut and nearly gives his wicket away. Sharp chance for Foakes, but one you'd have fancied him to take.
Harry Latham-Coyle25 August 2022 13:02