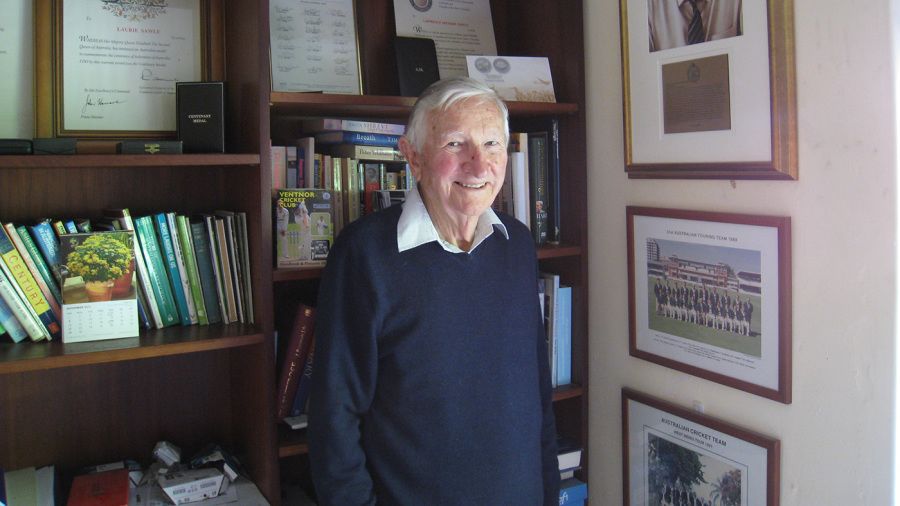 Former Australian chairman of selectors and Western Australia opening batter Laurie Sawle has died at the age of 96.
Sawle played a significant role in shaping Australia's great teams of the 1990s and 2000s, having been a national selector for 13 years between 1982 and 1995, acting as chairman for 11 of those years.
He played a part in the recruitment of Bob Simpson as national coach in 1986 and then was a key figure in the selections of Australia's golden generation, including Steve and Mark Waugh, Mark Taylor, Ian Healy, Glenn McGrath and Shane Warne among many others. He was also an influential figure in the development of Australia's Under-19 programmes and the Australian cricket academy in the late 1980s and 1990s, where a number of those players honed their craft.
Sawle was nicknamed "Colonel". He was born in East Fremantle in 1925 and served in the 7th Australian Infantry Battalion during World War II. He enlisted in January 1944 and fought in Bougainville as a teenager.
He made his first-class debut for Western Australia at the age of 29 and played 35 matches, scoring 1701 runs at 28.83, including one century. He opened alongside one-Test batter John Rutherford while both were working as teachers at Kent Street High School.
Sawle retired from playing in 1961 and applied to be a Western Australia selector in 1962, a role that he held until 1980. It was during this time that Western Australia won six Sheffield Shield titles, having won just one prior to that. Western Australia also won four 50-over titles in that period.
Sawle was part of a selection panel chaired by Allan Edwards that fostered the careers of Dennis Lillee, Rod Marsh, Kim Hughes, Terry Alderman and John Inverarity, who formed the backbone of some of those sides, with Lillee and Marsh becoming two all-time greats of Australian cricket.
During Sawle's time as Australia's chairman of selectors, he served as the tour manager on the 1989 Ashes tour of England. He was credited with handpicking and rearranging the top six that secured a 4-0 series victory.
Sawle retired from the selection panel in 1995 but remained a devoted cricket watcher at the WACA until late in life. He was awarded the Order of Australia in 1992 for his services to cricket administration. He was awarded the ICC Volunteer Recognition medal in 2009. Sawle is also a member of WA cricket's gallery of greats and WA cricket's best male player each year is awarded the Laurie Sawle medal. WA cricket CEO Christina Matthews paid tribute to Sawle after his passing on Tuesday night.
"Laurie Sawle was enormous to the fabric of cricket in Western Australia for decades," Matthews said.
"He was an incredibly talented and devoted administrator who was prepared to back himself and others in, and his passion for cricket never waned. Even years after his retirement, we'd regularly see him at the WACA Ground cheering WA on.
"The fact our highest individual men's award is named after him speaks volumes about the type of character he was, and the legacy he left.
"We were incredibly lucky to have him, and remain grateful for everything he achieved.
"The WA Cricket community sends its thoughts to his three children Maryanne, Carmel and Mark and close friends in this difficult time."