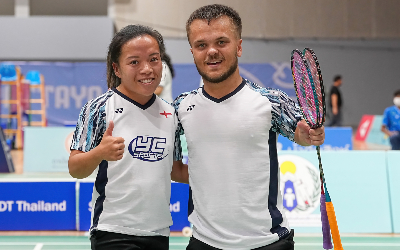 August 20, 2022
Dan Bethell completed a perfect week at the Thailand Para Badminton International with a sensational performance in the men's SL3 singles final.
The 26-year-old did not drop a set in Pattaya and completed the job to join England teammates Rachel Choong and Jack Shephard in the winners' circle.
They claimed the SH6 mixed doubles title, with Choong putting the disappointment of her defeat in the SH6 singles final behind her as England returned with two wins from three finals on Saturday.
Bethell started his week by defeating Indian pair Umesh Vikram Kumar and Nehal Gupta and, in his quarter-final against Japan's Daisuke Fujihara, he got off to a flying start and took the first set 21-6, winning the last 13 points in a row.
Fujihara put up a tougher test in the second set, closing the gap to 18-13 before Bethell held his nerve to set up a semi-final against fourth seed Manoj Sarkar.
End of a great week here in Thailand 🇹🇭
Congratulations to @Dannyb_1996 @rach_choong & @jacko_shep who return home as champions!@rach_choong & @krysten_coombs picked up 🥈&🥉in singles respectively!
Time for a break & a big push towards World Championships in November 🥇🥇🥈🥉 pic.twitter.com/deFlCVKMqU

— Parabadminton GB (@ParabadmintonGB) August 20, 2022
It took Bethell only half an hour to advance to the showpiece as he turned on the class to defeat his Indian opponent 21-5 21-8.
Against second seed Pramod Bhagat, the Huntingdon shuttler faced a repeat of the YONEX Canada Para Badminton International, but once again came out on top, winning 21-13 21-19 to clinch the tournament victory.
Choong came through the women's SH6 singles group stages unscathed, opening her account with a 21-16 21-15 win over home favourite Chai Saeyang.
The second seed then took just 37 minutes to defeat both Daria Bujnicka of Poland and Taiwan's Cai Yi-Lin to advance to the semi-finals.
There she faced Oliwia Szmigiel of Poland coming through 21-15 21-12, but it was not to be in the final as she came up against Indian first seed Nithya Sre Sumathy Sivan.
Sivan took the first set 21-9 before Choong pushed her all away in the second, Sivan eventually earning victory winning 24-22.
Finishing the Thailand Para-Badminton International with a silver in the Women's Singles and gold in the Mixed Doubles. 🇹🇭🏸#parabadminton #badminton pic.twitter.com/0dNwwaTI3N

— Rach Choong (@rach_choong) August 20, 2022
Choong did not have much time to reflect on the defeat as she was back in finals action alongside Shephard – who had earlier lost to Krysten Coombs in an all-England battle in the men's SH6 singles quarter-finals, while Isaak Dalglish was not able to take to the court in his group matches.
Choong and Shephard proved their potential in the opening game of the SH6 mixed doubles, defeating second seeds Chu Man Kai and Choi Wing Kei of Hong Kong 21-9 21-10.
They advanced to the knock-out stages with a 21-5 21-7 win over Hector Jesus Salva Tunque and Cai Yi-Lin to set up a semi-final against Hong Kong's Wong Chun Yim and Lam Ching Yung.
Shephard and Choong came through with flying colours, defeating Wong and Lam 21-9 21-13 before recovering from dropping their first game to win the title.
Home pair Natthapong Meechai and Chai Saeyang took the first game of the final 23-21 before Choong and Shephard responded to win 21-23 21-11 21-15.
In the men's SH6 singles, Coombs lost to Hong Kong's eventual champion Chu Man Kai in the semi-finals but that was not before he got one over teammate and good friend Shephard.
Shephard topped Group A to set up a meeting with Coombs, who won one and lost one in Group B, but it was Coombs who emerged victorious 21-7 21-16.
In the semi-final, Coombs levelled the match after Chu had taken an early lead, winning the first game 21-12 as Coombs responded taking the second 21-19.
In the decider, Coombs took the lead, opening a four-point gap before Chu fought back, closing out the win 21-18.