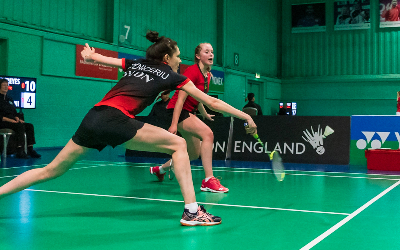 The weekend saw the latest exciting instalment of the Senior County Championships Premiership's 2021-22 season with another brilliant two days of badminton action.
The fate of the Premiership still hangs in the balance as, while this would normally have been finals weekend, there are still three outstanding matches to be played due to issues for Leinster and Avon not being able to field teams on the first weekend. These games will be held on the play-offs weekend (April 23/24).
Surrey's shuttlers were once again in rampant form on Saturday but suffered a rare bump in the road on Sunday.
The league leaders started their weekend with an excellent 7-4 win over Home Counties rivals and fellow title challengers Middlesex.
Toby Penty, captaining the side for the weekend, and Georgina Bland both picked up singles wins in straight games, with Hayley Adcock and Smrithi Shirol scoring a decisive victory in a women's doubles rubber.
Later on they whitewashed Leinster 11-0 to pick up a sixth win of their season so far.
But Avon dealt them a blow on Sunday, edging an exciting tie 6-5. All square going into the final mixed doubles rubber, Barney Chau Yue Chern and Devon Minnis triumphed over William Jones and Emily Wu, 21-11, 21-16 to take the points back to the West Country.
And they completed an excellent Sunday when beating Leicestershire 9-2 in the final tie of the round.
Middlesex are now level on points with Surrey at the top after they recovered to comprehensively beat Hertfordshire 10-1 on Sunday, Ben Hunt winning both of his rubbers along the way.
Cheshire eased their relegation fears with an 8-3 win over Sussex on Saturday, after narrowly losing to Buckinghamshire earlier in the day.
They then beat Leinster 8-3 on Sunday morning, winning four doubles rubbers on the bounce with Rachel Vickers chalking up two wins.
Hertfordshire had a successful Saturday, beating both Leinster and Leicestershire and climbing to fifth in the standings, leapfrogging Buckinghamshire with their fifth win of the season.
Buckinghamshire still have two games to play, against Leicester and Avon, meaning they could go top if they end with 18 wins from their 22 matches, or cause a three-way tie and countback if they earn 17.
Although Sussex are still in the bottom the two, they did manage to pick up their maiden win of the season towards the end of the weekend.
They secured an excellent 8-3 win over Leinster, who remain bottom, with Jonty Russ starring as he maintained a spotless record across his three rubbers. Both sides will be relegated, however, as even if Leinster win their two games in hand it will not be enough to haul them to safety.
The Premiership of the Senior County Championship returns next month over the weekend of April 23 and 24.
Championships and Regional Divisions
With over 100 teams playing across the weekend, it was inevitable that some teams would struggle with player availability and wouldn't be able to field a full team – or indeed any team at all.
It has been a far from typical end to the season and while results are being submitted and verified, and the SCC Management Group review the outcome for various division, we will report later on the conclusion of the Championships and Regional Divisions.
In the meantime, all the latest standings, results and player statistics can be seen here.