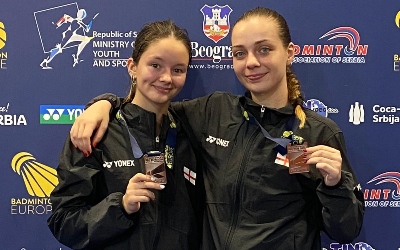 August 31 2022
As August draws to a close it has been another big month for the Badminton England junior pathway programme.
European Junior Championships review
Lisa Curtin brought home two medals after leading the English charge at the 2022 European Junior Championships in Belgrade.
The young Milton Keynes shuttler came agonisingly close to women's singles gold, taking the lead in a thrilling final against Kaloyana Nalbantova only to have to settle for silver after a fightback from the Bulgarian.
And Curtin had to recover quickly for her second final of the day just hours later in Serbia when she and Estelle Van Leeuwen took to court in the women's doubles final, at the tournament which brings together the best under-19 players from across the continent.
Despite a brave effort against the higher seeds from Spain Nikol Carullathey and Lucia Rodriguez, the English duo lost in two tight sets going down 21-19, 21-16.
Curtin, also a former U-15 European silver medallist, reached the singles final after an excellent run that was typified by her edging out Benedicte Sillassen of Denmark in a Friday night thriller at the semi-final stage.
The first set went to the wire only for Curtin to narrowly claim 22-20 and although Sillassen levelled the match it was the English player who rallied in the decider to claim a dramatic victory 22-20, 19-21, 21-19.
That set up Saturday's gold medal match with tenth seed Nalbantova where Curtin came out firing, claiming the opening set inside quarter of an hour.
But an impressive second game from Nalbantova swung the momentum of the contest, despite Curtin saving three game points.
And the Bulgarian claimed gold after rattling off six straight points on the bounce in the decider, securing a 14-21, 21-17, 21-16 win.
The eventual champion had also beaten another Englishwoman Leona Lee in the last eight.
Elsewhere, Blake Hoang and Chloe Dennis impressed in the mixed doubles by reaching the last 16 after a three-set comeback win over Ukraine's Yevhenii Stolovoi and Yevheniia Kantemyr, 15-21, 21-13, 21-12.
Sadly, their run would not go any further as the highly rated French third seeds Mael Cattoen and Camile Pognante advanced following a 21-12, 21-10 win.
Pathway assistant coach Hurrell hails impact of UK sport programme
Badminton England Assistant Pathway coach Kat Hurrell relished the chance to be part of UK Sport's Female Coaches Leadership Programme. 
Along with 23 other mentees, Hurrell took part in the course which was overseen by former GB and England Hockey coach Karen Brown, with Hurrell personally mentored by Boccia UK coach Claire Morrison. 
The programme took place online with the mentees regularly engaged and challenged in discussions on coaching style and leadership. 
"I think it's quite challenging to get 24 female coaches in the same room with everyone's schedules being so busy," Hurrell explained. 
"But we had a mixture of group online theory workshops, and then some smaller groups that were supported by Karen [Brown], who's our mentor. She facilitated some good discussion and asked some good questions to make us explore some of the theory a little bit further. 
"I think as the course went on, as we got to know each other better, we were quite happy to have some really good conversations and ask those questions of each other. 
"It wasn't just a case of sitting around and learning some theory, we got into some good, detailed conversations of how it actually applies to our day-to-day lives. 
"We've covered things such as leadership styles and negotiating skills that we need, and a lot of talk about what's really important to us and values and beliefs. I've done that as a coach before but not necessarily as a leader.  
"It just made you think about things that you maybe haven't done before." 
This year marked the second edition of the programme, with two of last year's cohort, Monica Greenwood (British Cycling) and Jen Leeming (British Diving), taking up positions as mentors alongside Morrison. 
The aim of the initiative is to encourage more women into high-level coaching, with the intention of more than doubling the representation of British female coaches in the Olympic and Paralympic high-performance community by Paris 2024. 
Hurrell had the perfect example in Morrison who has attended Paralympic Games as a boccia coach, working with athletes including Tokyo gold medal winner David Smith. 
She added: "Claire Morrison was brilliant. I didn't actually get to go and see her in person, but I think hopefully that's still in the plan.  
"She invited us into some of her MDT (multi-disciplinary teams) meetings, which was something I spoke with her about.  
"Badminton is evolving, we're building a big team now and it was great to have someone with her experience sharing some good practice and tips around how that could work because it's something I haven't really had much. 
"She made a lot of time for us and it was just great to meet people that have been there and done it a lot." 
Hurrell hopes the greater visibility of female coaches inspires other women into sport in various roles but she also hopes they can be a positive influence on players. 
This is something she is now putting into practice having coached Lisa Curtin and Estelle Van Leeuwen to silver at the European Junior Championships in Serbia earlier this month.
"A lot of what I try to do with the athletes I work with is do my best to support them on and off the court," she added. 
"Hopefully, they feel they can be independent and try and make a decision because it's their career and it's our job to try and facilitate that and not do it all for them.
"We spend a lot of time together, we get quite invested and you want them to do the best they can.
"Sometimes it's actually empowering them to believe that and go and take the opportunities that are there for them."