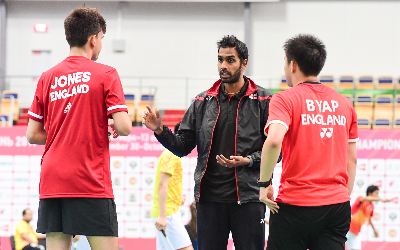 August 16, 2022
Rajiv Ouseph has announced his departure from Badminton England after three years as a coach.
The 35-year-old will take up a new position as Elite Singles Head Coach at Swiss Badminton.
Ouseph moved into coaching after 14 years competing on the world circuit, during which time he won the European men's singles title in 2017 and claimed an impressive 19 senior international medals.
The former world number 10 hung up his racket in August 2019 and has since made a success of the transition into coaching, helping several Team England athletes to the podium at the Birmingham 2022 Commonwealth Games.
He said: "It has been quite a big learning experience for me [as a coach].
"I jumped straight into coaching and learnt a lot from the players, coaching through the pandemic which was pretty tough when starting out, and from the other coaches as well.
"It has been all good experiences and I think that I've grown as a coach compared to when I started. I was obviously quite green and inexperienced but now I'm a little bit more sure of myself and my style of coaching.
"I hope I've made an impact on a few of the players and I'm looking forward to seeing their progression as well."
Thanks for the memories @rajivouseph

His World Championships are over as the two-time Olympian waves farewell to badminton after an illustrious career 👏

The GB 🇬🇧 legend goes down with a fight as he loses 21-15 21-19 to Jonatan Christie 🏸#Basel2019 #WorldChampionships pic.twitter.com/HtYtpr8WV5

— Team GB (@TeamGB) August 19, 2019
Ouseph broke onto the competitive scene at 19-years-old when he became the first Englishman in 20 years to win gold at the 2005 European Junior Championships and went on to represent Team GB at the Rio 2016 Olympics.
As a coach, Ouseph is thankful to have made new memories in the sport but is now ready to build on his experience abroad with hopes to bring his newfound knowledge back to England in the future.
He said: "Coaching at the Commonwealths was a highlight for me. When I played, I was a singles player so being part of a team has always been quite good.
"The Thomas Cup that we went to in Thailand a couple of months ago was really good. We went with a very young team but I felt like they all learnt a lot and had really good experiences individually there and as a group.
"Moving was the chance to be the head of something or leading to give me a different experience, a new experience in a different country.
"It's trying to be a bit more rounded as a coach and getting out of my comfort zone.
"So hopefully one day I'll be back and I'll be back as a much better coach."
Head of Performance at Badminton England, Mark Beecher, hailed Ouseph's impact on the next generation said: "Raj has had such a distinguished playing career spanning over 14 years and being England's number one singles player for a vast majority of time.
"He has been an inspiration to the singles players on our performance programme and for future aspiring players alike.
"Joining the England Performance Coaching team three years ago, he has passed on his experience, knowledge and passion for our sport.
"As an integral member of our coaching team, he will be missed and we wish him all the best in his new position with Swiss Badminton."