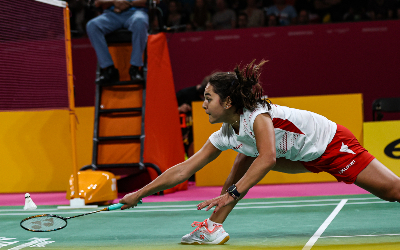 A spirited English effort was not quite enough for a mixed team medal at the Commonwealth Games as Singapore prevailed 3-0 at the National Exhibition Centre.
It was always going to be tough for the English athletes, who were backed throughout by a passionate home crowd, as they came up against some of the top players in the world.
The first match saw Ben Lane and Lauren Smith take on Yong Kai Terry Her and Jessica Wei Han in the mixed doubles in a fiercely contested affair.
While the Singaporeans would triumph 2-0, they were pushed all the way by the English duo, eventually winning 21-7, 25-23.
Smith said: "We are really disappointed to be fourth. We came here for a medal. But we left our hearts and souls out there, supporting and playing. Our attitude on court has made it really hard for the players on the other side of the net, regardless of the result.
"We're disappointed but not disheartened, this team was incredible this week in performance and character."
Next up, in the men's singles, Toby Penty went head-to-head with Singaporean top seed Loh Kean Yew and it was the Englishman who took the first game 25-23, much to the delight of the home support.
However, Loh showed his quality in the second game, comfortably winning 21-11, before the pair played out a memorable final game in which Penty simply refused to give up.
The Surrey-born star recovered from 10-4 down to make it 10-10 and saved four match points from Loh before eventually succumbing 25-23 after a high-quality affair featuring some truly world-class shots.
Penty and Loh exchanged shirts and a hug in a terrific mark of respect following the game, as both more than played their part in a highly engrossing match.
Penty said: It was just a great match to be part of and I'm super proud, it was just disappointing I couldn't see it home at the end.
"I played him two days ago and lost 12 and 12. That was the first time I've played him so it gave me an idea of what to expect. I started really well, which I haven't done that often, and that made a big change – I think he got a little bit nervous.
"With this crowd, it was like we were one person, it was fantastic. I've spoken a lot about in the past, when I've played in front of crowds like that and it's been really tough for me, but today was like something out of another world. I'm really grateful to play in front of a crowd like that."
Those results meant 21-year-old Freya Redfearn would have to defeat Yeo Jia Min in their women's singles clash and she gave it her all.
Despite some wonderful rallies and shots from Redfearn, Yeo was on top form and deservedly earned a 2-0 win after defeating the Commonwealth debutant 21-18 and 21-14.
That result sealed the win for Singapore and ensured that they would take home bronze, but the England team can be proud of their performances, as they more than held their own against some world-class opposition and will take great confidence into the individual events later this week.
Be a part of the action in Birmingham this summer! BUY COMMONWEALTH GAMES 2022 TICKETS HERE:  https://tickets.birmingham2022.com/
For full details and the badminton schedule, visit: Badminton (birmingham2022.com)