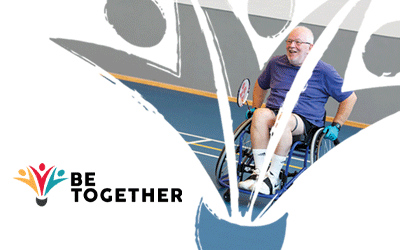 Badminton England is delighted to announce the launch of our new Equality, Diversity & Inclusion (EDI) Strategy.
We are proud to launch an exciting new strategic plan to make badminton the nation's most accessible, diverse, and inclusive sport through an unrelenting focus on EDI. Badminton is already a very diverse sport with strong levels of play amongst female and Asian populations, but we recognise that some people's experience or perception of badminton is that it is not as welcoming or inclusive as we would like.
Badminton England Chief Executive Officer, Sue Storey, said: "We are so privileged in badminton to have such a diverse community of players and fans and we will continue to celebrate how diverse we are; however, we want to be even better and be more inclusive in encouraging anyone and everyone to pick up a racket and play.
"We've listened to our badminton community and those outside of our badminton community, and this is the first step on the next stage of our journey of inclusion and diversity within our sport.
"Everyone has a part to play in ensuring our sport is welcoming and inclusive and we want to unlock the advantages of badminton for everyone."
A key priority for Badminton England is building on the success of our Para Badminton programme by extending opportunities for disabled people to play badminton.
England player and GB Para Badminton Programme Player and Inclusion Champion, Rachel Choong added: "I am very excited about the launch of Badminton England's Equality, Diversity, and Inclusion Strategy.
"It's great to see that, as an organisation, they recognise the importance of EDI and making the sport accessible to everyone at all levels.
"As an athlete on the GB Para Badminton Programme, and my input as a member of their new EDI Committee, this strategy will increase participation and develop pathways for current and future generations of English Para Badminton players."
The approach of the strategy is to deliver direct impact in those areas where Badminton England has direct control and then where we can influence and inspire the badminton community to drive change.
Equality, Diversity & Inclusion Manager, Leanne Brown wants the entire badminton community to help make this new strategy a success.
She said: "I'm really excited as we move into the next stage of our EDI journey with our new strategy. It sets out our ambitions to lead, inspire and drive change across the sport and seeks to enhance, complement, and support the work of our badminton community, key partners, and stakeholders.
"Everyone plays a key role in our journey, and I hope that you will join us as we work towards making badminton an inclusive and welcoming sport for all."
To learn more about the strategy and how you can support our vision, please click here or contact us at inclusion@badmintonengland.co.uk .